Entangled blue whale is still missing; rescuers hope public can help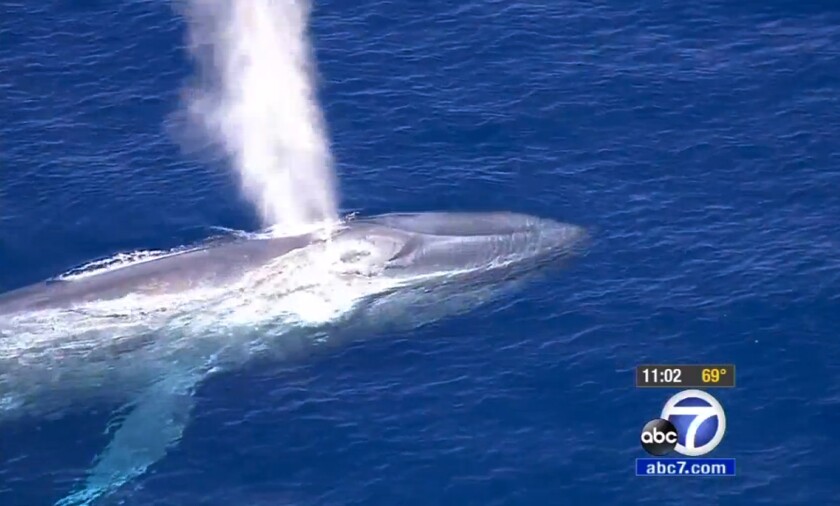 A blue whale tangled in what is believed to be heavy fishing line might still be somewhere off the Southern California coast, and rescuers hope it will be spotted soon so they can cut it loose.
The 80-foot whale, last seen late Friday between Los Angeles Harbor and Catalina Island, is trailing about 400 feet of line with a 3-foot red buoy attached, said Peter Wallerstein of Playa del Rey-based Marine Animal Rescue.
A U.S. Coast Guard aircraft is keeping an eye out for the whale, and officials are asking members of the public — especially pilots, boaters and mariners — to do the same. Anyone who sees the giant mammal is asked to call (877) SOS-WHALE (767-9425) or radio the location to the Coast Guard or National Oceanic and Atmospheric Administration.
Keep at least 1,000 feet away from the whale, and don't try to touch the line, but if possible, stay near the animal until rescuers arrive, officials said.
Interested in the stories shaping California? Sign up for the free Essential California newsletter >>
The distressed whale was first reported Friday afternoon, but rescuers were not able to cut off the line at that time.
"We couldn't approach the whale safely," Wallerstein said. "We couldn't get that close to the whale, and it got too dark to do it," so they attached the buoy in hopes of finding the animal again later.
Part of the difficulty was a lack of experience with this type of whale. "Certainly on the West Coast this is the first blue whale entanglement we've seen," said Jim Milbury, a spokesman for the NOAA Marine Fisheries Service. He said he did not know why or how the whale became tangled.
Wallerstein's group has rescued gray whales, which he said "are easier to deal with" because they are less aggressive and much smaller — about half the length of blue whales.
Officials are hopeful, but it is not certain that the whale is still in the area. "Blue whales can swim great distances and they also dive ... deep," Milbury said.
According to NOAA, blue whales typically swim about 13 mph but can go as fast as 30 mph, and they usually dive less than 350 feet to feed but are capable of plunging more than 1,600 feet beneath the surface.
The largest animals on Earth, blue whales can grow to more than 100 feet long and weigh 150 tons. About a quarter of the estimated worldwide population of 10,000 congregate in the waters off the West Coast.
For more news, follow @raablauren on Twitter.
MORE NEWS COVERAGE
Labor Day bummer: Rip currents, swells close an L.A. County beach
Man who died after confrontation with Long Beach police identified
2 killed, 3 wounded in unrelated shootings in South L.A., Compton
---
Get breaking news, investigations, analysis and more signature journalism from the Los Angeles Times in your inbox.
You may occasionally receive promotional content from the Los Angeles Times.