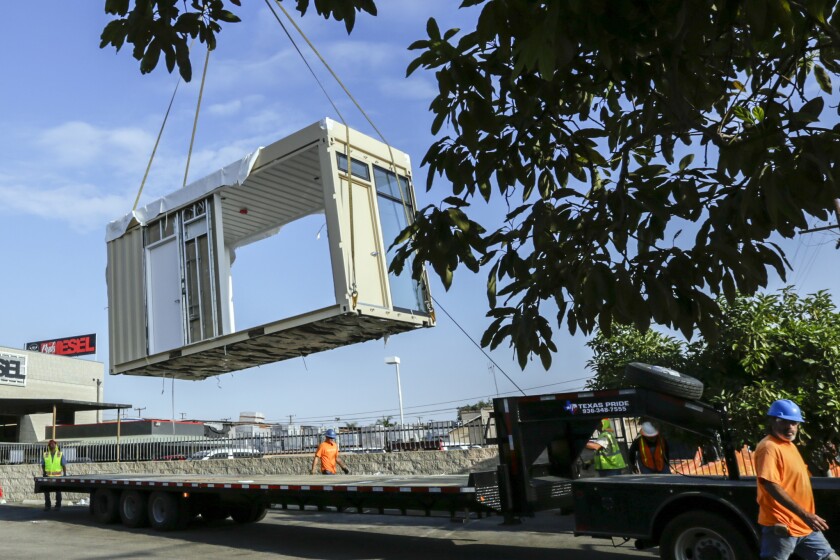 Good morning. It is Thursday, Sept. 22. We're loving these animated GIFs of Los Angeles. Here's what else is happening in the Golden State:
TOP STORIES
Smog fees
Air quality officials are considering an increase to the vehicle registration fee paid by Southern Californians to help pay for smog reduction programs. Charging drivers in Los Angeles, San Bernardino, Orange and Riverside counties an additional $30 a year could generate an extra $300 million a year to improve the air quality, according to an official. Los Angeles Times
New homes
In Orange County, shipping containers are the latest idea when it comes to quickly housing the homeless. American Family Housing is creating a two-story, 16-unit apartment building out of shipping containers that once carried goods from China across the ocean. "We are putting them in housing — very energy-efficient, very structurally strong, very beautiful multifamily housing. It happens to be that the materials that will build that housing are shipping containers," said the group's chief executive Donna Gallup. Los Angeles Times
Cramped quarters
The University of California is feeling the squeeze, as more students enroll in higher education. At UCLA, dorm rooms that were once doubles are being made into triples. In other parts of the state, it means pushing students off campus. "It's a big pill to swallow. We realized we are kind of bursting at the seams," said Scott Waugh, UCLA's executive vice chancellor and provost. Los Angeles Times
L.A. AT LARGE
Tear down this fort: The fort built by territorial surfers at Lunada Bay on the Palos Verdes Peninsula will be demolished. The city's Planning Commission approved a permit to tear down the structure Tuesday night. Los Angeles Times
Deadly crash: The family of a USC graduate student killed in a crash last December is suing the private university and the public safety officer accused of causing the fatal collision. Kelsey Dresser died one day after her 1995 Chrysler LeBaron was struck by Public Safety Officer Miguel Guerra. Prosecutors, who have charged Guerra with misdemeanor vehicular manslaughter, say the officer was traveling at three times the speed limit when he T-boned the car. Los Angeles Times
Hosting the games: The new mayor of Rome says her city should not take on the debt that would come with hosting the 2024 Olympic Games. If Rome officially withdraws, that would leave Los Angeles, Paris and Budapest, Hungary, in the running. A host city will be selected in September of next year. Los Angeles Times
Called off: Corona del Mar High School canceled the annual homecoming dance and pep rally after students apparently got drunk at a Friday night football game. School officials blamed parents, saying a "pervasive culture exists that allows or tolerates their children to bend or break the law." Los Angeles Times
POLITICS AND GOVERNMENT
Still sick: The Aliso Canyon gas leak was capped back in February, so why are some residents in and around Porter Ranch still feeling its effects? L.A. County Supervisor Mike Antonovich is now calling for a study on the long-term health effects of the methane leak. "The gas company should live up to its responsibility and commitments by fully funding this vital long-term health study," Antonovich said. Daily News
Retirement mess: The Citrus Pest Control District No. 2 pension fund serves just six employees, but it's in crisis — just like many of the multibillion-dollar retirement funds across the country. That's because many pension funds don't know the true "market value" of their accounts. New York Times
CRIME AND COURTS
Reports of hate: Hate crimes against Muslims in California increased 122% between 2014 and 2015, according to a report from the Cal State San Bernardino Center on Hate & Extremism that found 40 anti-Muslim crimes were reported last year. "After the San Bernardino attack, we saw a marked jump in hate crimes against Muslims within several days," said Brian Levin, executive director of the Cal State center. Los Angeles Times
Fight at Costco: A 25-year-old Burbank man was sentenced and released Tuesday after spending nearly a year in jail for punching a 78-year-old man who wanted to taste a Nutella waffle sample at Costco. The victim suffered a 1-inch cut near his eye in the October 2015 attack. Los Angeles Times
Teen killed: A deaf student was killed Friday night after a gunman approached the teen and his friends at a football game in Moreno Valley, his family said. DeSean Welch was 18. "My brother didn't deserve that. He was a good kid," said Najai Welch. Los Angeles Times
Chief steps down: Berkeley police Chief Michael Meehan resigned Wednesday after six years in the top leadership position. Rank-and-file members had complained of low morale and poor communication within the department. SFGate
MacARTHUR WINNERS IN CALIFORNIA
Dianne Newman: This is a profile of Caltech microbiologist Dianne Newman, one of the newly minted MacArthur fellows — in all, 10 are from California. Newman studies the ways microbes helped shape the evolution of the Earth, making it habitable for us. Los Angeles Times
Victoria Orphan: Caltech geobiologist Victoria Orphan is also on the list of 2016 MacArthur fellows. "The questions she's probing could have implications for climate science, the history of life on early Earth and even for the search for life on other planets." Los Angeles Times
Josh Kun: The ;author of "To Live and Dine in L.A." and "Songs in the Key of Los Angeles" was named a MacArthur fellow too. "As a USC professor, how do I make connections between my work on campus with the city writ large — other institutions, museums, libraries, community organizations and nonprofits — and toggle," he says. Los Angeles Times
DROUGHT AND CLIMATE
Fire dangers: A Ventura County firefighter was killed in a rollover crash Wednesday as he hauled water to the Canyon fire at Vandenberg Air Force Base. A second firefighter was injured in the crash. The blaze started Saturday in a remote canyon. Los Angeles Times
Costly blaze: The Soberanes Fire in the Los Padres National Forest is now the most expensive wildfire in U.S. history. It has cost more than $206 million so far to get the fire 67% contained. The fire began back in July. CityLab
CALIFORNIA CULTURE
Here to stay: Are you a New Yorker in California? "I don't know how to do something that teen-agers can do, and I'm proud of it. That's how much of a New Yorker I am." New Yorker
Rock climbing: Joshua Tree National Park is one of the best places to climb. It's also not a bad spot for a fashion shoot. GQ
Temporarily closed: The Sports Museum of Los Angeles is closing down, at least temporarily, just two months after it opened. The museum is home to the enormous sports collection of Gary Cypres. LA Observed
First class or no class? When can a $100,000 gown be considered a "sloppy second"? When it's been worn by a Hollywood celebrity, according to the wife of a Los Angeles plastic surgeon. Hollywood Reporter
End of an era: The Orange County Register will move from Santa Ana to Anaheim next year. "While the Register is proud of its 111-year history that originated in Santa Ana, we also look forward to our future in Anaheim," said Publisher Ron Hasse. Orange County Register
CALIFORNIA ALMANAC
Los Angeles will have low clouds and a high of 78 degrees. San Diego is expected to have a high of 75 degrees. Riverside will have lots of sunshine as temperatures reach 82 degrees. There will be clouds and a high of 67 in San Francisco. Sacramento will be sunny and 76.
AND FINALLY
Today's California Memory comes from Greg Kelly:
"It was the beginning of World War II, 1942, when my grandmother gathered her four children and boarded a Greyhound in Philadelphia to Long Beach. My dad remembers their first steps at the foot of Pine Avenue and Ocean Boulevard. They all went to naval housing on Constitution Avenue. They wanted to be closer to my Grandfather 'GiGi' (guyguy), an Irish immigrant serving aboard CV-5 Yorktown as a boilermaker at the Battle of Midway. At supper, a light started flickering. At the same time in the Pacific, GiGi was below decks and he saw a light flickering. He followed it to safety as the 'Fighting Lady' went down."
If you have a memory or story about the Golden State, share it with us. Send us an email to let us know what you love or fondly remember about our state. (Please keep your story to 100 words.)
Please let us know what we can do to make this newsletter more useful to you. Send comments, complaints and ideas to Alice Walton or Shelby Grad.
---