Appeals court upholds Schwarzenegger's clemency for Nuñez son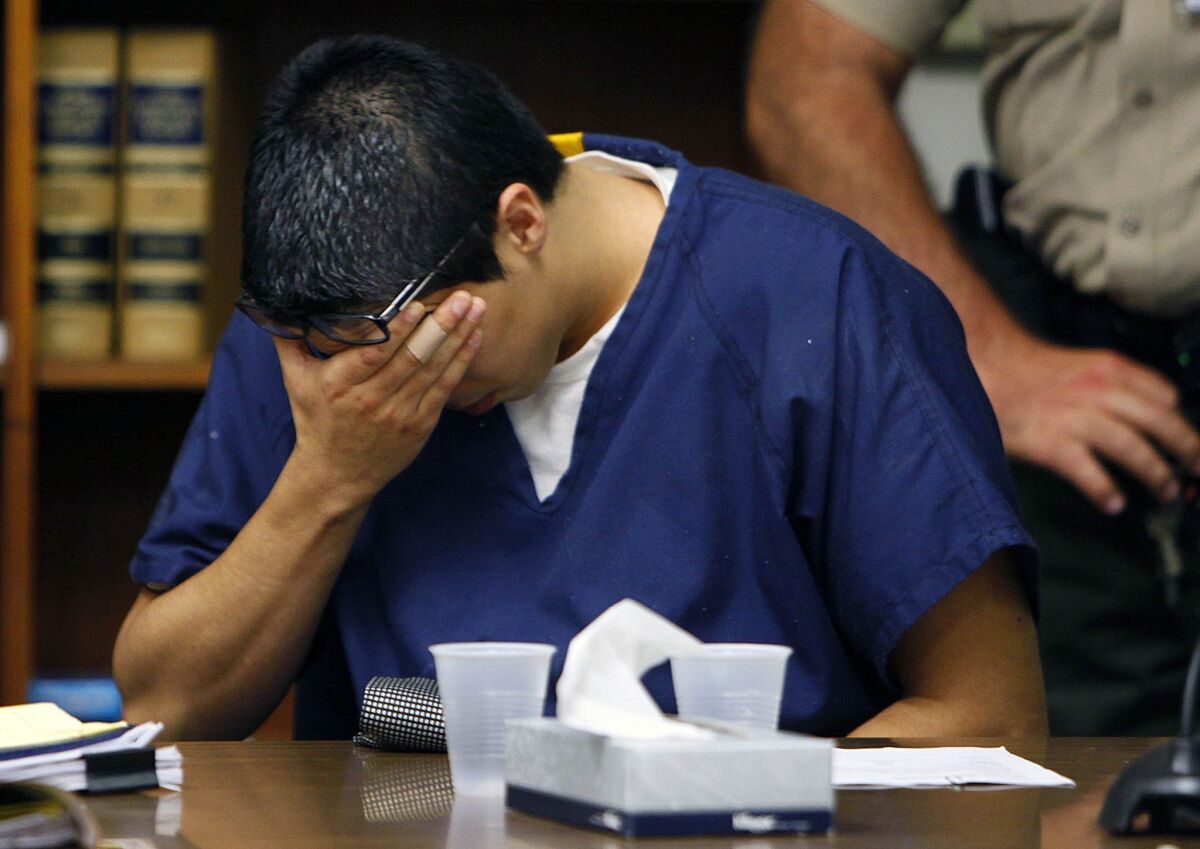 Gov. Arnold Schwarzenegger waited until his last day in office to announce the commutation of convicted killer Esteban Nuñez, the son of a powerful political ally, and then gave this explanation: "Of course you help a friend."
His decision in January 2011 to reduce Nuñez's sentence from 16 years to seven years sparked outraged editorials, swift legislation, an outcry from victims' rights groups and widespread condemnation from Democrats and Republicans.
On Tuesday, a California appeals court said the former governor's action was nonetheless within his rights, and upheld the reduced prison term.
"We are compelled to conclude that, while Schwarzenegger's conduct could be seen as deserving of censure and grossly unjust, it was not illegal," Associate Judge Harry Hull Jr. wrote on behalf of a three-judge panel on the 3rd District Court of Appeal in Sacramento.
The case stems from the fatal stabbing of Luis Santos, a 22-year-old San Diego Mesa College student, and an attack on three of his friends — all of whom were unarmed —- at San Diego State in October 2008.
San Diego prosecutors said Nuñez and co-codefendant Ryan Jett, who were armed with knives, were equally guilty in Santos' death and had acted in concert. Prosecutors said it was never clear which one of them had stabbed Santos, who died of a single knife wound to the heart.
Soon after the stabbing, Nuñez and Jett drove to the Sacramento River, burned the clothes they had worn that night and disposed of the knives. They initially faced the possibility of life in prison on murder charges, but pleaded guilty to lesser charges of voluntary manslaughter and assault. A judge gave them both 16 years in prison.
Nuñez's father — former Assembly Speaker Fabian Nuñez, a Democrat whose political support Schwarzenegger relied on — claimed the trial judge had been unduly harsh with his son.
"I used my relationship with the governor to help my own son," he told The Times last year. "I'd do it again."
The result was a commutation that could send Esteban Nuñez home on parole by April 2016. In his written explanation, the governor said it was unfair that Jett and Nuñez should get the same sentence, considering that Nuñez had no prior record, though Jett did, and that Jett had actually stabbed Santos.
The San Diego district attorney's office had not been notified in advance that the governor was considering a commutation, and the California Legislature quickly passed a law mandating that a district attorney's office must get at least 10 days' notice.
The district attorney's office, along with the Santos family, sued to block the commutation, arguing that the governor's failure to notify them in advance was a violation of Marsy's Law, also known as the Victims' Bill of Rights Act of 2008.
The law says that victims have a right to be heard at "parole or other post-conviction release proceedings" before inmates could be released early. A Sacramento judge ruled in 2012 the commutation was "distasteful" and "repugnant" but legal, saying the law as it was written at the time did not apply to clemency proceedings.
In upholding that decision Tuesday, the appeals court seemed to share some of that distaste for the governor's action. "Back-room dealings were apparent," the court wrote, noting that after his conviction Nuñez had filed a notice of appeal but signed a notice to drop it in early Dec. 2010, weeks before the commutation was signed.
In an opinion concurring with the appeals court's majority, Presiding Judge Vance Raye wrote that it was clear Marsy's Law did not apply in the current case, since a clemency was not a "proceeding but an act of grace by a Governor."
The judge wrote that "no amount of lexicological alchemy, no matter how well intentioned, permits the language to be stretched, manipulated, and tortured to reach what to some would be a 'correct' result."
The judge added: "As reprehensible as the Governor's action in this instance might have been, it would be equally reprehensible to ignore the clear language of a constitutional provision."
Schwarzenegger could not be reached for comment.
After the ruling, the San Diego County district attorney's office said it planned to appeal.
"We remain committed to pursuing justice for the victims in this case and will file a petition for review in the California Supreme Court," said spokeswoman Tanya Sierra. "Gov. Schwarzenegger deprived Esteban Nuñez's victims of an opportunity to be heard and he violated the intent of Marsy's Law, a constitutional amendment granting victims' rights to participate in the criminal justice system."
Nina Salarno, a victims' rights attorney representing the Santos family, said she would continue to pursue the battle to the California Supreme Court if the family wishes.
"If the family can endure that, we are happy to stand with them," Salarno said. "They buried their son, they accepted the negotiated sentence as justice for their son's life, and then the politics of the system allowed justice to be taken from them. I just don't know how much more the family can take."
Fred Santos, Luis Santos' father, said the family was not yet sure whether they would appeal. "Justice is very elusive," he said. "We have not discounted" an appeal.
Brigida Santos, the victim's sister, said she had not been optimistic that the appeals court would rule in her family's favor. "I wouldn't say I was ever hopeful," she said. "From the very beginning, that's just how this case has gone."
She said she has been struggling to move on with her life since her brother's death. "I just turned 30 and I just got my life on track," she said. Nuñez "is out in April 2016. It's disgusting. I can potentially just run into him somewhere on the street."
Times staff writers Joseph Serna and Tony Perry contributed to this report.
---
The stories shaping California
Get up to speed with our Essential California newsletter, sent six days a week.
You may occasionally receive promotional content from the Los Angeles Times.