Family of man killed in Pomona shooting sues ex-LAPD officer and L.A.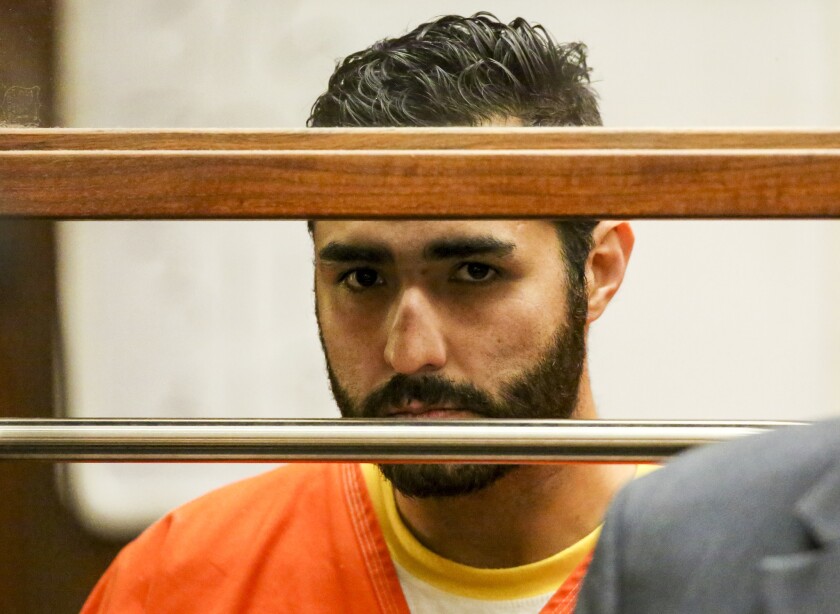 The parents of the man allegedly killed in Pomona by an off-duty Los Angeles police rookie filed a lawsuit Thursday against the city and the former officer.
The parents of Salome Rodriguez Jr. allege that Henry Solis subjected their son to excessive force, unreasonable search, and assault and battery, according to the complaint.
The lawsuit was filed in Los Angeles County Superior Court and also alleges Solis and his employer, the city of Los Angeles, violated Rodriguez's civil rights.
The lawsuit seeks unspecified damages.
Read the latest Essential California newsletter >>
Solis, 28, has been charged with murder in the killing of Rodriguez, 23. Authorities allege Solis, who was off-duty at the time, fatally shot Rodriguez after a fight outside a Pomona bar. He has pleaded not guilty and is being held in a downtown Los Angeles jail in lieu of $10-million bail.
The lawsuit filed by Lidia and Salome Rodriguez alleges that the two men encountered each other near 3rd and Main streets in the predawn hours of March 13, 2015, and had an altercation in which Solis identified himself as an LAPD officer.
Solis pointed his department-issued gun at and detained Rodriguez, who eventually fled on foot, according to the suit. Solis chased Rodriguez and ordered him to stop, then pointed his gun and opened fire, the suit says.
Rodriguez was struck four times; he was pronounced dead at a hospital. Rodriguez did not threaten Solis, who had "no reasonable basis" to open fire, the complaint says.
The lawsuit alleges that the city is liable "for the acts of their public employees" and that Solis was "acting under the color of law as a police officer of the LAPD." The city "was aware of various instances where [Solis] unnecessarily and recklessly drew his firearms," and the city "failed to take action to discipline" him, according to the complaint.
Rob Wilcox, a spokesman for the L.A. city attorney's office, declined to comment on the suit.
On the day after the shooting, Solis did not show up for work, and Pomona detectives later publicly identified him as a person of interest in the killing. Police said he ditched his Volkswagen Jetta a few blocks from the site of the slaying and called his father for help. Victor Solis drove with his son 800 miles to El Paso, and escorted him across the border into Mexico, authorities said.
LAPD Chief Charlie Beck swiftly fired the rookie officer, who had spent nine months with the department following about six years with the Marines.
After a two-month manhunt, authorities apprehended Solis in Juarez, Mexico, where he was hiding among relatives.
A federal jury convicted Victor Solis, 53, in June 2014 of making false statements to the FBI. He was sentenced to three years of probation.
Henry Solis is next scheduled to appear in court for his criminal case on March 25. An attorney for Solis could not be reached for comment.
For breaking news in California, follow @MattHjourno.
ALSO
Two people are killed in police shooting in Santa Ana
Police officer and suspect are taken to hospitals after shootout in Santa Ana
Knife-wielding man shot dead by LAPD in Van Nuys was suspected in stabbing, police say
---
For reporting and exclusive analysis from bureau chief John Myers, get our California Politics newsletter.
You may occasionally receive promotional content from the Los Angeles Times.