L.A. will allow more dense development near five Expo Line stations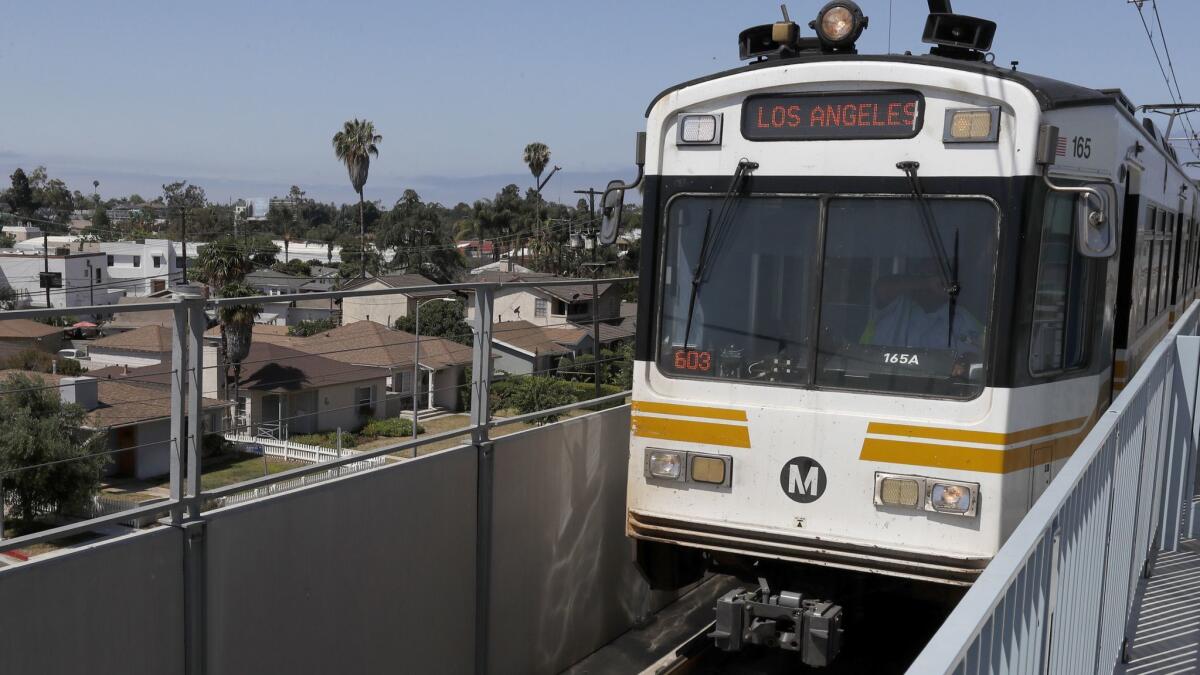 The Los Angeles City Council approved plans Tuesday to allow taller residential and commercial buildings near five Expo Line stations on the Westside, setting a possible precedent for future decisions about development along the region's growing Metro rail network.
The zoning plan represents a compromise between housing advocates and neighborhood groups, which clashed over how much growth should occur along the area's major roads, many of which are dotted with low-slung commercial strips, gas stations and industrial sites.
The city will allow taller office towers, apartment buildings and developments that are a mix of both along Olympic Boulevard, Venice Boulevard and other main streets between Culver City and Centinela Avenue. The plan will also rezone swaths of industrial land near several stations to allow housing and office space.
"This can be a template for how you deal with transit-oriented development around the subway and around other light-rail lines," said Zev Yaroslavsky, who represented the Westside as a city councilman and county supervisor for four decades. "It's a genuine effort to create a plan that increased housing potential without totally eviscerating the character of the neighborhood."
The proposal could add 14,300 jobs, 6,000 new apartments and condos, and more pedestrian-friendly blocks along major corridors, Los Angeles analysts say. The hope is that creating more housing near transit lines will help residents run errands and get to work without getting behind the wheel.
Planning officials left about 87% of the 2,000-acre area unchanged. Los Angeles typically steers development away from single-family neighborhoods, but the City Council agreed to allow apartment buildings of up to four stories in an area of about 200 homes south of the Expo Line's Bundy station.
The plan will also impose more design standards on new buildings, requiring developers to build closer to the sidewalk and provide parking behind buildings to create streets that feel more uniform and pedestrian-friendly, said city planning assistant Dylan Sittig.
More than a dozen blocks along Bundy Drive and Olympic Boulevard, where a car dealership and a hardware store currently stand, will be converted from industrial zoning to what city planners call "hybrid industrial."
The plan will allow developers to renovate existing buildings to provide office space and build new complexes that provide live-work spaces. The plan will make Los Angeles a more attractive place for companies in the clean technology, creative and media industries, officials said.
Some advocates criticized the plan, saying it did not allow enough new apartments and condominiums amid the region's housing crisis. Some neighborhoods in the area, including near the Westwood and Rancho Park stations, should allow taller developments, they said.
"Neighborhoods along Expo need to share the burden," said Andres Cuervo, the vice president of the Palms Neighborhood Council, at a City Hall meeting last week.
Barbara Broide, president of the Westwood South of Santa Monica Boulevard Homeowners' Assn., said her group supports the zoning plan and had worked for four years to ensure that it met the goals for new housing and jobs established by the region's planning council, the Southern California Assn. of Governments.
"Communities do need to share density, and the impacts of development, and under this plan, we do," Broide said. "We do feel we're doing our share."
She said the homeowners group had opposed the city planning commission's recommendation to allow 72-foot buildings along Pico Boulevard between the Westwood and Sepulveda stations because the proposal was introduced with no community input.
On Tuesday, the City Council approved a 50-foot height limit, similar to the original plans for the area. Honoring the plan the community had helped develop "was important for the credibility of the process," Broide said.
A representative for Abundant Housing L.A. said the advocacy group was disappointed by the Pico Boulevard change, saying the more modest density levels would prevent the construction of up to 987 apartment and condo units.
City planning officials said they could not comment on the figures because they weren't familiar with the study's methodology.
The decision to increase zoning in the single-family neighborhood near Bundy sparked concern among homeowners north of the station, who feared it could set a precedent for other neighborhoods within walking distance of the Wilshire subway and along the Crenshaw Line in Mid-City and South L.A.
"I do understand why some residents are looking over their shoulders," Yaroslavsky said.
Homeowners were rattled, he said, by a bill introduced in the state Senate this year that would have allowed the construction of four- or five-story apartment and condo buildings within half a mile of rail stations and many bus stops. Senate Bill 827 was rejected by a state legislative panel in April.
Twitter: @laura_nelson
Sign up for Essential California for news, features and recommendations from the L.A. Times and beyond in your inbox six days a week.
You may occasionally receive promotional content from the Los Angeles Times.