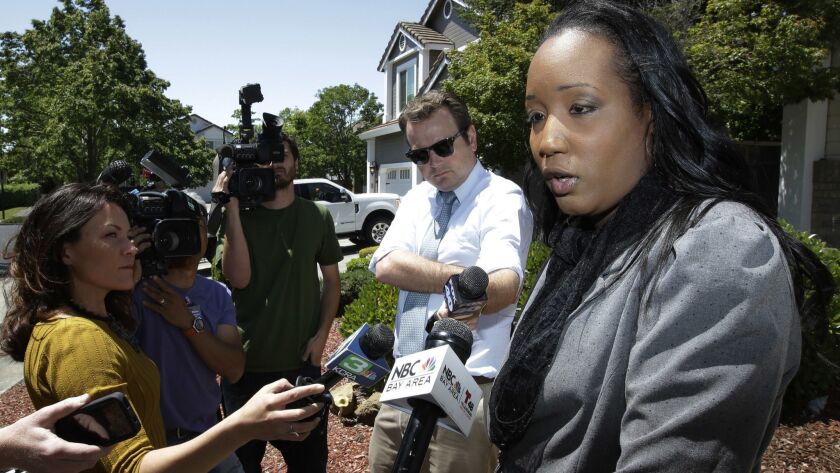 Additional counts of felony child abuse have been filed against a Fairfield, Calif., mother, nine of whose 10 children are suspected to have been tortured, according to authorities.
Ina Rogers, 30, appeared before a judge Wednesday after having already been charged with misdemeanor child endangerment. That single count was based on squalid conditions that the police found in the family's home.
After the children were removed from the residence, further investigation revealed additional crimes had occurred, the district attorney's office said in a statement. The court granted a motion to add nine additional felony counts of child abuse or child endangerment. The court set bail on the additional charges at $495,000 and Rogers was taken into custody.
"We believe that we can prove beyond a reasonable doubt … the allegations that she committed nine felony counts of child abuse," Sharon Henry, chief deputy district attorney of the Solano County district attorney's office, said Tuesday.
The investigation began when Rogers' 12-year-old son went missing, prompting her to call the police on March 31. The boy was found asleep under a bush in a neighbor's yard.
Inside the home, officers found spoiled food, trash and feces strewn across the floors and clutter blocking the walkways. Nine children, ranging in age from 4 months to 11 years, were inside.
The discovery triggered a six-week child abuse investigation that uncovered disturbing allegations. Authorities said this week that nine of the children had been tortured as far back as 2014, with eight of them describing attacks that caused puncture wounds, burns and bruising, and involved repeatedly getting shot with a pellet gun. Some had visible scars.
Jonathan Allen, who is the biological father of some of the children, faces seven counts of torture and nine counts of felony child abuse, authorities said. The 29-year-old man was arrested Friday and is being held on more than $5-million bail. He has pleaded not guilty.
In an interview from jail, Allen told reporters that he is innocent and that the evidence will prove it. Allen said he hopes to reunite with his family.
"I'm not 100% perfect, I'm not perfect, no one is perfect," Allen said. "But I am not an animal, I'm not a torturer and I'm not a monster. I'm just not."
Rogers and Allen are scheduled to return to court on May 24.
Twitter: @Brittny_Mejia
---