Fans gather in Koreatown to watch World Cup match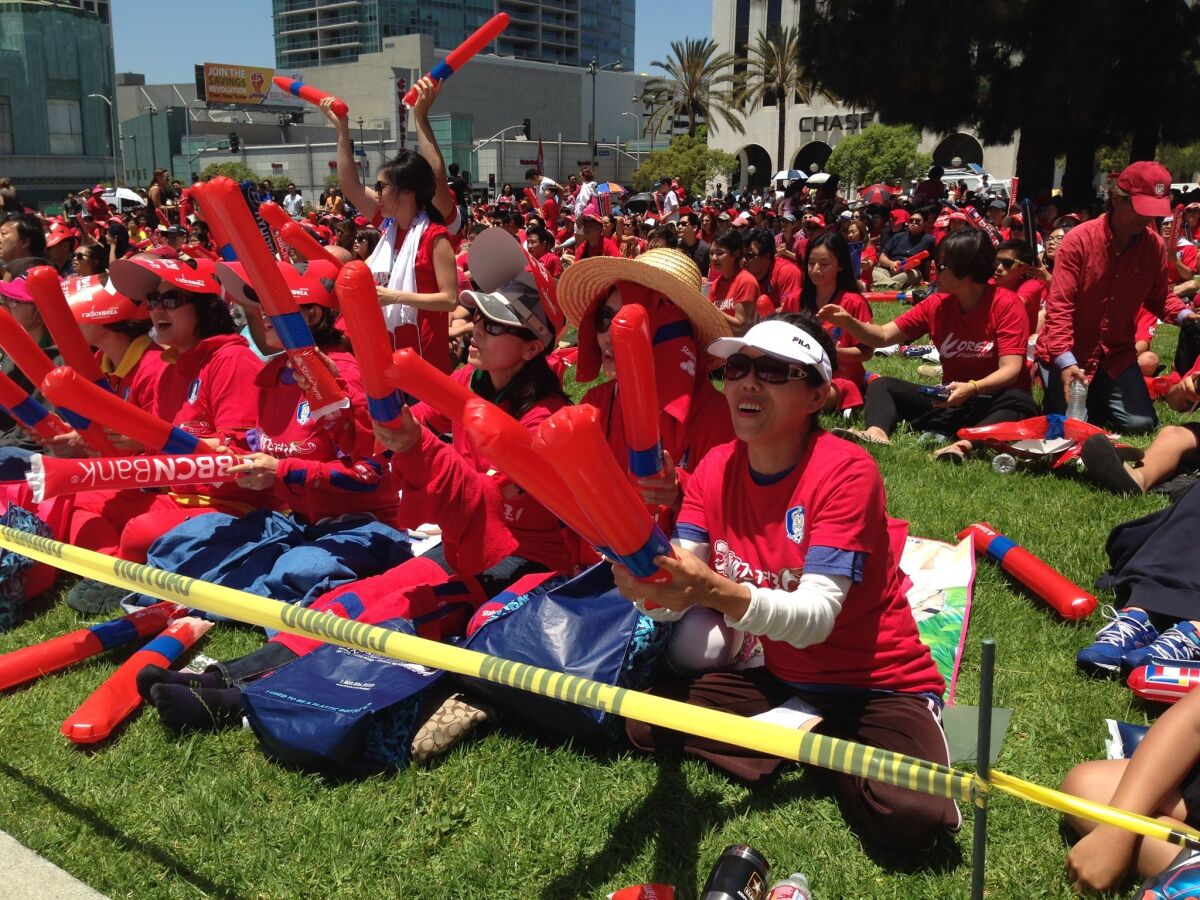 Cheering "dae han min guk" (Korea) and "pil seung Korea" (Victory Korea), hundreds of South Korean soccer fans rooting for the Taeguk warriors gathered off Wilshire Boulevard on Sunday afternoon to watch the World Cup second-round match against the Desert Foxes from Algeria.
A sea of red shirts -- their team's traditional color -- flooded the lawn of Wilshire Park Place where vendors in tents sold T-shirts and fusion tacos and handed out sun visors and red towels.
A Jumbotron in front of the crowd broadcast the match, as did another monitor on the roof of the adjacent six-story bank building.
Young Han, 39, and Ellie, 35, drove out from Glendale and brought their two daughters Melody, 6, and Leah, 4. For the Hans this is the second time they've watched a World Cup match from the Koreatown venue. They remembered getting here in the early-morning hours to watch the matches from South Africa in 2010.
"I love the World Cup," said Ellie. "By winning it tells us that we have the ability to be the world's best."
The fans came early to claim their places in the shade of the tall pine trees and to watch traditional music by players from La Nori-Madang, dressed in white with red vests, yellow sashes and red, green and yellow hats.
They sang the Korean and American national anthems and were energized by drummers, dance groups and hip-hop performers.
Daniel Yum, 21, a junior at UC Berkeley joined his friend Gabriel Franco, 20, a student at UC Irvine. They too remember the South African cup when they showed up in the pre-dawn hour to watch and had to go to school afterward.
"It's fun to be here with my friends" said Yum. "The World Cup represents the unity of nations. It's the one thing we all have in common. It gives us a chance to compete in a beautiful way. Even if we lose we gain from it."
With the score 3-0 at halftime in favor of Algeria, the crowd began to thin, with many tossing their red plastic thunder sticks into the trash. Algeria went on to victory, 4-2.
The stories shaping California
Get up to speed with our Essential California newsletter, sent six days a week.
You may occasionally receive promotional content from the Los Angeles Times.