Fatal stabbing after Dodgers-Giants game: Details of the attack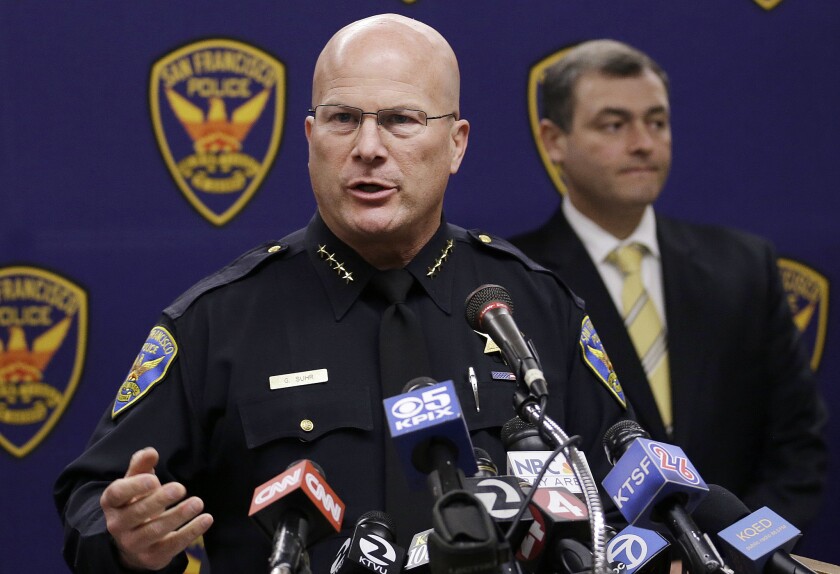 San Francisco Police Chief Greg Suhr late Thursday morning offered details of the confrontation that led to the fatal stabbing of a 24-year-old Dodgers fan -- the second tragedy in recent years in the storied rivalry between the L.A. team and the Giants.
The stabbing death of 24-year-old Jonathan Denver appears more complicated than the 2011 brutal beating outside Dodger Stadium that left Giants fan Bryan Stow with severe brain damage. Denver, his father, his father's girlfriend, his brother and a friend left Wednesday's game during the 8th inning and went to a nearby bar, Suhr said.
They were walking down 3rd Street toward Harrison Street, about four blocks from the ballpark, when they encountered a group that had come to town in a car registered in Lodi to visit a nightclub.
"There was a back-and-forth about the Giants-Dodgers rivalry, which deteriorated into a physical fight," Suhr said. While someone in Denver's group initially got the "short end," there were no serious physical injuries, Suhr said.
RELATED: Bryan Stow's family calls Dodger fan's death 'senseless'
Then, a second fight erupted, although it was "unclear who followed who," he added.
That fight involved "two or three people" from the victim's group and "four or five" from the other group, said Suhr, and ended when Denver, who was wearing Dodgers gear, realized he had been stabbed.
The attackers fled and two were taken into custody a few blocks away. They remained in questioning midday Thursday. Suhr, who declined to name the men, said the two -- described in a police report as being aged 18 and 21 -- were talking to investigators.
Police, who are looking for two other possible suspects, put out a call for any cellphone video, business surveillance footage or witness accounts.
The Giants-Dodgers games, as well as football games between the Cowboys and 49ers, trigger what Suhr referred to as a "rivalry package" of enhanced police staffing, which was in effect Wednesday.
At Thursday's game, Suhr said, some officers working the game will be wearing Dodgers gear.
"Obviously, this is one of the most storied rivalries in baseball," said Suhr, a self-described "big Giants fan." But, he added, "there is no place for violence. Please be respectful of everybody rooting for whoever they want to root for. "
"Although ... the suspects were not at the game and the victim had left. The fact that anybody got in a beef over the Giants versus Dodgers and someone lost their life, it's just senseless."
ALSO:
O.C. man first arrested in crash that killed 5 may get probation
FBI arrests Temecula man, 19, in 'sextortion' of Miss Teen USA
School officials reject Costa Mesa teen's $28,000 broken-teeth claim
Twitter: @leeromney
---
For reporting and exclusive analysis from bureau chief John Myers, get our California Politics newsletter.
You may occasionally receive promotional content from the Los Angeles Times.