Investigators look for missing son after house fire kills elderly man and woman in Diamond Bar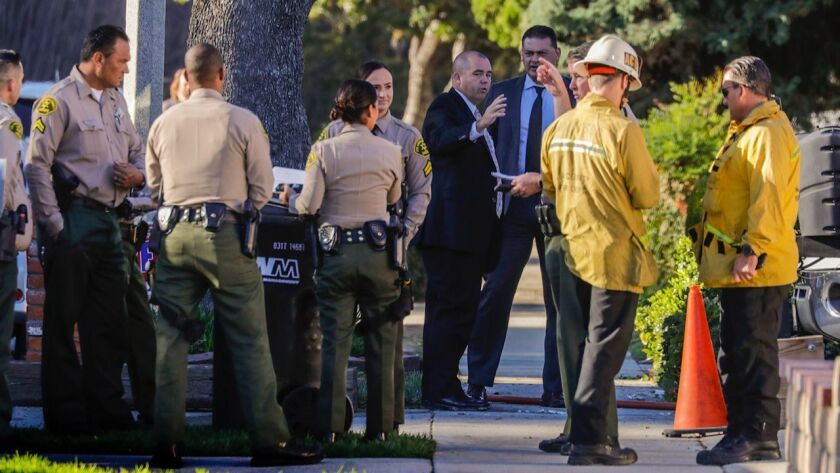 Homicide investigators are searching for the son of a Diamond Bar couple who were found dead with their dog in their home after it went up in flames early Friday. The fire may have been ignited intentionally, according to the Los Angeles County Sheriff 's Department.
The badly burned bodies of John Venti, 75, his wife Linda, 66, and their dog were discovered in a downstairs bedroom of the two-story house in the 3600 block of Crooked Creek Drive after firefighters extinguished the blaze shortly after 5 a.m., officials said.
Smoke and flames had been visible from the second story when fire crews arrived, and the blaze quickly spread through the entire house, Los Angeles County Fire Capt. Tony Imbrenda said.
The couple's son, Ryan Michael Venti, 33, is wanted for questioning. Ryan is white, six feet tall, 180 lbs, has reddish brown hair and blue eyes, according to a description posted on the LASD Facebook page.
Ryan was not home at the time of the fire, said Lt. John Corina of the Sheriff's Department Homicide Bureau.
"We're told the son suffers from mental issues," Corina said.
Neighbors told investigators that Ryan's behavior had become more erratic in recent months, Corina said. There had not been previous reports of the man trying to harm his family, said Corina, who added that sheriff's deputies had not received any 911 calls from the home in years.
The cause of the fire was not immediately known, but investigators said on Saturday they believe it might have been set intentionally.
The victims were probably sleeping at the time of the fire, and Imbrenda said the home did not have working smoke detectors.
Twitter: @Hannahnfry
Twitter: @JamesQueallyLAT
---
UPDATES:
4:50 p.m.: Saturday, Nov. 3: This article was updated with new information from the Los Angeles County Sheriff's Department.
5:40 p.m.: This article was updated with the names of the family who lived at the home.
12:40 p.m.: This article was updated with information from the Sheriff's Department about a person of interest.
8:55 a.m.: This article was updated with authorities revising the death toll to two and other details.
This article was originally published at 6:20 a.m. on Friday, Nov. 2.
---
The perils of parenting through a pandemic
What's going on with school? What do kids need? Get 8 to 3, a newsletter dedicated to the questions that keep California families up at night.
You may occasionally receive promotional content from the Los Angeles Times.