Federal grand jury subpoenaed documents from L.A. Unified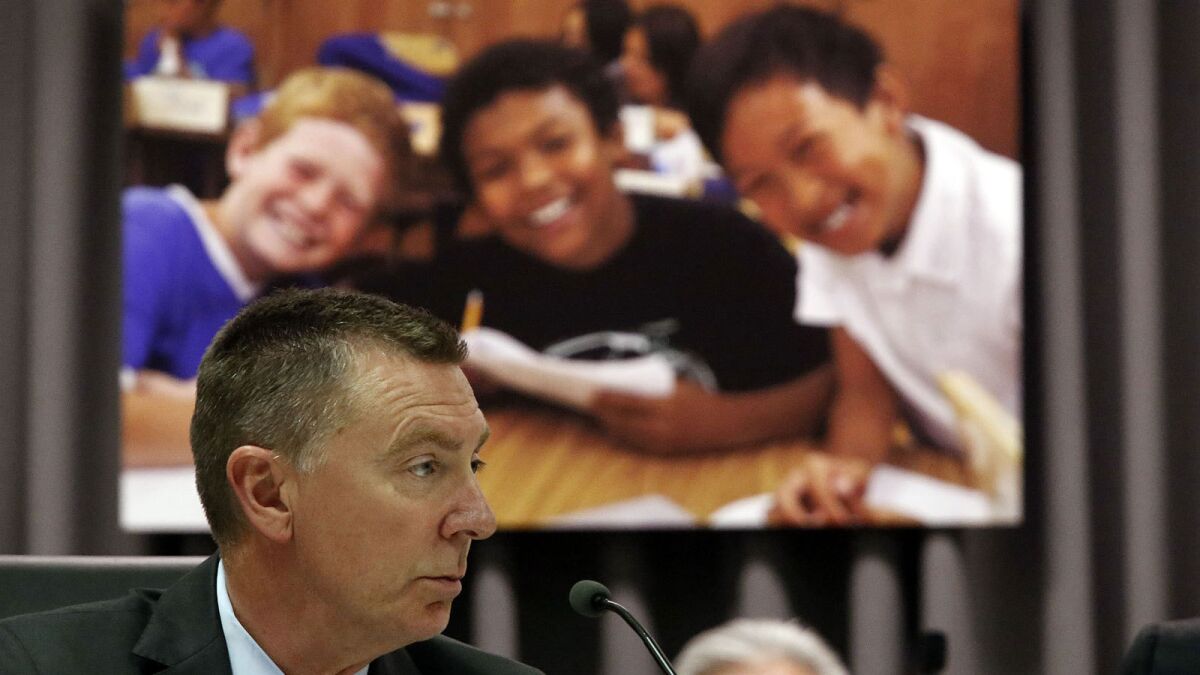 L.A. school district officials turned over 20 boxes of documents Monday in response to a federal grand jury subpoena for documents related to its troubled iPad project, officials confirmed Tuesday afternoon.
The subpoena asked for documents related to the bidding process as well as to the winning bidders in the $1.3-billion effort to provide a computer to every student, teacher and campus administrator.
The contract, approved in June 2013, was with Apple to supply iPads; Pearson provided the curriculum as a subcontractor.
The investigation is a broad one, seeking records related to Apple and Pearson that predate the bidding process or that involve other projects, according to the subpoena, which was provided to The Times.
The documents sought include all "score sheets; complete notepads, notebooks and binders; reports; contracts; agreements; consent forms; files; notices; agenda; meetings notes and minutes; instructions; accounting records" and much more.
The FBI seizure was part of the first law-enforcement investigation of technology effort.

Former L.A. schools Supt. John Deasy said Tuesday that he didn't know anything about the federal probe and that he had not been contacted by law enforcement.
Deasy's own role in the iPad project drew attention after disclosures of close ties he had with executives at Apple and Pearson. Deasy, who resigned under pressure in October, has denied any wrongdoing, and board members also have said they don't believe he was guilty of any illegal actions.
The morning after the FBI seized the documents, Supt. Ramon C. Cortines said he was shelving the contract.
Cortines said his decision was not based on the surprise visit by FBI agents to district headquarters.
The superintendent's move completes an action begun by Deasy but never fully carried out. In August, Deasy announced a suspension of purchases under the contract with Apple after the disclosures of his contacts, as well as those of his top deputy, with Apple and Pearson executives. He said at the time that the suspension was related to changes in the technology marketplace and not to the disclosures.
But the contract suspension never fully went into effect, and, as recently as Monday, the L.A. Unified was still planning on spending millions of dollars under the contract with Apple.
"We're not going to use the original iPad contract anymore," Cortines said Tuesday. "I think there have been too many innuendos, rumors, etc., and based on my reading of a great deal of material over Thanksgiving, I came to this conclusion.
"As CEO and steward of a billion-dollar operation, I have to make sure things are done properly so they are not questioned."
Cortines disclosed his latest move in an interview with the Los Angeles Times after informing the Board of Education in a previously scheduled closed-door session Tuesday.
The iPads-for-all project was a signature initiative of Deasy. The project has been funded mostly through voter-approved, school-construction bonds.
Deasy readily acknowledged that the project was an expensive draw from limited bond funds. But he said there was no other way to pay for what he called a civil rights imperative — to provide low-income students equal access to technology.
The FBI seizure of documents came as the L.A. schools inspector general, Ken Bramlett, continued his inquiry into the events leading up to the agreement, which was expected to expand to about $500 million for the devices and curriculum -- and another $800 million for staffing, improved broadband and other costs -- as the iPad program rolled out across the sprawling school system.
The results of a previous, confidential internal district investigation were reviewed by the L.A. County district attorney's office, which declined to file charges.
A public report on the project, prepared by board member Monica Ratliff, concluded that there were problems with how the bidding process was carried out and, later, with how the project was managed.
The initial rollout last year in the iPad project, at 47 schools, encountered numerous problems. Students deleted a security filter so they could freely browse the Internet, and many teachers felt poorly prepared to use the devices. Within months, the board decided to move more slowly, while also trying out other devices and curricula.
Cortines' latest decision will delay how soon 27 schools can receive iPads that were authorized last year. If those schools want devices before next fall, they could opt instead to choose Chromebooks, which are available under a different contract.
For more education news, follow @HowardBlume.
---
The stories shaping California
Get up to speed with our Essential California newsletter, sent six days a week.
You may occasionally receive promotional content from the Los Angeles Times.