Under new system, L.A. developers can pay a fee rather than plant new trees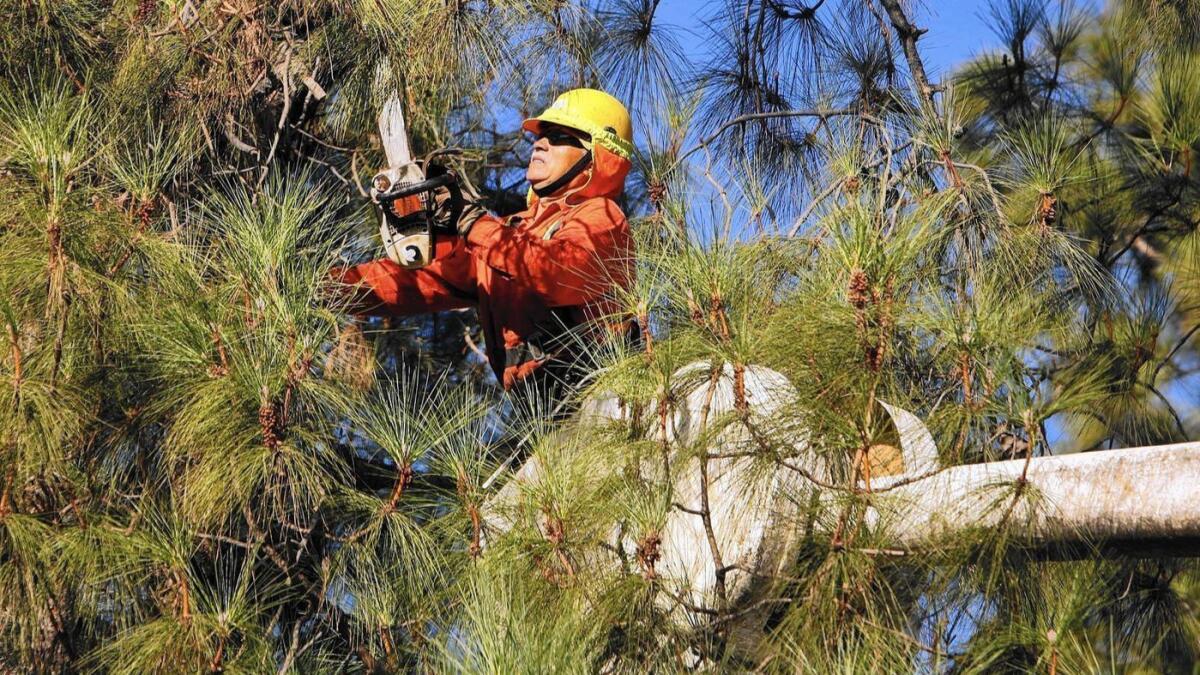 Developers, businesses and homeowners in Los Angeles who are required by the city to replace or plant trees can instead apply to pay a fee to get out of the obligation under a new levy system approved Tuesday by the City Council.
The City Council voted 13 to 1 to create the new fee, which officials say will raise money to fund tree planting in nearby areas. Backers say that several other cities, including San Francisco, have similar fees to pay for trees.
Several groups opposed Tuesday's vote, urging the city to create a comprehensive urban forest plan before passing the fee, including a determination of what types of species of trees are needed in Los Angeles and in what neighborhoods.
"Without structure, the money collected by in-lieu fees is subject to mismanagement by city officials," said Jacky Surber, a landscape designer who spoke at a news event organized by the Coalition to Preserve L.A. before Tuesday's council hearing.
Paul Krekorian, the only council member to vote against the new fee, also said the city needs a master plan to manage its trees. He questioned the disparity in the fee system, which will charge large developers $2,612 for a tree and smaller developers and homeowners $267.
City Councilman Bob Blumenfield, who chairs the Public Works and Gang Reduction Committee, said he would like to see a higher fee on the low end, but led his colleagues in voting for the plan. He said he supports the program because it addresses problems with the city's tree replanting efforts.
Developers and homeowners typically are required to plant two trees for every one tree removed in the public right of way, while separate city regulations require developers to plant multiple trees at some multi-unit projects.
Under existing city regulations, developers and homeowners can buy a tree and send it to the city's Bureau of Street Services to satisfy their replanting obligation. But in some cases, those trees are dying in the Bureau of Street Services' yards before they can be replanted, Blumenfield said.
The city also receives species of trees that aren't appropriate, officials said.
The fee is supported by business groups, including the Central City Assn. of Los Angeles. Shane Phillips, the group's director of public policy, said at a city hearing on the fee earlier this year that it's difficult to plant trees on smaller lots that have large buildings.
"This actually will allow for a more rational approach to tree planting, where we can actually plan and plant entire corridors, rather than having trees planted just where development happens to take place and leaving everywhere else kind of blank," Phillips said.
It's unclear how much money the fee will bring in. A city report released earlier this year estimated that about $618,060 could be raised over about eight or nine months.
Each applicant must get a determination from the city that it's not feasible to plant trees on the site, Blumenfield's office said. The councilman said the city's priority is to replant on site, rather than accept the fee.
The City Council must also approve the locations for those trees that are planted using the in-lieu fees under an amendment added to the ordinance. The ordinance must also return to the council for a second vote.
Twitter: @dakotacdsmith
Sign up for Essential California for news, features and recommendations from the L.A. Times and beyond in your inbox six days a week.
You may occasionally receive promotional content from the Los Angeles Times.