New evacuations ordered as fire raging near Yosemite National Park grows to 12,525 acres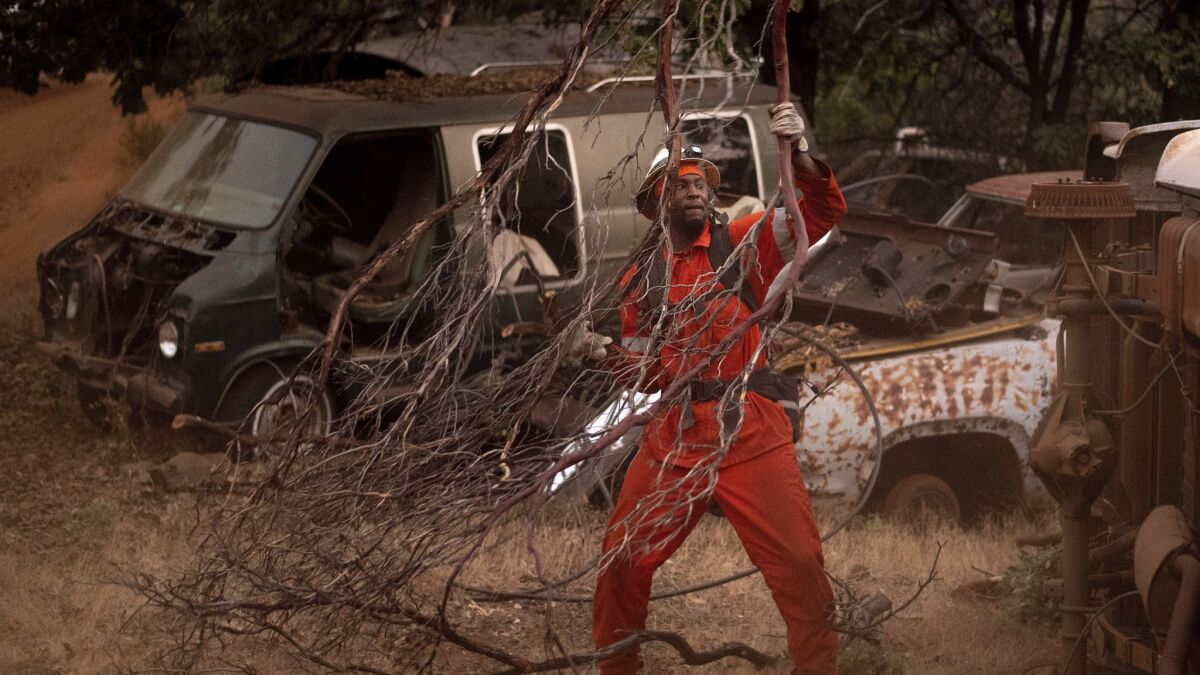 A wildfire burning outside Yosemite National Park continued its push south toward nearby rural communities as hundreds of firefighters flooded into the area Tuesday.
Amid high temperatures, low humidity and light winds, the Ferguson fire has scorched 12,525 acres south of Highway 140 west of the park and was 5% contained, the California Department of Forestry and Fire Protection said.
The blaze has killed one firefighter and is threatening more than 100 homes as it marches southeast along a fork of the Merced River toward Jerseydale, Mariposa Pines and Yosemite West, Cal Fire said.
On Monday night, authorities expanded evacuation orders to residents on Incline Road from Clearing House to Foresta Bridge. Those residents now join folks from Briceburg, Cedar Lodge, Mariposa Pines, Jerseydale and Sweetwater Ridge who have been forced out of their homes since the fire began over the weekend.
Crews have been hampered by rugged terrain that's kept much of the fire inaccessible by foot. So where they can't attack the flames directly, firefighters are scrubbing lines of brush clear down to the root alongside bulldozers to set up defensive positions where they can eventually make a stand. One of those firefighters helping with the effort was Braden Varney, 36.
Varney, a Cal fire bulldozer operator, was killed early Saturday when his vehicle tumbled down a steep canyon while cutting vegetation to protect Jerseydale, officials said. His body was recovered Monday.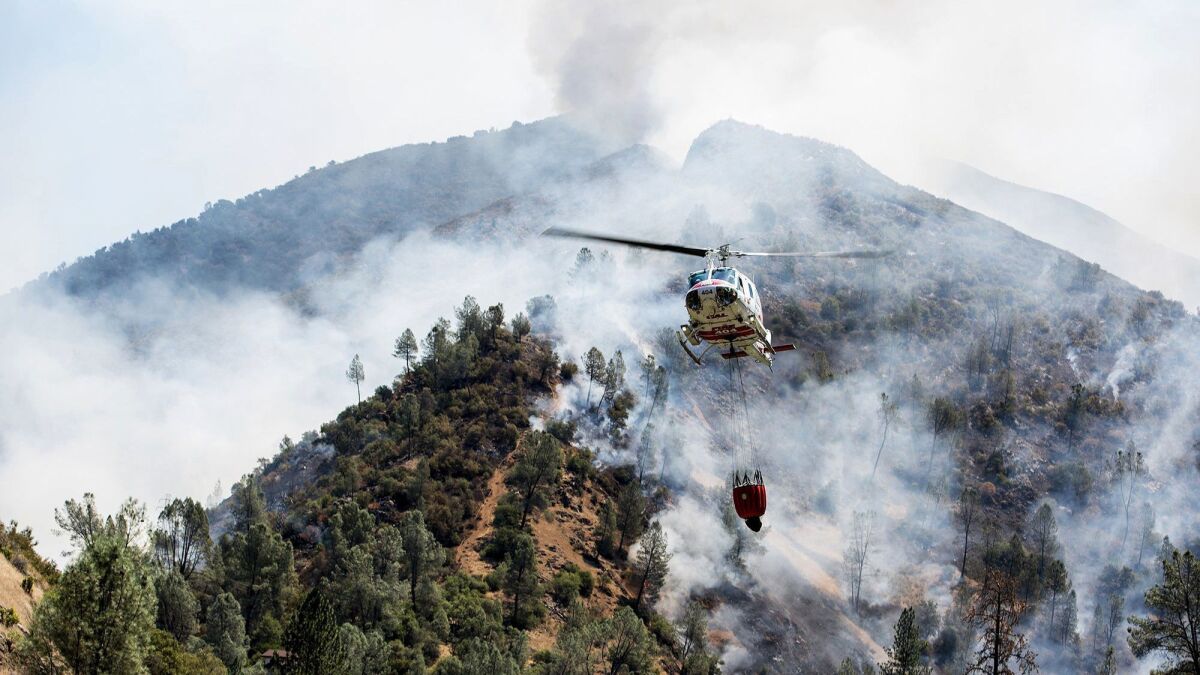 While that recovery effort was going on, firefighters continued with the grinding work of setting up defenses to protect the rural communities most vulnerable to a fast-moving blaze.
Officials said they are concerned with what lies on either side of the fire's current footprint along the south fork of the Merced River. Lying on either side of the river are acres of bark beetle-infested dead forest that's primed to go up like a tinderbox.
All those dead or dying trees pose a major risk to firefighters. They're a source of flying embers that can carry long distances in the wind, igniting spot fires, said Mike Beasley, a fire behavior analyst for the U.S. Forest Service.
"The biggest overall risk is that these dead trees have an increased risk of falling — themselves and their limbs falling on firefighters," said Heather Williams, a California Department of Forestry and Fire Protection spokeswoman.
Weather conditions, along with a haze of gray smoke that blankets the Yosemite Valley, have hampered the ability of aircraft to fight the blaze. Satellite images show the fire's smoke plume streaming east into Nevada.
Meanwhile, the tree die-off is one of many fire hazards heightened by California's drought conditions. The state last year experienced the most destructive fire season in history, with dozens of people killed and thousands of homes lost from Northern California wine country down to Santa Barbara and Ventura counties. Those blazes were fueled by dry conditions and unusually powerful winds.
The U.S. Forest Service estimates that since 2010, more than 129 million drought-stressed and beetle-ravaged trees have died across 7.7 million acres of California forest, mostly in the Sierra. Authorities have said the beetle epidemic is rapidly killing trees in the 4,500-foot to 6,000-foot elevation band of the central and southern Sierra Nevada. It could take centuries for the trees to repopulate, if they ever do.
Unlike the firestorms that destroyed homes in Sonoma, Napa, Ventura and Santa Barbara counties last year, the Ferguson fire is not burning close to major population centers. Instead, the blaze is burning in steep, hard-to-access terrain, deep within the forest. Some areas haven't burned since 1927, leaving a heavy accumulation of fuels.
But officials fear that it could end up becoming a repeat of last year's Detwiler fire, which burned for five months and destroyed 63 homes. It started a few miles west of the Ferguson fire, burning on the edge of Mariposa. The Detwiler fire burned hotter than crews had seen in years and sent smoke floating as far north as Idaho.
A chance of thunderstorms in the high Sierra later this week could bring gusty, erratic winds to the Ferguson burn area, according to Modesto Vasquez, a forecaster with the National Weather Service.
"Any kind of increase in winds like that is going to potentially make for an explosive situation," Beasley, the fire behavior analyst, said. "In the long run, for the whole region, for the whole western slope of the southern Sierra, it poses a huge fire problem."
Crews may have to trek into these dangerous patches of land if it means protecting nearby homes, Williams, the Cal Fire spokeswoman, said.
For breaking California news, follow @JosephSerna on Twitter.
---
The stories shaping California
Get up to speed with our Essential California newsletter, sent six days a week.
You may occasionally receive promotional content from the Los Angeles Times.