Orange County prosecutors file suit against biological suppliers, alleging unlawful pricing of fetal tissue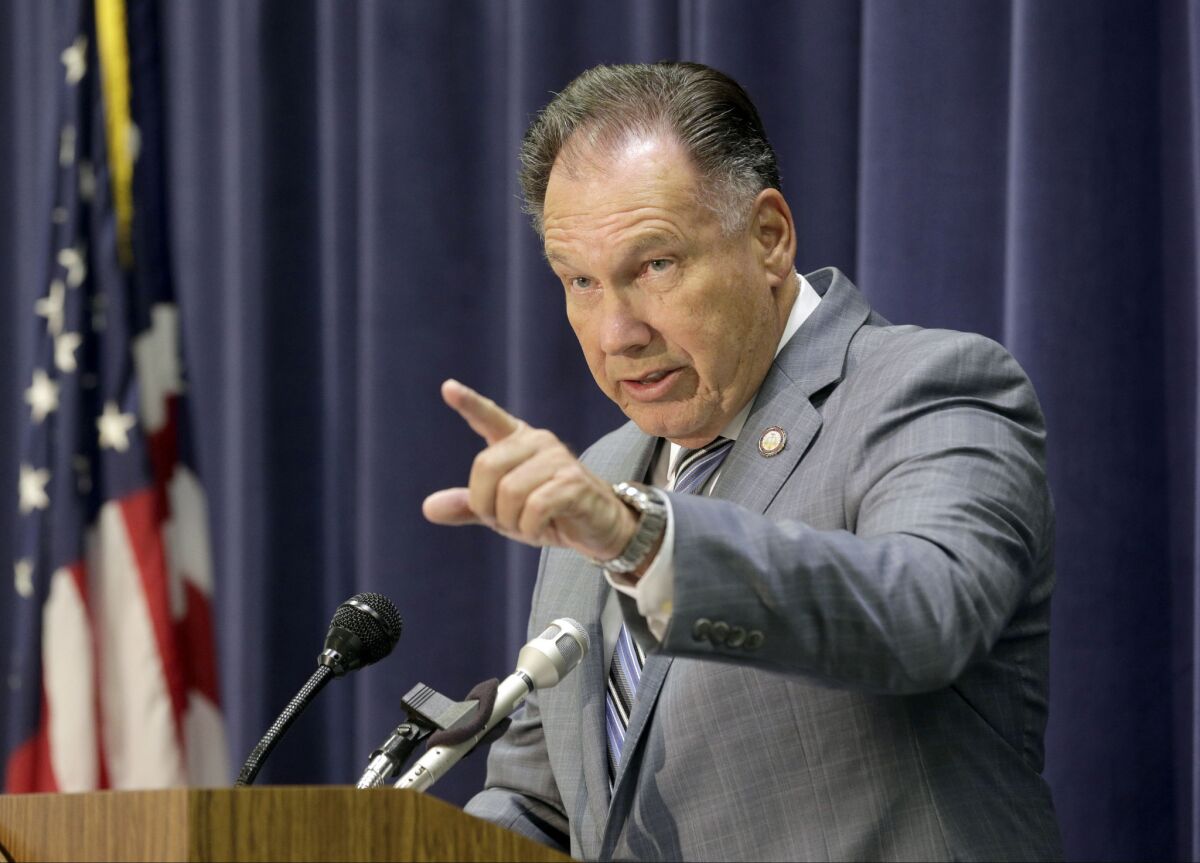 The Orange County district attorney's office has filed suit against two biological supply companies, accusing them of selling fetal-derived cells and tissues to drug companies and academic institutions at unlawfully high markups around the world.
The suit, filed Wednesday, names Orange County-based DV Biologics and DaVinci Biosciences, a sister company, as defendants. The suit demands that the companies stop the sale of fetal tissue and cells and that they reimburse researchers who say they overpaid for the products.
An attorney representing both firms said they had done nothing wrong and called the matter a lawsuit over "accounting issues."
The suit alleges that the companies obtained aborted fetuses from Planned Parenthood and sold tissues and stem cells from the fetal parts, earning hundreds of thousands in revenue from their sale from 2009 to 2015.
State and federal law permits the donation of fetal tissue for research but forbids its sale for fees beyond certain strict limits, such as fees for processing and handling costs.
In some cases, the companies charged as much as $700 a vial for tissue that cost them just $20 to process, according to prosecutors.
"The business was lucrative," Orange County Dist. Atty. Tony Rackauckas told reporters Wednesday morning. He said the tissue was sold to buyers in North America, Asia, Europe and Australia.
Rackauckas said his office looked into the possibility of a criminal case but said the law did not provide criminal penalties for the given allegations.
He said there was no evidence that the companies exchanged money with Planned Parenthood, or that Planned Parenthood did anything unlawful. A representative from Planned Parenthood said the organization was not involved in the case and would not comment.
UC Irvine law professor Michele Goodwin said that almost all companies that process human tissue have big mark-ups, including some "that make this look like this is nothing," she said.
"Why not go after the big fish here?" said Goodwin, who heads UC Irvine's Center for Biotechnology and Global Health Policy and is a board member of Planned Parenthood of Orange and San Bernardino counties.
Unless other tissue companies also face charges, Goodwin said, the district attorney is unfairly targeting fetal tissue donations, which are essential for researching Alzheimer's and dementia.
The suit alleges that the companies "set their prices as high as possible in an effort to maximize their profits." Sales and marketing staff sometimes used discounts and coupons to meet sales goals, the suit claims.
Rackauckas said the companies set sale prices "arbitrarily," with 50% discounts for bulk purchases and a 25%-off "summer sale."
According to prosecutors, DaVinci Biosciences incorporated in 2007, and DV Biologics in 2009. The suit said both companies operated in Costa Mesa but now operate from an office on Old Canal Road in Yorba Linda.
The suit said DaVinci Biosciences is owned by Andres Isaias, Luis Isaias and Estefano Isaias, while DV Biologics is owned by Andres and Luis Isaias.
Michael Tein, a lawyer representing both companies, said his clients complied with regulations and never turned a profit.
"Their scientists worked day and night to discover cell-based medical treatments and improve the quality of life for patients suffering from cancer, Alzheimer's and other deadly diseases," Tein said in an email.
He said the shipments of biological materials were made only to other scientists working at fully accredited universities and laboratories.
"This is a civil lawsuit over accounting issues," Tein said. "We look forward to explaining the full story to the court."
christopher.goffard@latimes.com
Twitter: @LATChrisGoffard
ALSO
Federal report cites bias, violence against minorities by San Francisco police
Death of LAPD detective investigating Derrick Rose rape allegations called likely suicide
'Those police officers walked into a trap': Suspect in Palm Springs police killings charged with murder
---
UPDATES:
Oct. 13, 9:45 a.m.: This article was updated to identify Goodwin as a board member of Planned Parenthood of Orange and San Bernardino counties.
6:15 p.m.: This article was updated with comments from law professor Michele Goodwin about the lawsuit.
1:15 p.m.: This article was updated with a no-comment response from Planned Parenthood.
12:50 p.m.: This article was updated to include comments from lawyer Michael Tein.
This article was originally published at 12:20 p.m. on Oct. 12.
---
Life is stressful. Our weekly mental wellness newsletter can help.
You may occasionally receive promotional content from the Los Angeles Times.