Firefighters capture video of 'fire whirl' during destructive Shasta County blaze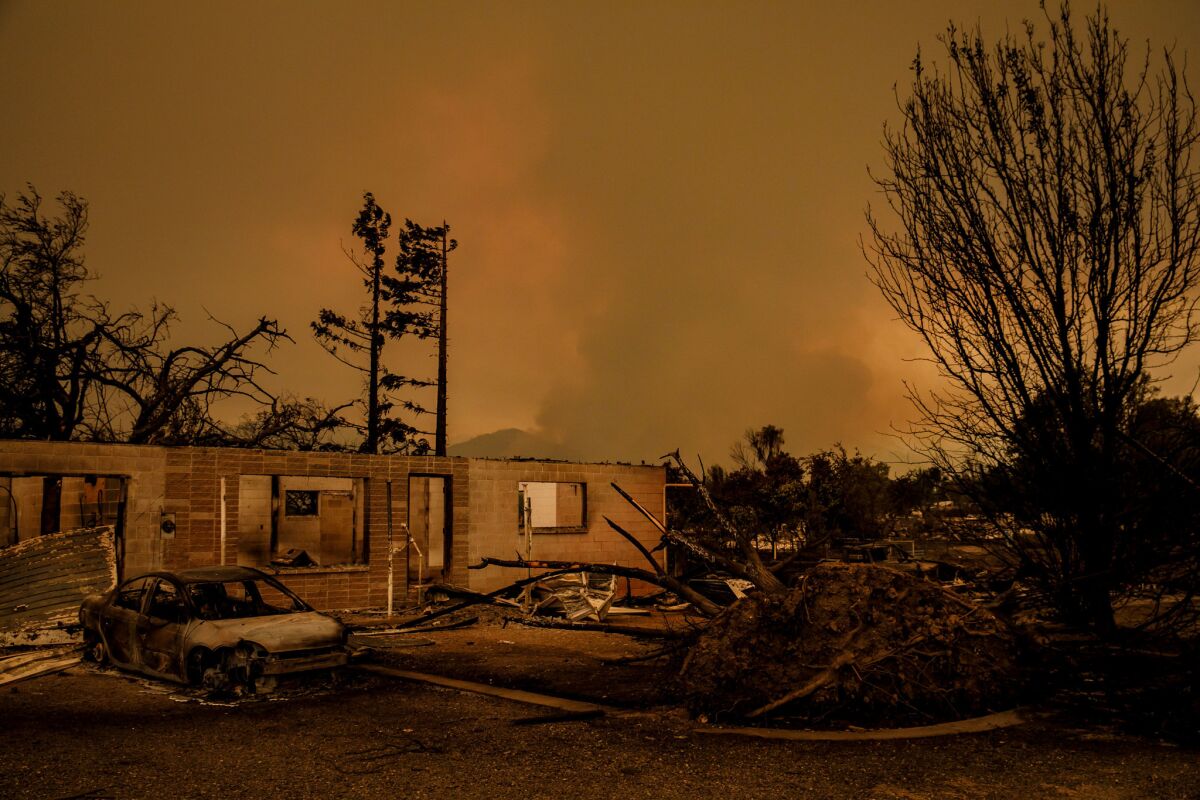 As firefighters continue to battle the destructive Carr fire, some captured on video the tornado-like flaming vortexes that have swept through the area.
The fire — which has destroyed at least 500 structures, burned more than 48,000 acres and is only 5% contained — has carved a dangerous path through Shasta County. On social media, some have referred to the extreme fire behavior as "fire tornado" and "firenado."
"Literally almost what can be described as a tornado occurred over this fire yesterday," Ken Pimlott, director of the California Department of Forestry and Fire Protection, said at a Friday briefing. "This fire was whipped up into a whirlwind of activity — uprooting trees, moving vehicles, moving parts of roadways."
The Peardale Chicago Park Fire Protection District captured one spinning vortex in a video posted to YouTube — describing it as a "fire whirl."
Fire whirls have been documented for more than 100 years, according to research reviewed in a 2012 article in the Journal of Combustion.
A fire whirl during the Great Chicago Fire of 1871 threw burning planks of wood more than 600 yards ahead of the main blaze, aiding the fire's spread. In Wisconsin, two people were killed when a fire whirl lifted their home off its foundation and dropped it 50 yards away, according an article published in the journal.
RELATED: Everything you need to know about California's catastrophic year of wildfires »
A fire whirl can occur when trees, a hillside or even a wall of flames forces air to shift or rotate among competing air temperatures and speeds — and eventually it tilts the rotating air from a horizontal position to a vertical one, giving it the tornado-like appearance.
Some fire whirls dissipate moments after starting because the heat and air flow that maintained them ventilate out. But others can travel and sustain themselves as the heat is lifted on buoyant air, and gas surrounding the whirl pushes it tighter into itself, making it more intense. The air inside the funnel can then act as a compressed, rotating column of gas, according to the study.
Scientists estimate fire whirls burn fuel three to seven times faster than an open flame.
Twitter: @Brittny_Mejia
Twitter: @JosephSerna
---
The stories shaping California
Get up to speed with our Essential California newsletter, sent six days a week.
You may occasionally receive promotional content from the Los Angeles Times.