Machine guns among 28 weapons seized from Temple City man banned from owning firearms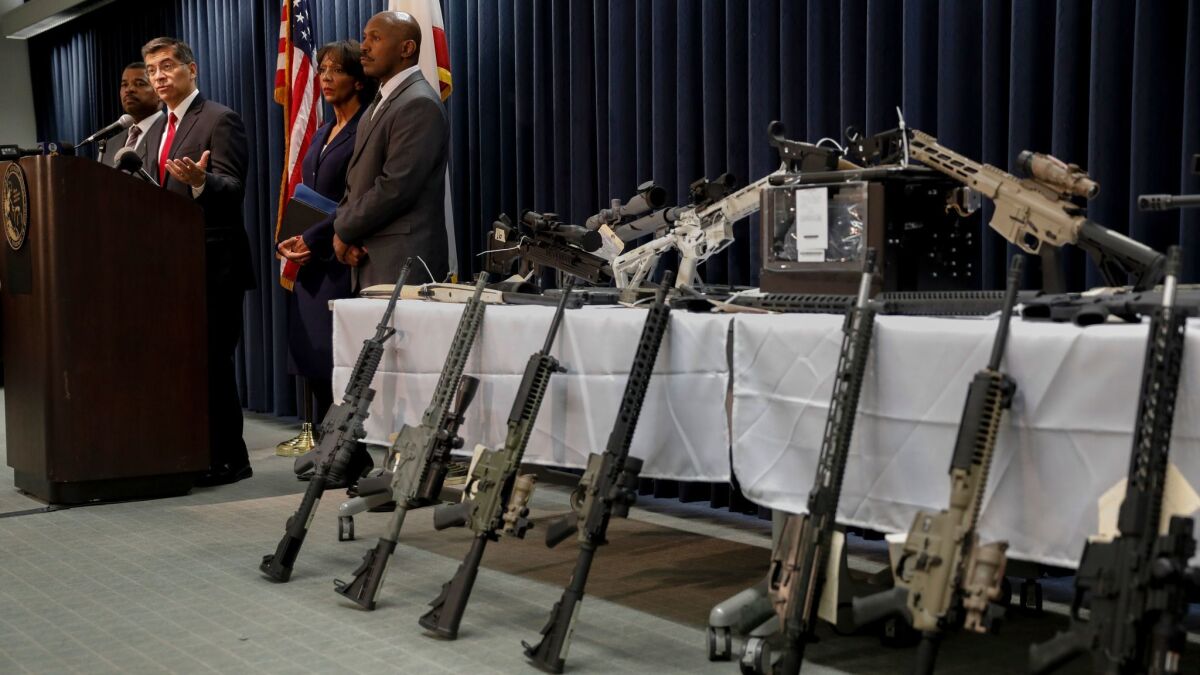 Despite being on the state's list of people barred from owning firearms, an L.A. County man was able to accumulate an arsenal of 28 guns before authorities recently seized the weapons, officials announced Wednesday.
During a press conference in downtown L.A., California Atty. Gen. Xavier Becerra said authorities last week searched a Temple City home expecting to find four guns. Instead, he said, they found an extensive cache, including two fully automatic weapons capable of firing up to 300 rounds per minute, 65,000 rounds of ammunition and 11 so-called ghost guns — firearms without serial numbers that are nearly impossible to trace.
L.A. County Dist. Atty. Jackie Lacey announced that her office had filed seven felony charges, including possession of a firearm by a felon, against Steven David Ponder, 57. In 2001, prosecutors said, Ponder was convicted of counterfeiting money and possessing a machine gun.
According to the criminal complaint, some of the guns in Ponder's stash were "self-made assault weapons." Ponder's 27-year-old daughter, Riley, was also charged with three felony weapon counts this week, Lacey said, noting that some of the guns were found in her room.
During her remarks, Lacey referenced recent shootings at churches, schools and music venues.
"Too many innocent people have been shot and killed," she said. "Enough is enough."
Asked why he believed the Ponders had stockpiled so many guns, Becerra said he wouldn't attempt to get into their heads, but added: "You can imagine the scenarios in which it could get really, seriously dangerous."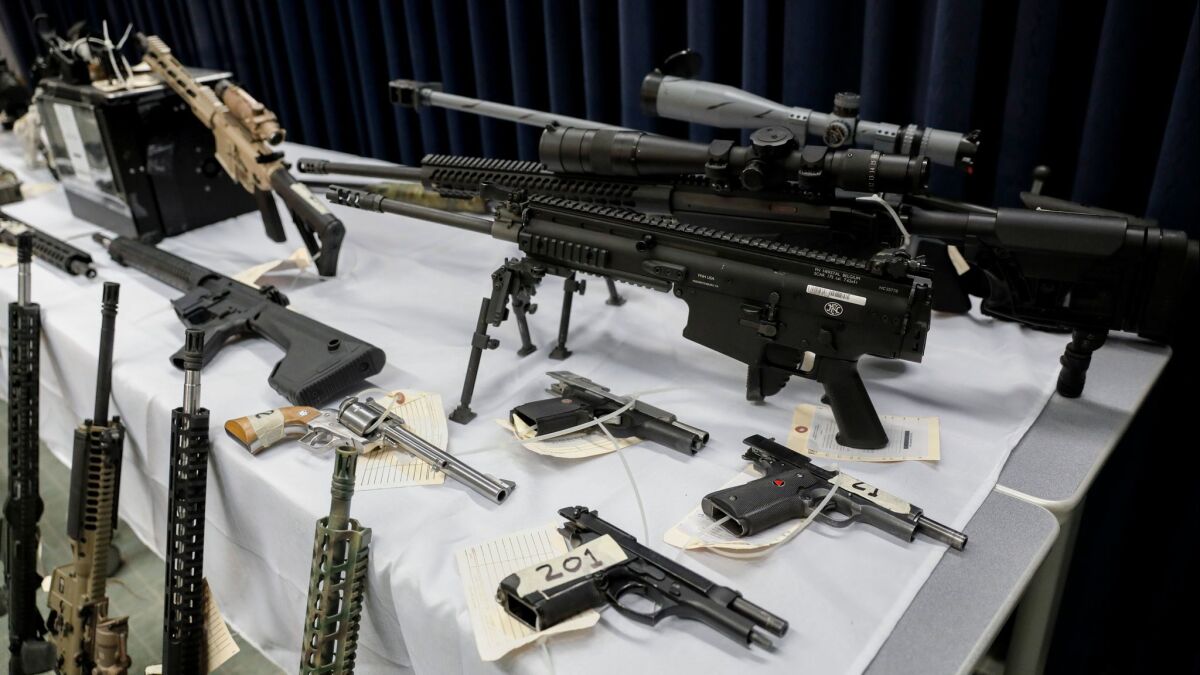 At one point, Becerra looked over the weapons displayed on a nearby table and shook his head.
"All of this," he said, "in the possession of a man who under the law didn't have permission to have even one gun."
Authorities said Ponder is listed in the Armed and Prohibited Persons System — a database of Californians known to have had guns who were eventually barred from owning them after being convicted of a felony, exhibiting a history of violence or severe mental illness or for being wanted for a crime. The database, Becerra said, cross-references firearm owners against records of criminal history and restraining orders.
The Los Angeles Times reported last month that more than 10,000 Californians forbidden to possess guns are still armed.
Samuel Richardson, who supervises a team of Department of Justice agents who seize guns in L.A. County, described the work as "one of the most dangerous jobs in law enforcement."
"It's not a job where you just run up and knock on the door and hope they give you the gun," he said.
Asked if he and the agents struggled to get Ponder to turn over the weapons, Richardson would only say: "We had to write a search warrant."
There are still about 2,000 people in L.A. County on the list, Richardson said, adding that his team has made big strides in recent years. Three years ago, he said, there were more than 5,000 people from L.A. County on the list.
"I wish we could go faster," Richardson said.
If Ponder is convicted on all seven felony counts, he faces up to eight years in prison. His daughter faces up to five years.
For more news from the Los Angeles County courts, follow me on Twitter: @marisagerber
---
UPDATES:
1:05 p.m.: This article was updated with details from the press conference and the criminal complaint.
This article was originally published at 11:15 a.m.
---
The stories shaping California
Get up to speed with our Essential California newsletter, sent six days a week.
You may occasionally receive promotional content from the Los Angeles Times.