Raging Valley and Butte fires spur help, sympathy on social media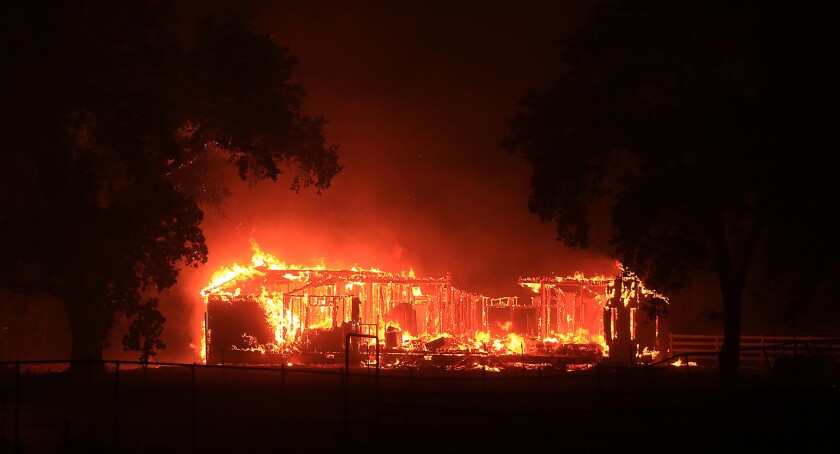 As two fast-moving blazes tore through Northern California -- with one exploding late Saturday to overrun the small Lake County community of Middletown -- the nation watched in horror on social media, as locals connected to seek and offer help.
The Butte fire in Amador and Calaveras counties started Wednesday and steadily grew to cover more than 65,000 acres by midday Saturday, burning more than 80 homes and prompting 6,000 residents to flee their Gold Country communities.
Nearly 4,000 fire personnel were on scene, achieving 15% containment by nightfall.
But as that fire seemed to yield in its advance, #ValleyFire exploded in Lake County to the west. It began around 1:30 p.m. near Cobb and by evening covered 10,000 acres. By 10:30 p.m. it had more than doubled, to 25,000 acres. And a few hours later evacuation orders spread to northern Napa County as the fire moved to the southeast. Four firefighters were injured battling the Valley fire but are expected to make a full recovery.
Official evacuation centers were set up to the southwest of the blaze in Calistoga and to the north in Kelseyville, while others offered their homes -- and sought shelter -- through Twitter.
An hour later, she was set.
Many were glued to their feeds, as the #ValleyFire hashtag made the nation's top ten trending topics.
Calls for defibrillators and grief counselors came from Clearlake, north of the Lake County blaze that sent thousands fleeing on winding rural highways to safety Saturday afternoon and evening.
On Facebook, Gina Randazzo-Bezoni alerted those affected by the fire to available space for horse trailers next to the Moose Lodge in the town of Clearlake Oaks.
Others were panicked and discouraged that animals had been left behind.
Michelle Kay, of Petaluma, beckoned late Saturday for help for her sister's horse and two goats, left in a field near the Middletown Vet Hospital, where she had heard that some dogs may have also been in need of rescue.
Her sister and her family made it to Petaluma, she posted later, but prospects of saving the home were grim as photos streamed in of entire blocks of homes ablaze and churches in ashes. Explosions at the town gas station and of propane tanks all over town could be heard on videos posted to social media as well.
The blaze also led to the evacuation late Saturday afternoon of Harbin Hot Springs, a clothing-optional spa and retreat beloved by spiritual seekers.
Photos posted on Twitter of an apartment building ablaze on the road to the spa and of fire closing in from nearby hillsides prompted rumors that the resort had been destroyed. But the facility in the early morning hours Sunday urged supporters to wait and see.
Photographer Ken Porter tweeted video of a Middletown apartment complex burning.
On many minds was the drought. Daniel Swain, studying climate change at Stanford University, was among them.
Twitter @leeromney


---
For reporting and exclusive analysis from bureau chief John Myers, get our California Politics newsletter.
You may occasionally receive promotional content from the Los Angeles Times.