First L.A. Unified school gets iPads in $1-billion effort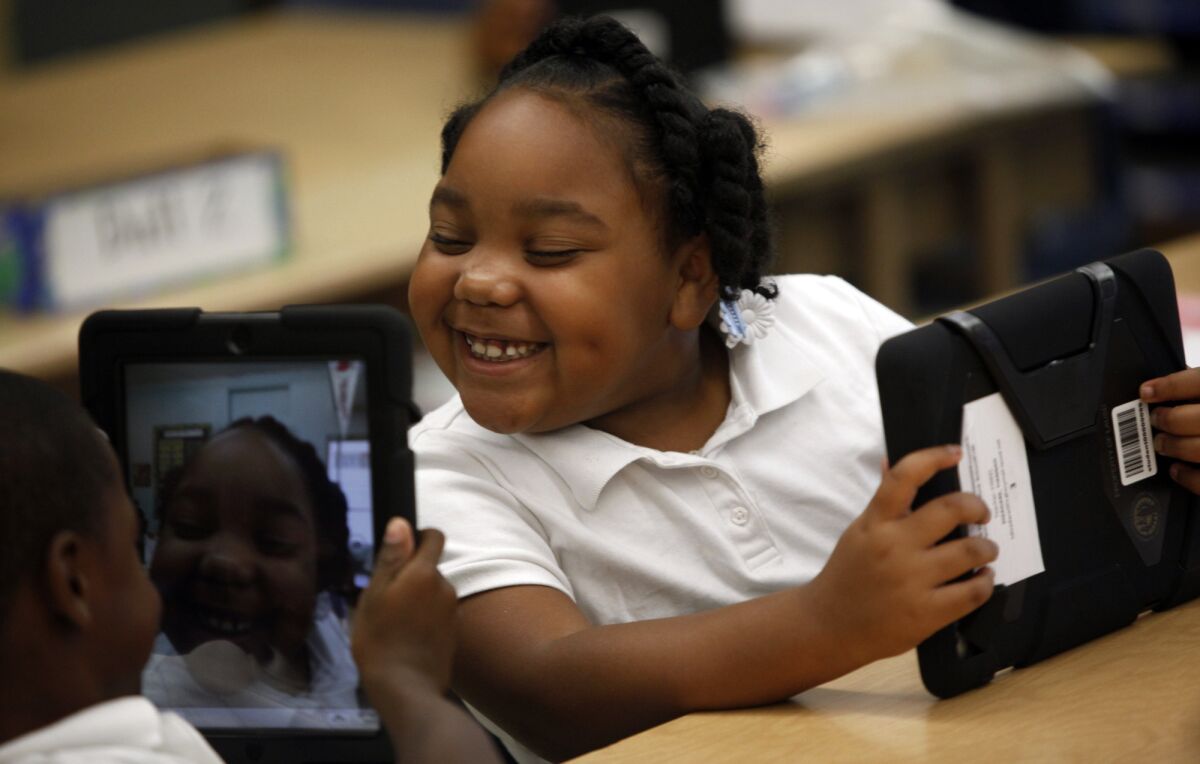 An elementary school in Carson on Tuesday became a pioneer in a $1-billion effort to provide iPads to every student in the Los Angeles Unified School District.
Broadacres Elementary School handed out the Apple tablet computers ahead of most campuses in the nation's second-largest system. The idea is to work out the kinks before other schools and hundreds of other students receive the devices.
Broadacres is one of 47 schools set to distribute iPads over the next few weeks. The devices for these schools will cost about $30 million. Supplying tablets for the entire district, about 650,000 students, will cost about $500 million. Upgrading schools to a campuswide wireless system will cost another $500 million.
Parents at Broadacres said they heard about the iPads from their excited children, who came home with forms to sign about taking responsibility for the tablets and using them appropriately.
"I'm signing the form now to make sure we're receiving it," said Brenda Brandon, who took out her pen in the family car as 7-year-old Krystal, a second-grader, waited outside with her father, Edward Brandon.
"I think it's great," he said. "There was nothing like this when I was in school."
The Brandons have five children in L.A. Unified and had heard about the iPad program from the older siblings, but weren't expecting Krystal and her schoolmates to receive a tablet.
"I was surprised," said Edward Brandon, a maintenance worker for the L.A. Community College District. "They are so young."
The Brandons don't have a computer at home and rely on their mobile phone to access the Internet.
L.A. Unified plans for every student and teacher to have an iPad and to integrate them deeply into instruction.
The goal is that the effort will revolutionize teaching and boost achievement -- as well as put the district's mostly low-income, minority students on an even footing with more prosperous students who have such devices at home, at school or both.
L.A. Unified is paying $678 per device -- higher than tablets cost in stores -- with pre-loaded educational software. They also come with a sturdy case and a three-year warranty. The devices will be paid through voter-approved school construction bonds.
ALSO:
Earthquake: Magnitude 4.1 quake strikes near Reno
Rim fire 20% contained, but flames threaten 4,500 structures
Thunderstorms hit mountain, desert areas of Southern California
Twitter: @howardblume | howard.blume@latimes.com
The stories shaping California
Get up to speed with our Essential California newsletter, sent six days a week.
You may occasionally receive promotional content from the Los Angeles Times.