Santa Ana man charged with threatening Parkland shooting victims' family and friends online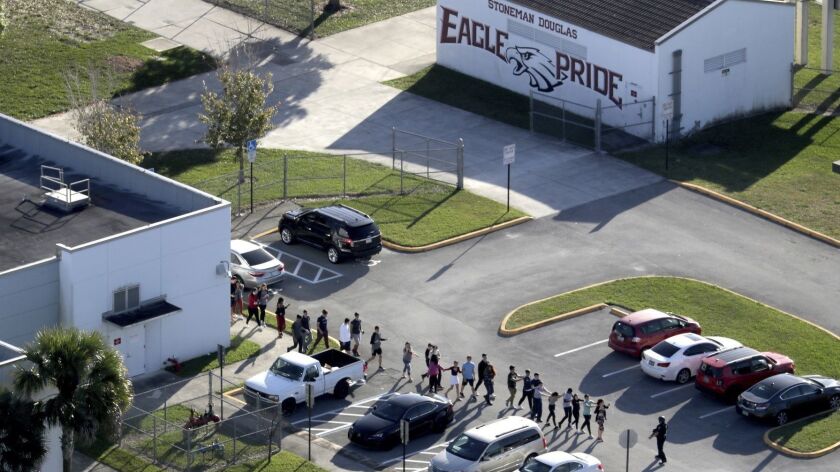 A Santa Ana man is facing federal charges after authorities say he used Instagram to send threatening messages to family members and friends of people killed in a mass shooting last year at Marjory Stoneman Douglas High School in Parkland, Fla.
Brandon Fleury was arrested and charged Friday with cyber-stalking and making threats in interstate communications after federal investigators determined he had created multiple Instagram accounts that were used to taunt those who knew the Parkland victims, according to an affidavit filed in federal court in Florida.
Seventeen people were killed when a shooter opened fire at the Florida high school on Feb. 14, 2018. Since then, many survivors and family members of those who were killed have become advocates for stronger gun control policies in the United States.
The criminal complaint alleges Fleury spent several weeks, beginning in late December and continuing through early January, harassing victims' relatives by tagging them in Instagram posts and writing comments that celebrated their family members' deaths. Authorities say he frequently used profile names that referenced Parkland shooting suspect Nikolas Cruz and serial killer Ted Bundy in his messages.
Investigators say Fleury used the Instagram username "nikolas.killed.your.sister" to send messages in quick succession over the course of about an hour to Jaime Guttenberg's brother, father and best friend. Guttenberg, 14, was killed during the school shooting.
"I killed your loved ones hahaha," one message read. Another read: "Your grief is my joy."
"With the power of my AR-15, I erased their existence," a third message read, followed by smiling, applause and handgun emojis.
Fleury told FBI agents after his arrest that he posted the messages in an effort to "troll" the victims and gain popularity. He targeted family members who were activists and had a large social media presence, according to the affidavit.
On Christmas Day, at least two people received a threat from an Instagram account with the username of "teddykillspeople" that read: "I'm your abductor. I'm kidnapping you fool." The message was followed by two emojis showing a lock, as well as applauding and blowing a kiss emojis, according to the affidavit.
Another message that day took credit for the murders of Janice Ott and Denise Naslund, who were killed by Bundy in 1974. Investigators said Fleury admitted he had a strong interest in the serial killer and had researched him.
Authorities identified Fleury as a suspect after pinpointing the IP addresses associated with the Instagram accounts to his family's home in Santa Ana.
"Fleury described his fascination with Nikolas Cruz, other mass shooters, Ted Bundy, and other serial killers," FBI Special Agent Cameron McDowell wrote in the affidavit. "He further admitted to posting the messages in an attempt to troll the victims, trying to get reactions from people and be controversial."
He is expected to appear in federal court in Florida on Monday.
Twitter: @Hannahnfry
---
The stories shaping California
Get up to speed with our Essential California newsletter, sent six days a week.
You may occasionally receive promotional content from the Los Angeles Times.