Man who caused fatal freeway crash that killed deputy is convicted of second-degree murder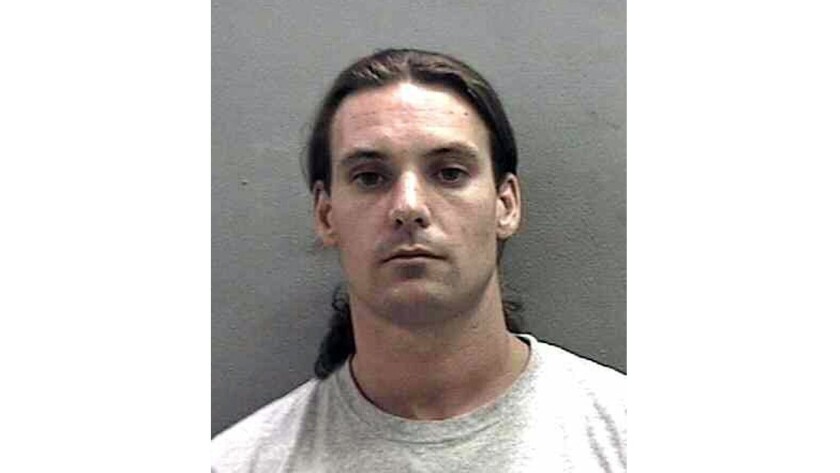 A man who was driving a truckload of stolen appliances when a stove tumbled off his truck, causing a crash that claimed the life of a Los Angeles County sheriff's deputy, was convicted Wednesday of second-degree murder, officials said.
An Orange County jury deliberated for several hours before finding Cole Allen Wilkins, 41, guilty in the deputy's July 2006 death, according to the Orange County district attorney's office.
Wilkins faces 25 years to life in state prison and is due to be sentenced this month.
Dist. Atty. Tony Rackauckas said in a statement that Wilkins "deserves to spend the rest of his life in prison for murdering a police officer who was on his way to serve and protect the public."
Wilkins' attorney could not immediately be reached for comment.
Early that July 2006 morning, prosecutors said, Wilkins stole a shipment of appliances from a home under construction in Riverside County.
As he fled, he failed to secure the items, leaving the tailgate of his pickup truck down. Soon after, on the 91 Freeway in Anaheim, a full-size stove fell off the truck's bed.
David Piquette, a 10-year veteran of the Sheriff's Department and father of twins, was driving to work from his Corona home when he swerved to avoid hitting the appliance. He collided with a cement truck, which landed on top of his Crown Victoria and crushed him.
Wilkins did not stop until a driver behind him flashed his lights and honked his horn. When he finally did stop, prosecutors said, he gave the man a fake name and two bogus phone numbers. Later, he also gave a false name to California Highway Patrol officers investigating the collision.
Wilkins fought his case for more than a decade, all the way up to the California Supreme Court.
At his first trial in 2008, he was found guilty of first-degree murder, but the state high court overturned his conviction on the grounds the jury was not properly instructed.
He had been convicted under the "felony-murder rule," under which a defendant may be convicted of first-degree murder if someone dies while the suspect is committing a felony, even if the defendant did not intend to kill.
A jury convicted Wilkins because the crash occurred soon after he had stolen the household appliances.
But the state high court overturned the conviction, saying that if a defendant had already escaped to a "temporary place of safety," any death he then causes is not felony murder.
alene.tchekmedyian@latimes.com
Twitter: @AleneTchek
ALSO
'Dreamers' stake their futures on going public. Now, the spotlight is going to be more important than ever
Deputy accused in Alameda County jail abuse scandal strangled an inmate until he fell unconscious, prosecutors say
Railroad fire 43% contained, but blaze continues to threaten giant sequoias near Yosemite
---
The stories shaping California
Get up to speed with our Essential California newsletter, sent six days a week.
You may occasionally receive promotional content from the Los Angeles Times.