L.A. to make sure air filters are being installed in homes near freeways
L.A. and other California cities keep approving new home construction near freeways. (Aug. 9, 2017) (Sign up for our free video newsletter here http://bit.ly/2n6VKPR)
Mayor Eric Garcetti has ordered Los Angeles building inspectors to begin tracking whether required air filtration systems are being installed in new homes near freeways, officials said Tuesday.
The Department of Building and Safety will add a "check box" to its inspection forms to ensure dwellings are equipped with the proper-strength filters to protect residents from traffic pollution, mayoral spokesman Alex Comisar said.
The city also is enhancing its building inspection software to alert staff of the filtration requirements and "track and capture statistics related to their installation," building department spokesman Jeff Napier said.
The new features, he said, should be up and running in the next few days.
The system improvements come after the Los Angeles Times reported last month that the city had no procedures for documenting whether newly constructed homes near freeways were complying with requirements that they install high-efficiency air filters.
The City Council last year adopted special filtration rules for homes built near freeways in an effort to address the health effects from a surge of residential development near traffic pollution.
In recent years, Los Angeles and other California cities have approved the construction of thousands of homes near freeways, flouting more than a decade of warnings by air quality officials against building housing within 500 feet of heavy traffic. A mounting number of scientific studies link living near traffic pollution to asthma, cancer, heart attacks, preterm births and an array of other health problems.
The 2016 ordinance signed by Garcetti required that new homes within 1,000 feet of a freeway have air filters meeting a standard of 13 on a 16-point industry scale — the minimum efficiency reporting value — that measures how effectively they block tiny pollution particles.
But air quality officials and health experts have expressed skepticism that filters are an adequate solution.
Although the devices capture some of the harmful particles in vehicle exhaust, they do nothing to stop toxic gases. They must be regularly replaced and are not effective unless the ventilation system is running — with all doors and windows closed.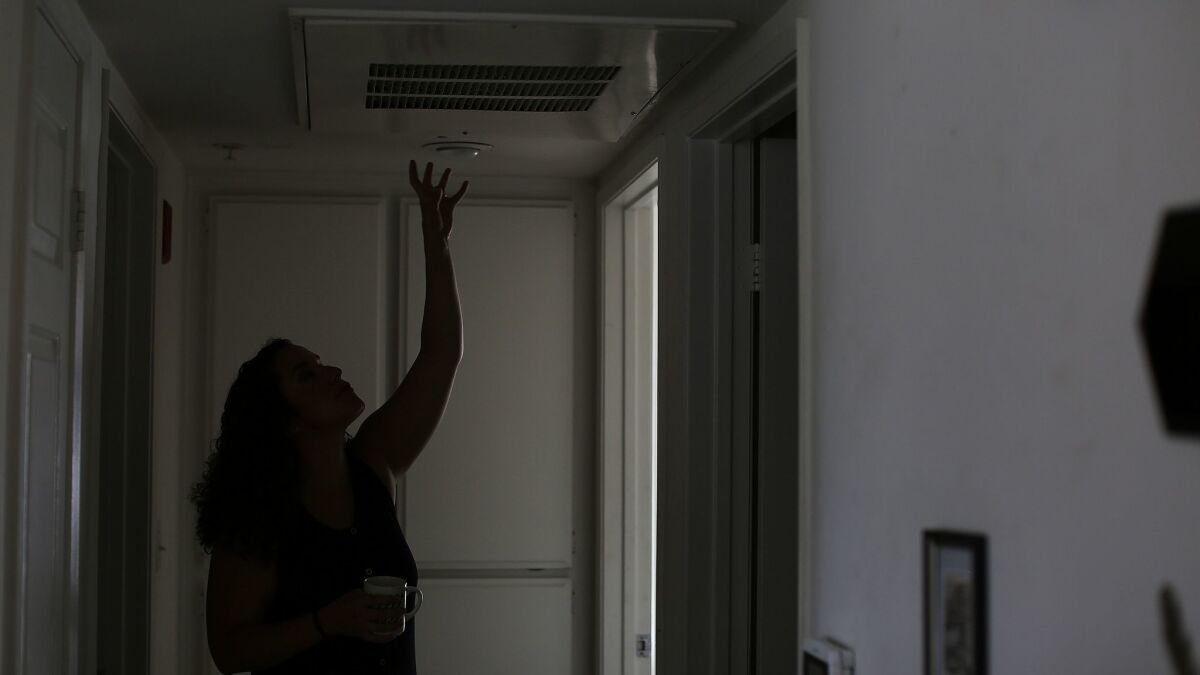 Inspectors verify air-filtration standards through reviews of building plans and on-site visits, city officials said. But unlike the records it keeps on smoke detectors and other health and safety features, Los Angeles was not documenting the installation of high-efficiency filters.
Los Angeles' filtration standards apply to new developments only and do not help an estimated 600,000 people who live within 1,000 feet of Los Angeles freeways, according to a Times analysis of 2010 census data.
In 2015, Los Angeles issued building permits for 4,300 homes within 1,000 feet of a freeway — the distance where the city advises developers that residents' health is at risk from air pollution — and signed off on an additional 3,000 units last year, records show.
Before imposing the requirements last year, the city in certain cases had made developers equip buildings close to freeways with stronger air filters as a condition of approving their projects. But neighborhood activists have complained that officials fail to enforce such promises.
After inquiries from The Times, the Department of Building and Safety in 2014 found that two large apartment complexes along the 110 Freeway had failed to install the proper-strength filters or the equipment necessary to accommodate them. Developer Geoffrey H. Palmer later fixed the problems, according to the city.
Local politicians and developers have opposed limits on how many homes can be built near freeways, arguing that would only worsen the region's severe housing shortage.
Environmental advocates and neighborhood groups, however, have pushed for stricter development standards and freeway buffer zones to bar the city from approving what some have dubbed "black lung lofts."
Earlier this year, council members requested a new study of development restrictions, design standards and other steps that could be taken to protect people living close to freeways.
Garcetti's office said he has directed city departments to give their recommendations, which the mayor has said will include a look at how zoning could be changed near traffic.
---
UPDATES:
7:20 p.m.: This article was updated with additional details on development near Los Angeles freeways.
This article was originally published at 5:45 p.m.
The stories shaping California
Get up to speed with our Essential California newsletter, sent six days a week.
You may occasionally receive promotional content from the Los Angeles Times.