Inglewood police, FBI arrest gang leaders on suspicion of drug and weapons violations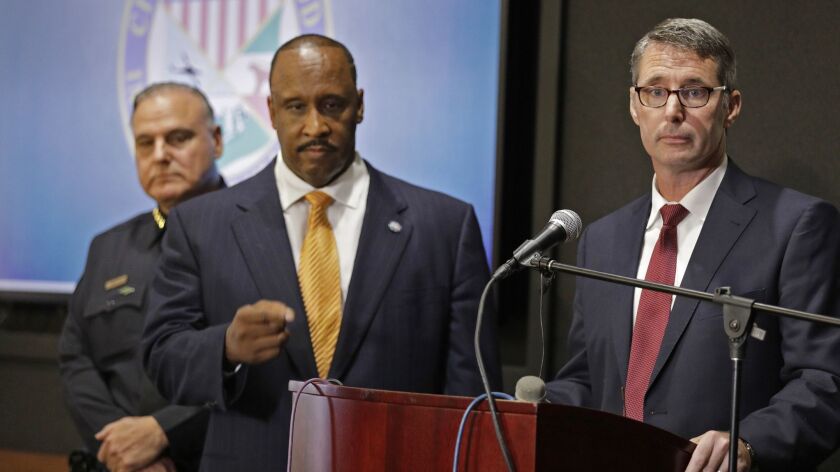 Inglewood police and the FBI have arrested 10 leaders of the Legends Crips gang on suspicion of manufacturing and distributing crack cocaine, as well as firearms possession, authorities said Wednesday.
The arrests, officials said, dealt a significant blow to the gang's hierarchy. The two-year investigation, which began as early as October 2016, came to a head late Tuesday night and Wednesday morning when around 200 agents made the arrests in Inglewood and Los Angeles, officials told reporters Wednesday at Inglewood City Hall.
"This multiyear investigation began in partnership with the Inglewood Police Department following a spike in violence in the city involving the Osage Legend Crips and indications that the gang had evolved from a local street gang to an organized criminal enterprise," said Paul Delacourt, assistant director in charge of the FBI's Los Angeles field office.
According to a grand jury indictment, members of the 92 Osage Legend Crips (OLC) used a store called Stop and Shop Market in a strip mall on South Prairie Avenue as a front for manufacturing crack cocaine, then distributed it on the streets of Inglewood and South Los Angeles.
Several members of the gang discussed ways to make the shop appear like a retail store and would "receive orders from crack cocaine customers and spotters, including by telephone using coded language," according to the indictment.
The gang members also used "violence and intimidation, including firearms, to maintain and expand their drug-dealing territory, to protect themselves, their drugs, and their drug proceeds from rival gangs and drug-dealing organizations, and to collect payment from drug customers," the indictment alleges.
Prosecutors allege that after cooking the crack cocaine, the gang members delivered the drugs to customers at various locations, including a U.S. Vets office and the Social Security office in Inglewood.
The indictment charges 15 people, 10 of whom were arrested late Tuesday evening and Wednesday morning. Of the remaining five suspects, one was already in custody and the other four remain at large.
The suspects who remain at large are Andrew Bailey, 43; Steven Edwards, 20; Carnisha Connors, 29; and Delshawn Johnson, 41.
Twitter: @melissaetehad
---
The stories shaping California
Get up to speed with our Essential California newsletter, sent six days a week.
You may occasionally receive promotional content from the Los Angeles Times.