Garcetti joins mayors' protest outside Texas holding facility for migrant teens
Los Angeles Mayor Eric Garcetti and a group of bipartisan mayors protested outside a government-run camp for migrant teens in Texas on Thursday, calling on the Trump administration to reunite families forcibly separated after crossing illegally into the United States.
At a news conference near the camp in Tornillo, a rural border town southeast of El Paso, Garcetti said: "It is time to reunify families, and it is time to fix a broken immigration system. We must do those two things."
The mayors' protest came a day after President Trump signed an executive order meant to end the separations, a policy that had drawn widespread condemnation from Democrats, some Republicans and religious leaders.
Even with the order, it remains unclear what will happen to the 2,300 children already separated from their parents. With no formal protocols in place for reunification, the group of mayors and immigration advocates wants assurances that the youths will return to their families.
"Children aren't poker chips. They are people, and we demand that Washington fix the mess that it's created," Garcetti said, standing alongside more than a dozen other mayors in Tornillo.
"Those cries that we heard a couple of days ago probably happened again last night behind us, and they will happen again tonight and every night until these children are reunified with their parents."
The newly opened Tornillo facility for teenagers can house 360 teens, a Department of Health and Human Services spokesman said. Published photos show rows of boys walking past tent structures, which are ventilated and cool, according to the department.
A small delegation of mayors sought to enter the facility following the news conference but were turned back by Department of Homeland Security police. The Department of Health and Human Services denied The Times' request for a tour of the facility.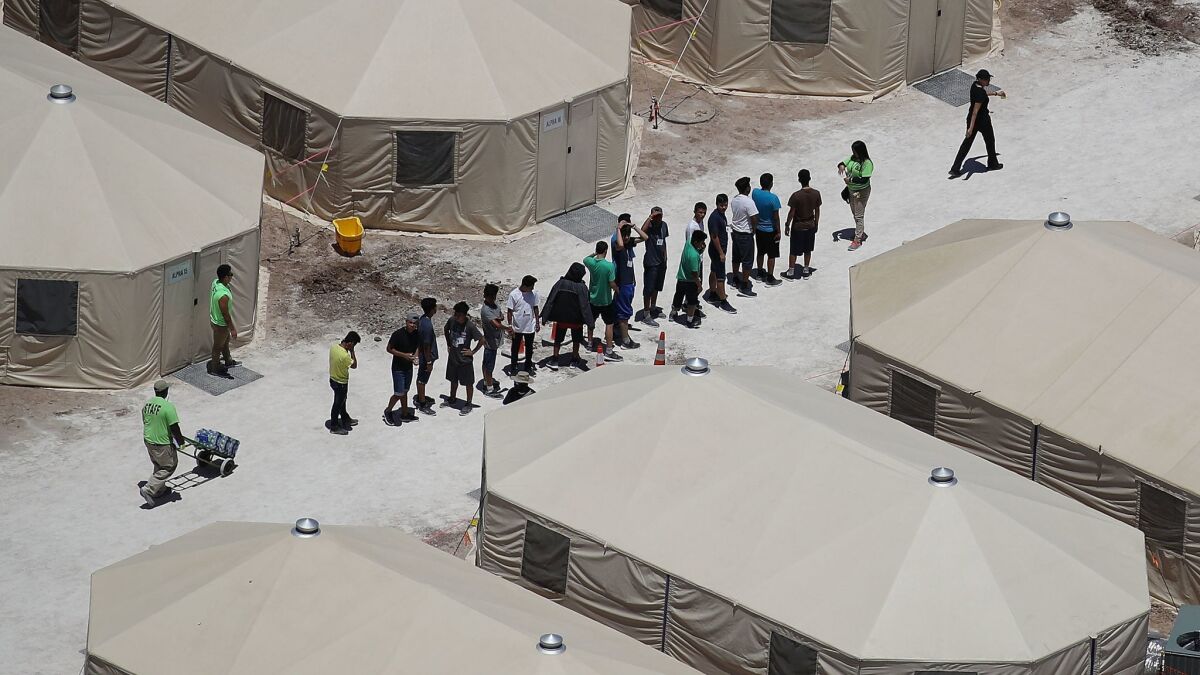 "Have you been able to see the children?" Seattle Mayor Jenny Durkan asked an officer standing at a gate. "Any doctor or nurses coming in?"
New York Mayor Bill de Blasio called it "appalling" that the group couldn't get in. "Why are they breaking the norms of any kind of Democratic government where elected officials are given access to know what's going on?" he said.
The tents are surrounded by fences and located off the main road on a vast stretch of desert land. Protesters on Wednesday used binoculars and cameras to try to capture images from the facility.
Thursday's protest was one of several demonstrations this week outside the camp, which government officials argue is necessary to keep the children safe. The conditions surrounding their journey to the U.S. make "unaccompanied alien children especially vulnerable to human trafficking, exploitation and abuse," the Department of Health and Human Services states on its website.
The U.S. Conference of Mayors protest Thursday was announced earlier in the week and originally was intended to focus on reversing the family separation policy. After Trump's executive order, the group called for family reunification. In a statement, the group's president, Steve Benjamin, mayor of Columbia, S.C., criticized Trump's "shameful policies" that have "traumatized thousands of lives."
About 100 children separated from migrant parents have reached the Los Angeles area and are being housed in detention centers or foster homes overseen by government-contracted shelters, local immigrant rights organizations said Wednesday.
Under Trump's "zero tolerance" policy, migrants who enter the United States illegally face misdemeanor charges in federal criminal court and felony charges if they have crossed illegally before. With the new crackdown, parents are sent to federal detention, their children to shelters. In the past, such cases often were handled administratively, not in criminal court.
Trump's new directive, which seeks to keep families together in detention, could face legal opposition over a court settlement known as the Flores agreement. Under that agreement, the federal government has said it will not hold immigrant minors for more than 20 days.
Advocates for immigrants on Wednesday questioned how the Trump administration will continue to detain and prosecute people crossing the border while also keeping families intact.
"If they're going to continue to prosecute, I don't know of any federal criminal prison facilities that hold families," said Melissa M. Lopez, director of the Diocesan Migrant and Refugee Services in El Paso. "How are you going to reunify them?"
Trump's executive order also seeks to make facilities available on military bases "for the housing and care of alien families." Under President Obama, military bases were used to house youth immigrants following a surge of unaccompanied minors crossing the border.
There was some opposition to the regular stream of protesters this week at the Tornillo facility. A sign reading "White Paid Protestors" greeted drivers on the road to the camp on Wednesday.
Garcetti continued to criticize the Trump administration's handling of immigrants in a speech he gave later Thursday at the National Assn. of Latino Elected and Appointed Officials conference in Phoenix.
"We have to get those kids back home now. We need to get them to their parents tonight," Garcetti said.
The mayor, who is considering running for president, told attendees to imagine a "post-Trump era" and said the "page is about to turn."
At the end of his speech, attendees held up signs that read, "Reunite Families Now!" and posed for photos.
In Phoenix, Garcetti attended a reception hosted by the Maricopa County Democratic Party and an event for congressional candidate Greg Stanton.
Twitter: @dakotacdsmith
---
UPDATES:
3:55 p.m.: Updated with Garcetti's speech in Phoenix.
9:50 a.m.: This article was updated with a photo of Mayor Eric Garcetti at the news conference.
This article was originally published at 9:40 a.m.
---
The stories shaping California
Get up to speed with our Essential California newsletter, sent six days a week.
You may occasionally receive promotional content from the Los Angeles Times.