L.A. County to pay $5.9 million to man who was injured while in jail cell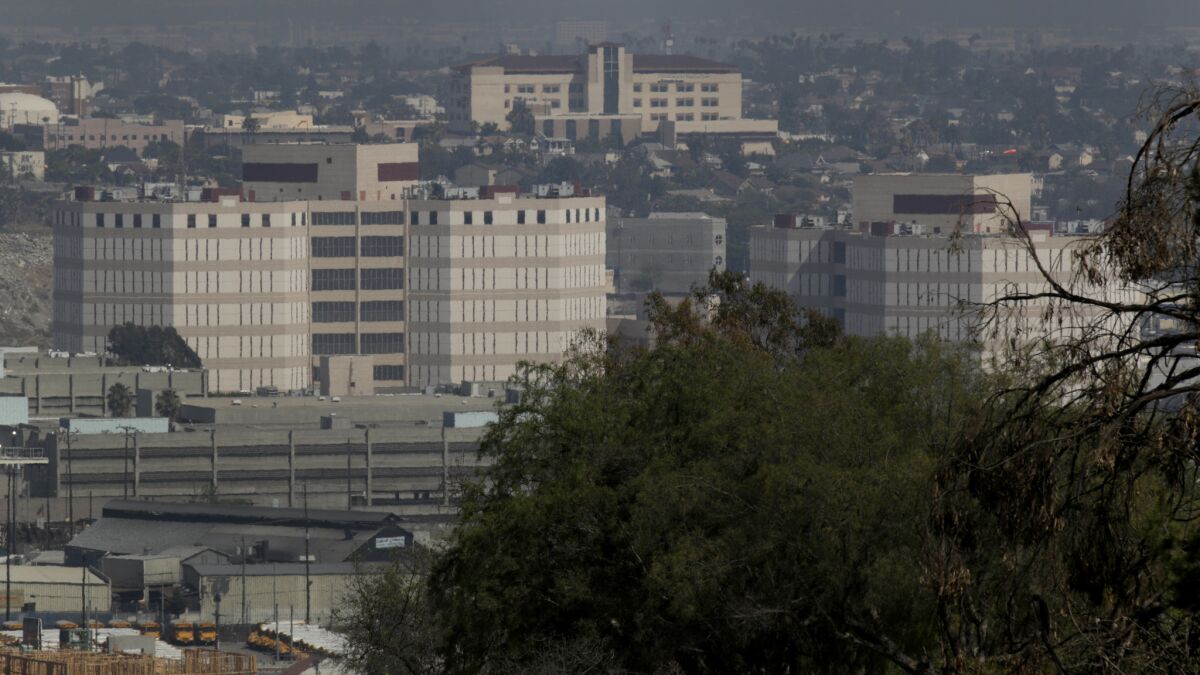 A 27-year-old man who suffered permanent brain damage after he was injured in a Los Angeles jail will receive $5.9 million under a settlement approved Tuesday by the county Board of Supervisors.
Juan Isaac Garza was jailed at Twin Towers Correctional Facility in May 2012 on attempted murder charges. He was considered a suicide risk and was placed in secure housing where he could be closely monitored, according to a lawsuit filed in L.A. County Superior Court.
The lawsuit said that a sheriff's deputy became alarmed after seeing Garza mumbling to himself and standing on a chair.
The deputy summoned a psychologist who found Garza lying face up on the floor of his cell and unable to respond to questions, according to the lawsuit and a case summary provided to supervisors.
Despite learning from an inmate that Garza had fallen backward and hit his head multiple times on the concrete floor, the psychologist, Ellen Wong, decided to place him in a single-man isolation cell without a doctor evaluating him, the lawsuit said.
Later that morning, a deputy found Garza unresponsive on his cell floor. He was sent to Los Angeles County-USC Medical Center and underwent surgery, said his lawyer, Hermez Moreno.
As a result of his injuries, Garza now must use a wheelchair and has permanent cognitive disabilities that make it difficult for him to communicate and take care of himself, Moreno said.
"This settlement is just another chapter in this poor guy's life. He's trapped in a body unable to express himself," Moreno said.
Garza's father and conservator, Juan Garza, filed a negligence lawsuit on his behalf in 2014.
It alleged that sheriff's deputies failed to perform wellness checks on inmates who showed the potential to harm themselves every 15 minutes as the policy required, according to the complaint.
It also alleged that Garza was left alone and unmonitored for up to 45 minutes before he was found unresponsive in his cell.
Garza had been charged with attempted murder after allegedly hitting a woman with a crowbar.
The Sheriff's Department blamed the incident on the lack of an "Inmate Safety Check" plan for deputies responding to someone who is found unresponsive in their cell.
It also found that a lack of video cameras contributed to the incident, according to the case summary.
The supervisors on Tuesday held off on approving the Sheriff's Department's corrective action plan, which was submitted to the board along with the case summary.
Tuesday's settlement comes after a recent county counsel report found that in fiscal year 2016-17 the county paid out $68.6 million in judgments and settlements involving the Sheriff's Department, the most of any county department.
The settlement funds will be paid out of the sheriff's and Department of Mental Health budgets.
Follow me on Twitter @melissaetehad
---
The stories shaping California
Get up to speed with our Essential California newsletter, sent six days a week.
You may occasionally receive promotional content from the Los Angeles Times.