Here's what San Francisco's Pride Parade looks like the week of #LoveWins
What does a pride parade in San Francisco look like just days after the Supreme Court made same-sex marriage the law of the land?
Thousands of rainbow-festooned revelers flocked to the city's 45th annual Pride Parade today, buoyed by the historic high court ruling two days earlier.
Here are images and messages from the parade.
There were more than 30 plaintiffs in the gay marriage suits argued before the Supreme Court. But the case that will go down in history is named for just one, Jim Obergefell.
His is a story of love amid a crippling disease, a triumphant wedding ceremony aboard a chartered medical jet on the tarmac in Baltimore, and then a legal battle over whether Obergefell's three-month marriage to a dying John Arthur would be recognized on a piece of paper after he was gone.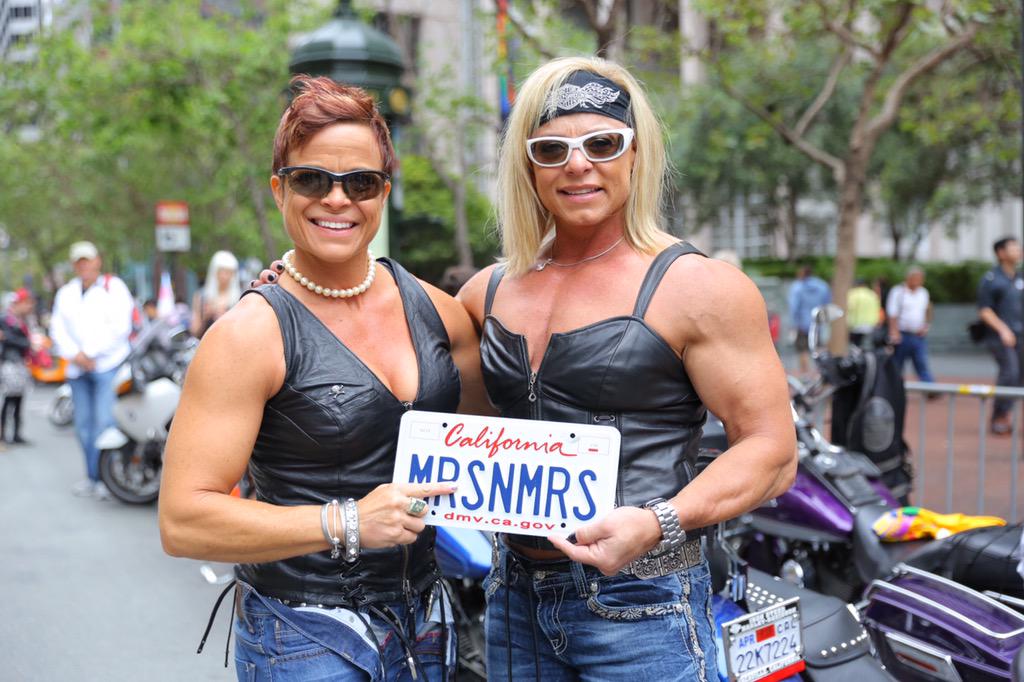 Melissa and Rachel Stiner, ages 44 and 45, respectively, proudly displayed their "Mrs. 'n' Mrs." license plate this morning before revving their motorcycle to join the Dykes on Bikes contingent, which traditionally leads the parade down Market Street.
"We didn't realize it was going to come this soon," Melissa said of the Supreme Court's move to legalize same-sex marriage nationwide.
Her response has been "happiness, complete and utter awe," she said. "I feel a little more comfortable in society."
-- Lee Romney
Now: Live stream on Periscope
'Supreme victory'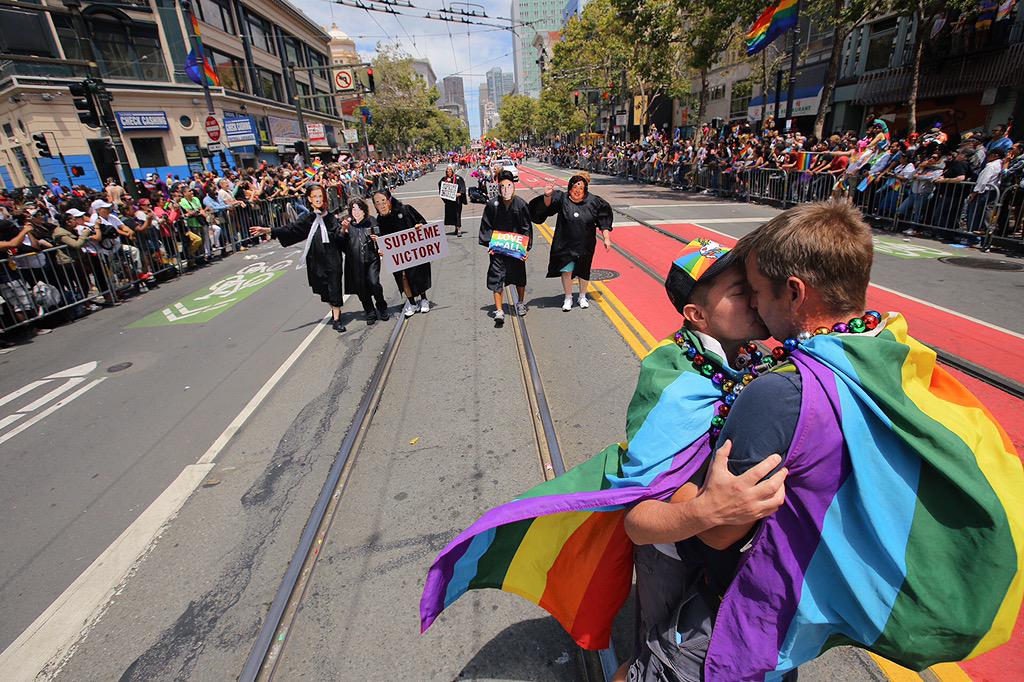 Andy Chen and Dave McCrory, who have been together five years, share a kiss. Behind them walk people dressed as Supreme Court justices.
Several companies eager to be seen at S.F. Pride Parade
'This is wholesome'
The Honey Maid snack brand is linking its own tagline to the Pride event.
Singing, dancing and cheering
Apple employees at #sfpride
A large contingent of Apple employees at today's Pride Parade attracted attention on social media.
In sharp contrast to celebrations in San Francisco, gay pride marchers in Turkey clashed today with police in Istanbul's Taksim Square.
Turkish police used water cannons and tear gas against 100 to 200 marchers who tried to gather in the late afternoon. Police hemmed the demonstrators into a small corner of the square and then fired several jets of water to force them down a side street. The Dogan News Agency says rubber pellets were also used.
-- Associated Press
I feel a little more comfortable in society.
Melissa Stiner
Melissa Stiner and her wife, Rachel Stiner, 44 and 45 respectively, describe themselves as "very married." The Supreme Court ruling on same-sex marriage was on their minds as they flashed their rings at the Pride Parade.
The couple said they live in the Contra Costa County town of Pinole and work in the relatively conservative community of Blackhawk, near Danville, Calif.
-- Lee Romney
S.F. Police Department report
In a release to the news media, San Francisco police reported the following incidents tied to Pride events on Saturday:
Downtown
3 - Felonies
9 - Misdemeanors
1 - Warrant arrest
10 - Public drunkenness arrest
13 - Used sobering center
20 - Medical calls
4 - Handguns seized
Outside event in the Mission District
1 - Arrested on suspicion of robbery in Dolores Park
3 - Juveniles in possession of M80s
1 - Felony warrant arrest
16 - Public drunkenness arrest
1 - Misdemeanor resisting arrest on suspicion of public drunkenness
Here's a look at what Times photojournalist Rick Loomis, who is along the parade route, has seen so far.
Anna Oliver, of San Francisco, sells beaded necklaces in rainbow colors along the route.
Felicia Rio, 19, of Modesto, tries on a mask at one of the merchandise booths.
McKenna Guetersloh, of Walnut Creek, Calif., right, told Loomis she was excited to be part of the event because she had just come out to friends and family late last year.
Periscope users: Watch live
Heard at San Francisco Pride Parade
I cried when I saw the White House. I can't believe that our government did something so radically right.
Emily McCullough, of San Francisco, on seeing the White House lighted up in rainbow colors
The Stonewall Inn is a rarity -- a tipping point in history where we know, with absolute clarity, that everything changed. This building has a unique place in the history of our city and in the struggle for dignity and equal rights in our society.
Manhattan Borough President Gale A. Brewer
Brewer's statement came Tuesday when the New York City bar became a landmark.
Along for the ride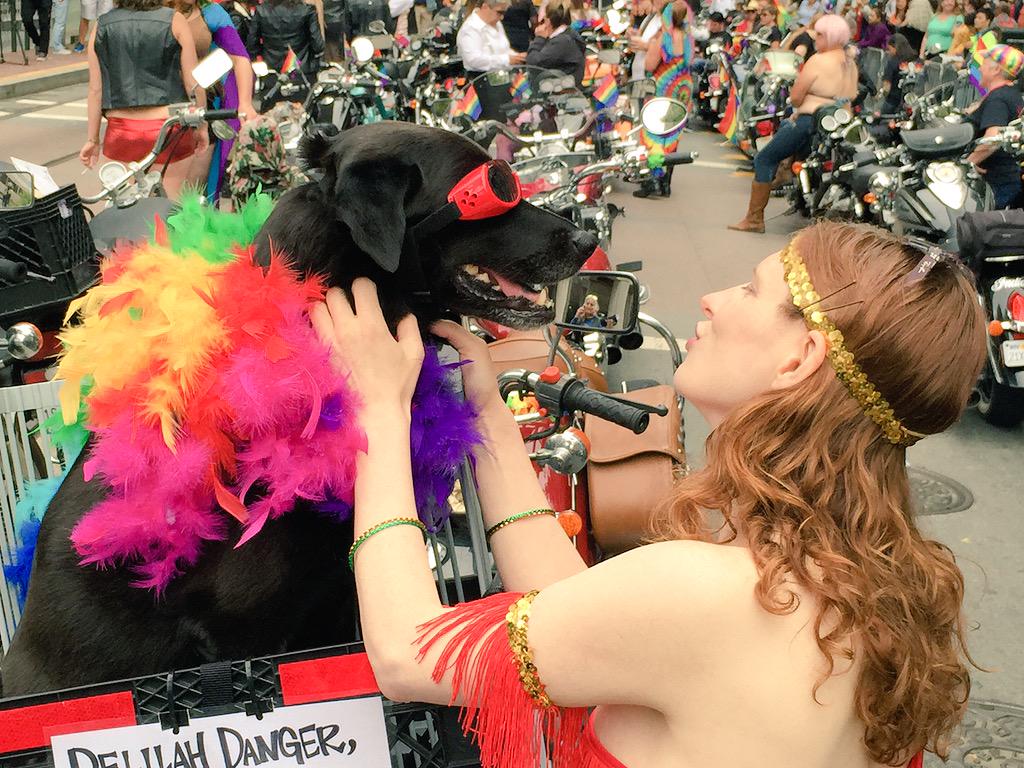 Los Angeles Times reporter Lee Romney and photographer Marcus Yam capture the dog Delilah Danger getting in position to ride in the parade. Below, some colorful marchers take the train to the start of the route.
The parade is scheduled to begin at 10:30 a.m.
The first pride parades were held on June 28, 1970, a year to the day that a police raid on a Mafia-run Greenwich Village gay bar called the Stonewall Inn sparked a three-day riot.
The rebellion, which came after decades of oppression, is believed by many to have launched the gay rights movement.
San Francisco, Los Angeles, New York and Chicago were the site of the 1970 marches.
The stories shaping California
Get up to speed with our Essential California newsletter, sent six days a week.
You may occasionally receive promotional content from the Los Angeles Times.