A search for answers in fatal shooting of 15-year-old girl in South L.A.
Samantha Mays arrived outside The Best Burger in South Los Angeles, the place where her teenage daughter was fatally shot just days before.
She walked toward a crowd of people who showed up for a news conference. They placed their hands around her, trying to console her.
Mays burst into tears.
"I'm just trying to hold it together. I had tried so hard to protect her," she said.
"I know you did," family friend Theresa Arnold replied.
Hannah Bell, 15, was fatally shot on Friday. On Monday, police joined relatives, neighbors and others in seeking answers, and justice.
"I hope that this community will come out, show their anger, and their resentment, and denounce in the most fervent way that this has to stop," LAPD Capt. Peter Whittingham said.
Behind him, teddy bears, balloons and dozens of candles lined the sidewalk near the spot where the girl was shot.
Authorities announced a $50,000 reward for information that leads to the arrest and conviction of whoever is responsible for the teenager's slaying.
Mays pleaded for the killer to come forward.
"Maybe it would be easier on you if you just give in and take your punishment like you deserve," she said, breaking down in tears. "It was wrong to take my daughter. She was innocent."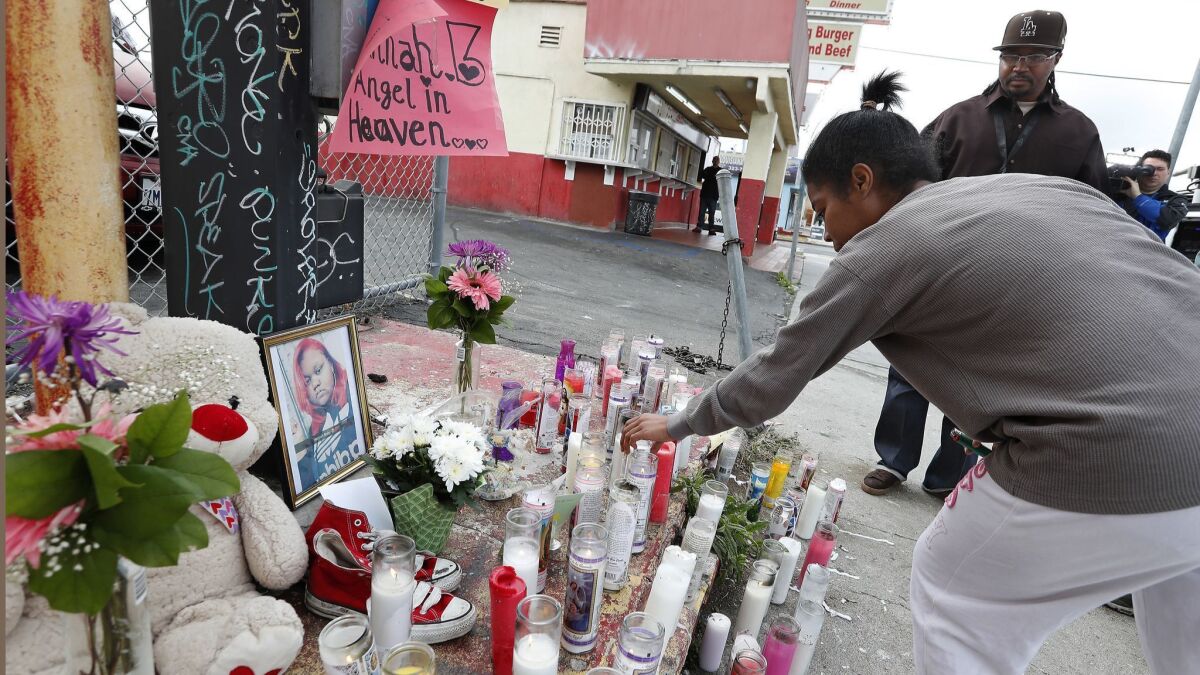 More than two dozen Los Angeles Police Department officers showed up at the news conference Monday morning to show support. Deputy Chief Phil Tingirides said he is confident that the community can help solve the case.
"Maybe we won't find the shooter today or tomorrow, but we won't rest until we do," Tingirides said.
Hannah and her mother had been living with relatives a few blocks from The Best Burger at Western Avenue and 78th Street, relatives said.
On Friday evening, Hannah told her mother that she wanted to grab a bite to eat.
Mays, who does not have a car, decided to walk with her daughter to the burger stand. It was a trip they had taken many times, said Nancy Wilson, who was Hannah's aunt.
Around 8:55 p.m., as Hannah and her mother stood outside the business, multiple shots were fired, authorities said.
"My mom told me she pulled Hannah down to protect her," said Markeis Jones, the teenage girl's brother. "When the shooting stopped, my mom got up and told Hannah to get up but she didn't."
LAPD Det. Everardo Amaral said Hannah was taken to a nearby hospital where she died one hour later.
"She was shot multiple times, at least once in the lower torso," Amaral said.
So far, the motive behind the shooting remains unclear.
Relatives describe Hannah as a loving and joyful teen who had her eyes set on going to college and becoming a nurse.
Her energy was contagious, Jones said. He recalls that even when Hannah was angry with him, she would maintain a sense of humor.
"She would always love to stand on my back, and whenever she got angry she would tell me, 'No, I'm not going to stand on your back,' " said Jones, 27.
Hannah also loved going to church. Arnold, the family friend, said she had been taking her to Bible study since she was 5.
"She was a good and happy kid," Arnold said. "She always wanted to help out at the church."
But it was her close relationship with her mother that many relatives found special.
"They were like two peas and a pod," her brother said. "I remember I was at the grocery store and I saw Hannah pulling a shopping cart with my mom inside."
That didn't mean life could not be hard for the pair even before the shooting. Jones said his sister and mother were homeless for a while and lived on skid row.
"She had only recently found a place to stay and was in the process of completing the paperwork," Arnold said of Mays.
Wilson said Hannah's difficult life experiences made her want to help others by becoming a nurse.
"She was able to connect to people," Wilson said. "It didn't matter what you were going through. She was able to understand and wanted to help."
Twitter: @melissaetehad
The stories shaping California
Get up to speed with our Essential California newsletter, sent six days a week.
You may occasionally receive promotional content from the Los Angeles Times.