Golden State Killer suspect is facing new charges, will be tried in Sacramento County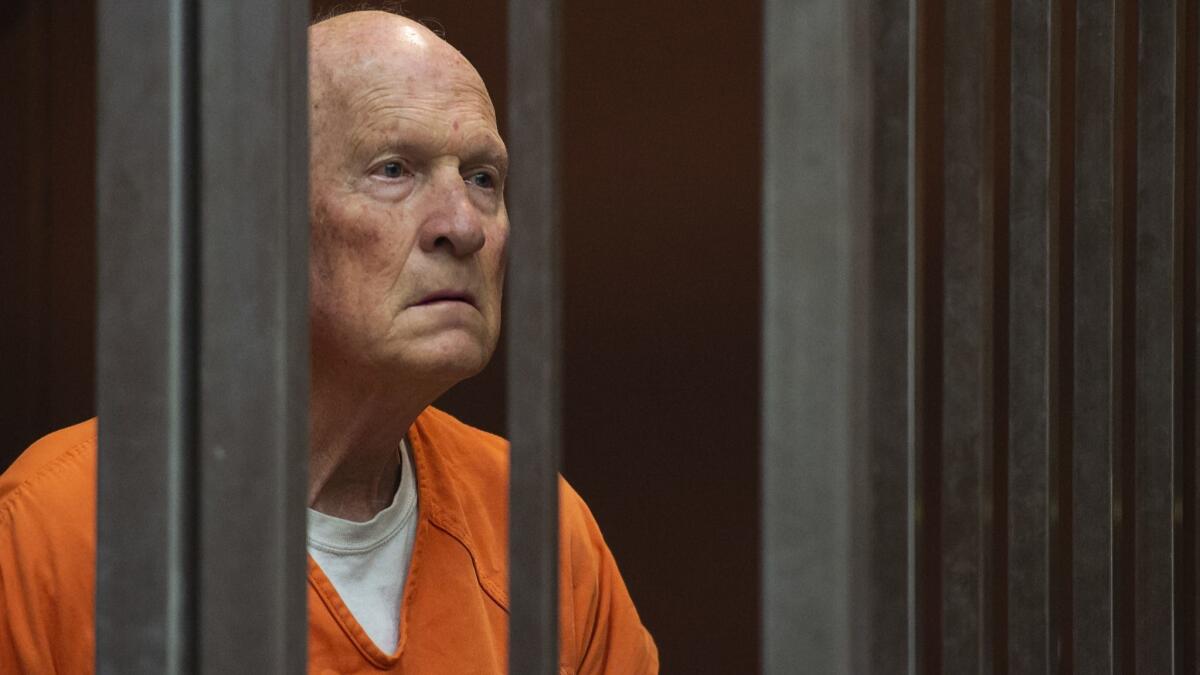 A serial rapist terrorized a swath of Northern California in the 1970s, breaking into dozens of women's homes in attacks that spanned three years and sparked fear throughout the suburbs of Sacramento and Contra Costa counties.
More than 40 years later, prosecutors in Santa Ana announced Tuesday they had charged a man in those horrific crimes. Joseph James DeAngelo Jr., who already faces 13 counts of murder as the suspected Golden State Killer, is now accused of 13 counts of kidnapping to commit a robbery as well. He will stand trial in Sacramento County.
Though DeAngelo already faces a potential death sentence for the murders, experts say adding the kidnapping charges is a two-fold strategy that could satisfy some victims' families and shore up a successful prosecution. But it's also a reflection of the limited options left for prosecuting offenses committed in an era when sex crimes were an afterthought for law enforcement.
DeAngelo, 72, is charged with nine kidnappings in Sacramento County in 1976 and '77 and four in Contra Costa in 1978 and '79. As they tried to catch the culprit, investigators initially pursued multiple charges, including rape and assault with a deadly weapon. But as the years passed, time rendered many of them moot because of statutes of limitations.
Before 1981, the statute of limitations for rape in California was just three years.
"Our lawyers have looked at this very strenuously and identified those cases where we could comply with those statute of limitations," said Sacramento County Dist. Atty. Anne Marie Schubert.
That helps explain how a man believed by investigators to have committed more than 50 rapes, 100 burglaries and at least 13 murders currently faces charges for only a fraction of those offenses.
DNA evidence ties DeAngelo to two of the kidnappings in Contra Costa County, prosecutors said. The Golden State Killer's modus operandi is the tie that binds them all.
"We were looking for a needle in a haystack, and we found him," Schubert said. "It is very fitting that this journey for justice that's been sought for over 40 years ends in Sacramento."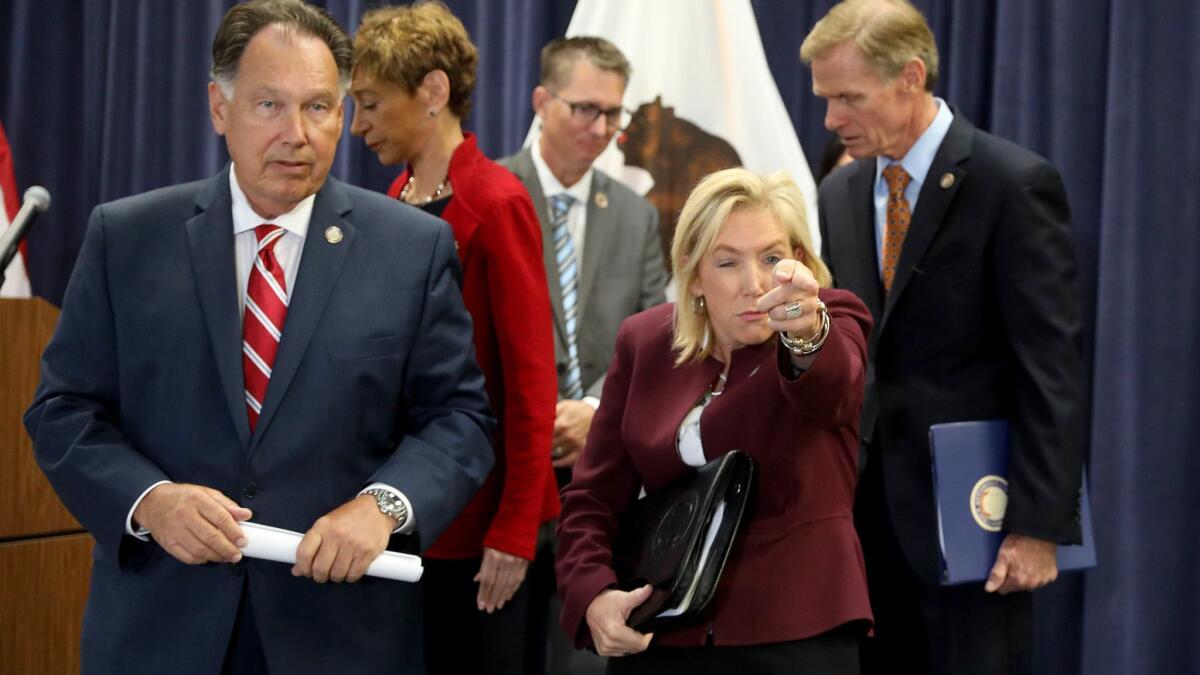 A week ago, prosecutors in Tulare County charged DeAngelo with the murder of Claude Snelling in his Visalia backyard in 1975. Snelling's daughter, Elizabeth Hupp, told police that she was sleeping when a man in a ski mask entered her bedroom and forced her to move in silence to the backyard. Snelling saw his daughter from the kitchen window and confronted the masked man, who shot him twice then ran off without the girl.
Snelling, 45, a professor and public information officer at the College of the Sequoias, died on the way to the hospital.
The murder was immediately linked to a prolific series of burglaries in Visalia, where a prowler had broken into 102 homes and ransacked women's dressers for underwear, and stole coin banks, random jewelry and a gun later linked to Snelling's killing. DeAngelo was a police officer in nearby Exeter at the time.
At about the same time the Visalia ransacks stopped, DeAngelo left Exeter and joined the police force in Auburn, a small town north of Sacramento. Concurrently, a serial rapist began to operate in Sacramento's eastern suburbs, attacking some 34 women and killing a young couple who evidently surprised the prowler while they were on an evening stroll.
The so-called East Area Rapist then moved south and west, attacking couples in their homes in Modesto, Stockton, Davis and in the San Francisco Bay communities of Danville and Fremont.
Visalia detectives said it was the work of a single attacker, but detectives in other jurisdictions disagreed.
After DeAngelo was fired from the Auburn Police Department in 1979 for shoplifting a hammer and dog repellent from a store, the rapes stopped, but a serial killer began attacking women and couples in Southern California.
The perpetrator assaulted and killed 10 people in Orange, Ventura and Santa Barbara counties by bludgeoning or shooting them. The last victim, an 18-year-old, was raped and killed in 1986 at her home in Irvine.
Police departments for decades disagreed over whether attacks spanning the state over more than a decade were committed by a single man.
Finally, in 2000, DNA evidence linked most of the murders.
The following year, DNA unearthed in three rape kits confirmed they were also the work of the East Area Rapist.
But it wasn't until this year that cold-case detectives uploaded the killer's DNA profile to a public genealogy site to identify the likely family line of the killer, and from there, narrowed their hunt to DeAngelo.
He was arrested in late April. The retired truck mechanic was living in the same north suburban Sacramento home he had bought in 1979.
A search warrant accompanying DeAngelo's arrest showed police had sifted through his trash to find a tissue with DNA that matched that of the serial killer.
"For decades, he evaded justice and devastated communities across California. Due to the severity of his crimes, his victims often faced tremendous trauma after so much time has passed," said Contra Costa County Dist. Atty. Diana Becton. "Thankfully, we can now hold someone accountable for these crimes and seek justice for our victims."
The move to add kidnapping charges could bring solace to victims and their families, but it might also help bolster prosecutors' case, said Robert Weisberg, a Stanford University criminal law professor.
"Especially with highly publicized cases like this, prosecutors will often charge everything possible," Weisberg said. "It's like wearing suspenders and a belt.... There's always the possibility that something might go awry so you just have insurance policies."
Though investigators initially pursued the crimes as rapes, focusing on kidnapping charges shouldn't hurt prosecutors' chances, said Laurie Levenson, a professor at Loyola Law School.
"If they can prove a case beyond a reasonable doubt, even if it's not the original case people thought it would be, the law allows them to do that," she said.
DeAngelo is represented by a Sacramento County public defender. He is scheduled to be arraigned Thursday.
Times staff writer Hannah Fry contributed to this report.
---
UPDATES:
7 p.m.: This article was updated with context about how sex crimes were investigated and prosecuted in the 1970s.
1:35 p.m.: This article was updated with comments from Sacramento County Dist. Atty. Anne Marie Schubert and Contra Costa County Dist. Atty. Diana Becton.
12:20 p.m.: This article was updated with comments from Orange County Dist. Atty. Tony Rackauckas.
11:15 a.m.: This article was updated with details on the trial venue and additional charges.
This article was originally published at 6:40 a.m.
Sign up for Essential California for news, features and recommendations from the L.A. Times and beyond in your inbox six days a week.
You may occasionally receive promotional content from the Los Angeles Times.