DNA clears Golden State Killer suspect in 1978 Simi Valley slayings that put innocent man in prison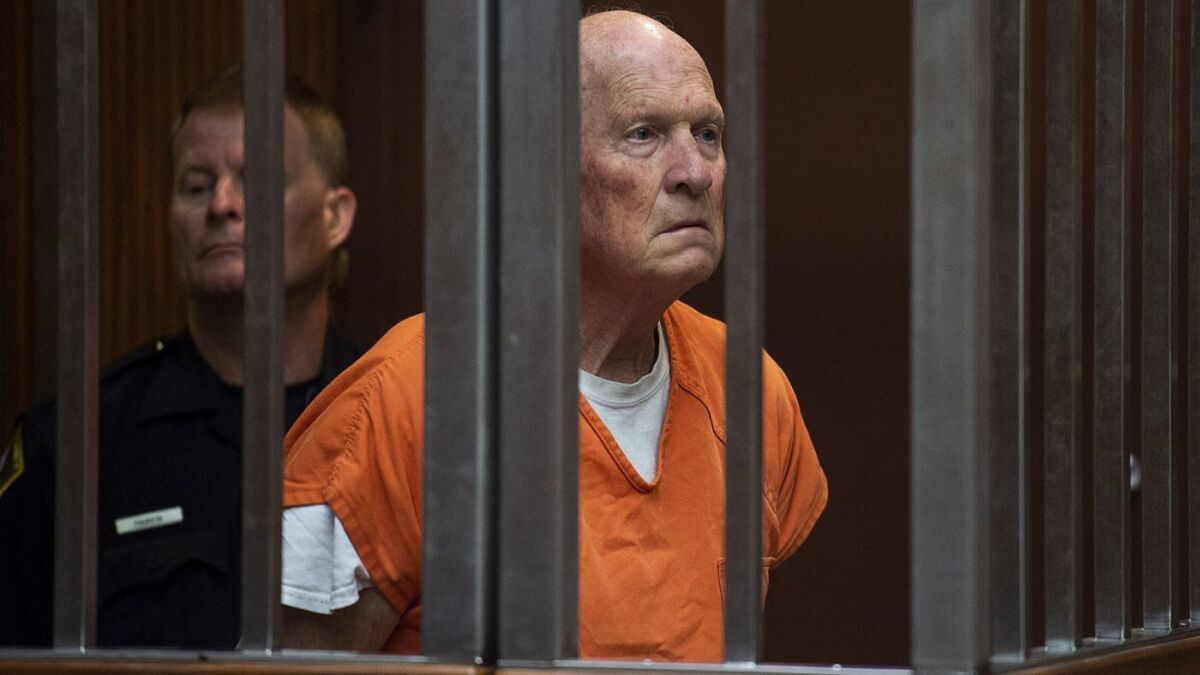 When DNA offered a break in the four-decade manhunt for the notorious Golden State Killer, cold-case investigators across California wondered if the man who was arrested was behind their own unsolved crimes.
One of the most high-profile cases involved a brutal double slaying in Simi Valley in 1978, which had been reopened recently when detectives discovered that the man who was convicted and sent to prison in the slayings was innocent.
Now, those investigators are back to the drawing board. A DNA comparison between the Golden State Killer suspect, Joseph James DeAngelo Jr., and samples taken from the Simi Valley crime scene did not match.
"They conclusively eliminated him as a suspect," said Simi Valley Police Chief David Livingstone, referring to the killings of Rhonda Wicht, 24, and her 4-year-old son, Donald. "Once we follow and exhaust a lead, we move on."
Before the results came back Monday, police had acknowledged that the theory was a long shot, but said that the way the prolific serial killer allegedly carried out the 12 slayings he is accused of was similar enough to the Simi Valley slayings in 1978 — and within the same time frame — that it was possible.
"We had no other reason to suspect he was the actual killer," Livingstone said.
Detectives, he said, are now pursuing other possibilities. "We don't leave any lead unturned," he said.
Wicht's ex-boyfriend, Craig Coley, spent more than 38 years behind bars in the killings before he was pardoned by Gov. Jerry Brown and released from prison on Thanksgiving Eve last year. He is now 71.
The pardon came after a lengthy investigation launched in 2016 by Simi Valley police, who began reexamining the case when a retired detective named Mike Bender raised doubts about Coley's guilt. The new investigation revealed troubling inconsistencies in the evidence used to convict Coley in 1980.
The most indisputable finding that supported Coley's innocence came when detectives located DNA evidence from the slayings once thought destroyed.
A piece of Wicht's bedsheet the night she was found dead contained another man's sperm, along with a man's epithelial cells. It's unclear whether they belong to the same person, but Coley's DNA was not found on the sheet.
In the Golden State Killer case, a novel DNA technique led to DeAngelo's arrest in April. Frustrated detectives sent DNA found at one of the crime scenes to several genealogy websites for analysis.
Eventually, they linked the sample to one of DeAngelo's distant relatives and zeroed in on DeAngelo because of his age and employment and because he lived close to where many of the crimes were committed.
They began surveillance on the former police officer in an attempt to collect a DNA sample directly from him. They got their chance as he shopped at a Hobby Lobby store one day, lifting DNA from his car door handle. Days later, they obtained a second sample from a tissue in a trash can outside his home.
DeAngelo is accused in a dozen slayings in the 1970s and '80s. During that time, he is also suspected of carrying out dozens of rapes and more than 100 burglaries.
alene.tchekmedyian@latimes.com
Twitter: @AleneTchek
---
The stories shaping California
Get up to speed with our Essential California newsletter, sent six days a week.
You may occasionally receive promotional content from the Los Angeles Times.