Defense opens in Grim Sleeper trial by challenging DNA, ballistics evidence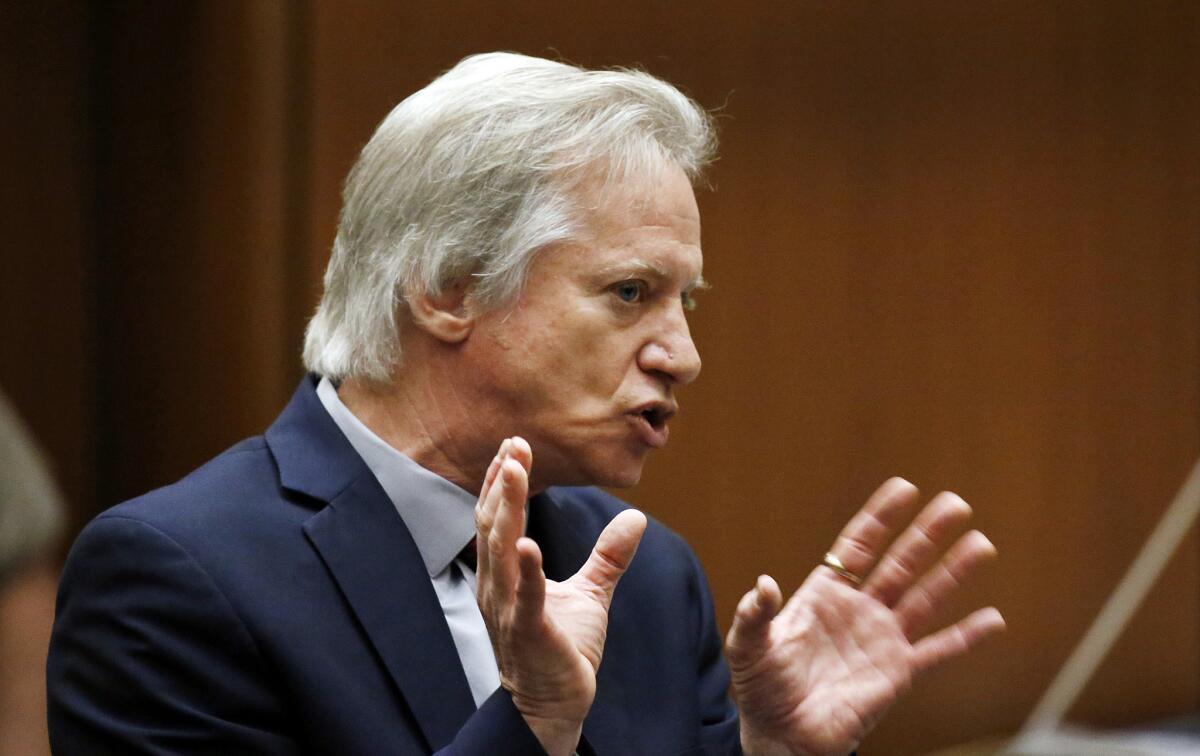 The trial of the man accused in the so-called Grim Sleeper serial killings shifted to the defense Monday, with an attorney repeatedly challenging DNA and ballistics evidence linking his client to the grisly deaths and suggesting other attackers may have been involved.
Lonnie Franklin Jr. faces 10 counts of murder in the slayings of nine women and a 15-year-old girl over more than 20 years. He also faces one count of attempted murder.
Franklin, 63, has pleaded not guilty.
In an opening statement, defense attorney Seymour Amster told jurors that DNA belonging to other people was found at some of the crime scenes, on victims' clothing and on their bodies — apparently suggesting that men other than Franklin could be involved in the deaths.
"They excluded Lonnie Franklin of being the source…" of that DNA, Amster said repeatedly.
Amster said the defense would also dispute the methodology used by police to match the gun found in Franklin's home to Janecia Peters, 25, who is believed to be the Grim Sleeper's final victim.
For weeks, prosecutors have carefully constructed their case: That each of the 10 victims is connected to Franklin by DNA evidence, ballistics or both.
The woman believed to be the Grim Sleeper's lone survivor, Enietra Washington, identified Franklin as her attacker in court. And a gun found in Franklin's home was used to shoot one of the victims, according to testimony.
Police criminalists testified that bullets from seven victims — six of whom were killed and one of whom survived — were fired from the same weapon.
Franklin's DNA was on the bodies of three of those victims, according to previous testimony.
But Amster told jurors that the method used to make those matches was "not proper science."
Amster's opening statement comes midway through the trial of Franklin, a former Los Angeles Police Department garage attendant who was arrested in 2010. The victims' bodies were found dumped in alleys and trash bins across South Los Angeles.
Amster declined to give his opening statement at the onset of the trial, preferring to wait until he began his case.
Before the opening statement, the defense and prosecution once again clashed over a number of issues related to evidence and witnesses Amster intended to have testify.
Prosecutors asked L.A. County Superior Court Judge Kathleen Kennedy to disqualify a defense witness who intended to discredit ballistics evidence, saying they were only alerted to the witness over the weekend.
"This is trial by ambush," Deputy Dist. Atty. Beth Silverman said. "I think these two attorneys don't give a damn about ethics, the rules, professionalism.… They've shown that time and time again."
Silverman accused Amster of turning the trial "into a circus."
The judge repeatedly admonished the two attorneys — Silverman for repeatedly interrupting Amster and Amster for shouting during his remarks.
Another issue involved a subpoena the defense served on the LAPD for documents, which the judge ruled was overly broad. She asked Amster to refile the subpoena and narrow its scope.
That request led to a testy exchange:
"Don't shake your head when I speak," Kennedy warned the defense attorney, before continuing and stopping again.
"Take your hand away from your face," she said to Amster, who sat low in his chair. "Don't be disrespectful."
"I'm now going to rest, I have no defense!" Amster shouted. "I cannot competently represent this man any further."
"I want you to chill…," she said. "Stop yelling at me."
Kennedy eventually agreed to let Amster amend the subpoena rather than refile it.
"You do need to calm yourself down," she said.
Later in the day, jurors heard from Lynda Lewis, a former friend of Washington, who survived an attack.
After she was shot in November 1988, Washington testified, she walked and dragged herself to the home of Lewis. She lay bleeding on the front porch until Lewis arrived home from a party.
Under questioning from Amster, Lewis recalled that Washington gave conflicting accounts about her ordeal.
Initially, she said, Washington had told her that a man had raped and shot her. Later, Washington told her she'd been attacked by two men.
During her testimony, Washington identified Franklin in court as her sole attacker.
Sign up for Essential California for news, features and recommendations from the L.A. Times and beyond in your inbox six days a week.
You may occasionally receive promotional content from the Los Angeles Times.