California lags in checking whether dangerous people own guns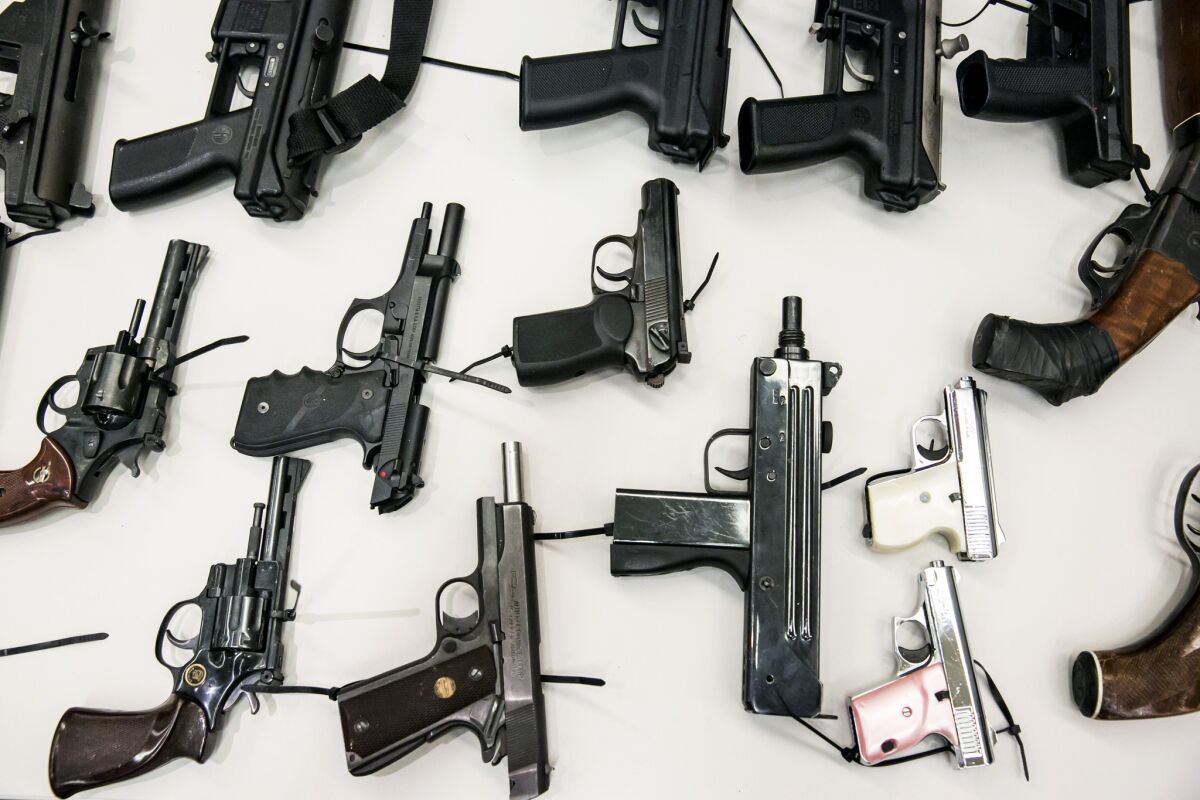 Reporting from San Francisco —
A program to determine whether potentially dangerous people own guns in violation of state law is plagued with delays that pose a "continued risk to public safety," California's auditor reported Thursday.
Auditor Elaine M. Howle said the Department of Justice, overseen by Atty. Gen. Kamala D. Harris, failed over 18 months to fully implement seven of eight recommendations auditors made in 2013 to reduce backlogs.
------------
FOR THE RECORD
July 10, 9:14 a.m.: A previous version of this article gave the name of the state auditor as Elaine M. Howler. Her name is Elaine M. Howle.
------------
During the first quarter of 2015, the department had about 3,600 reports in a daily queue of persons potentially prohibited from owning guns, the audit said. The department's goal was to keep that number at no more than 600.
The Justice Department cross-references databases to find people who legally purchased guns before they became ineligible because of a severe mental illness or criminal history. The department must then verify that the matches are correct. Matches remain in a daily queue until they are reviewed.
About two-thirds of those barred from firearm ownership are felons or have a violent history. One-third are in the system because of mental illness.
"The longer it takes Justice to review the records in its backlogs, the longer armed prohibited persons keep their firearms, which increases the risk to public safety," Howle wrote.
Howle said the department also has failed to ensure that mental hospitals and the courts are properly reporting all those who may be barred from owning guns.
In a written response, the Justice Department blamed the delays in part on loss of staff and the continued strong sales of firearms in California. The department said it has had to divert staff from the cross-referencing system to do criminal history checks on those buying firearms.
The auditor recommended that the Legislature require the Justice Department to complete an initial review of all cases in its daily queue within seven days.
The department replied that it looked forward to "working with the Legislature on drafting language, identifying positions, funding and information technology enhancements needed to achieve this goal."
Kristin Ford, a spokeswoman for Harris, said the department's Bureau of Firearms has increased the number of investigations each month by nearly 300% and is seizing more guns than ever before.
"Despite challenges with hiring and retention, DOJ agents have reduced the ever-growing list of people in California who are prohibited from possessing a firearm for the first time in the program's history and doubled the average number of guns seized per year," Ford said.
The California State Senate Republican Caucus released a statement blaming the backlogs on mismanagement.
"This failure lies squarely under the AG's control," the caucus said.
Senate Republican Leader Bob Huff of San Dimas said the Legislature gave Harris' office $24 million nearly two years ago to clear the backlogs and received assurances it could be done within a year.
"This is very disturbing to learn as it directly conflicts with testimony given us at a legislative hearing this year," Huff said.
In addition to delays in cross referencing names that continue to be added, there is a backlog of 257,000 people from before 2006 who may own guns in violation of state law, the audit said.
Twitter: @mauradolan
The stories shaping California
Get up to speed with our Essential California newsletter, sent six days a week.
You may occasionally receive promotional content from the Los Angeles Times.