No restraining order granted in Hahn campaign finance violation suit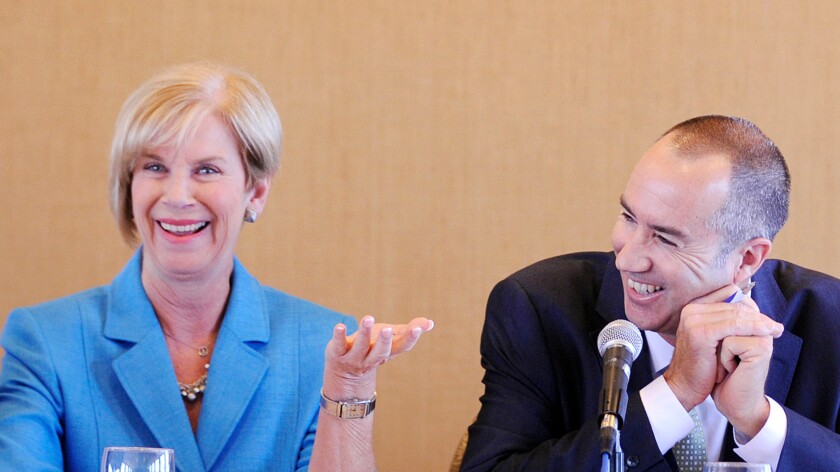 A Los Angeles Superior Court judge refused to grant a temporary restraining order Thursday prohibiting U.S. Rep. Janice Hahn from spending hundreds of thousands of dollars in improper campaign contributions in her bid for a seat on the county Board of Supervisors.
In an unusual move weeks before the general election, rival candidate Steve Napolitano sued Hahn last week, demanding that she pay back the funds. Napolitano also sought a restraining order blocking Hahn from spending any of the money due to be refunded, alleging that the county Registrar-Recorder had improperly extended Hahn's deadline for repayment.
Hahn's attorney, Stephen Kaufman, said in court that Hahn has already repaid $141,000 to political action committees that, according to the Registrar-Recorder, had contributed almost $290,000 above the cap set by the county's campaign finance rules. Court documents filed by Hahn's campaign included an exhibit with 14 checks written mostly to labor unions with the words "contribution refund" printed at the bottom.
The Registrar-Recorder has given Hahn until Oct. 19 to refund the contributions, as Hahn and Napolitano spar in a runoff for the 4th District supervisorial seat.
In denying the restraining order, Judge James C. Chalfant said there was no "irreparable harm" in the situation, and deferred to the Registrar-Recorder's office for enforcement of the rules.
Chalfant also issued an order requiring Hahn to share all of her campaign's future correspondence with the Registrar-Recorder's office with Napolitano, so that he could know whether Hahn has met the Registrar-Recorder's refund deadline.
Registrar-Recorder Dean Logan said in an email to The Times that his office had affirmed on Sept. 19 that Hahn must repay the excess funds to avoid a penalty, beginning a 30-day countdown to the deadline.
Napolitano said in a phone interview that he viewed the outcome as a "victory" for his campaign.
"We finally got her to acknowledge publicly that they violated campaign finance law," Napolitano said. "We're fine with the court deferring to the county for enforcement."
In a statement, Hahn campaign consultant John Shallman called the judge's decision a "humiliating defeat" for Napolitano, saying the candidate had "wasted the court's time and taxpayer dollars."
Hahn might still have to pay back more than the $290,000 identified by the Registrar-Recorder's office. The first notice of a violation was sent to the Hahn campaign on Aug. 10 and included only contributions disclosed through June 30.
Twitter: @adamelmahrek
---
The stories shaping California
Get up to speed with our Essential California newsletter, sent six days a week.
You may occasionally receive promotional content from the Los Angeles Times.