Hannah Anderson, DiMaggio seen on highway 20 hours before house fire
Phillip Garrido enters a courtroom in Placerville, Calif. Phillip Garrido was sentenced to 431 years in prison for Jaycee Dugard's abduction.
(Rich Pedroncelli / Associated Press)
A tent in the backyard of a home in Antioch, Calif., where authorities say kidnap victim Jaycee Lee Dugard lived.
(Paul Sakuma / Associated Press)
Elizabeth Smart addresses the media outside a federal courthouse following the guilty verdict in the Brian David Mitchell trail in Salt Lake City. Mitchell was found guilty in the June 5, 2002, kidnapping of Elizabeth Smart.
(Colin E. Braley / Associated Press)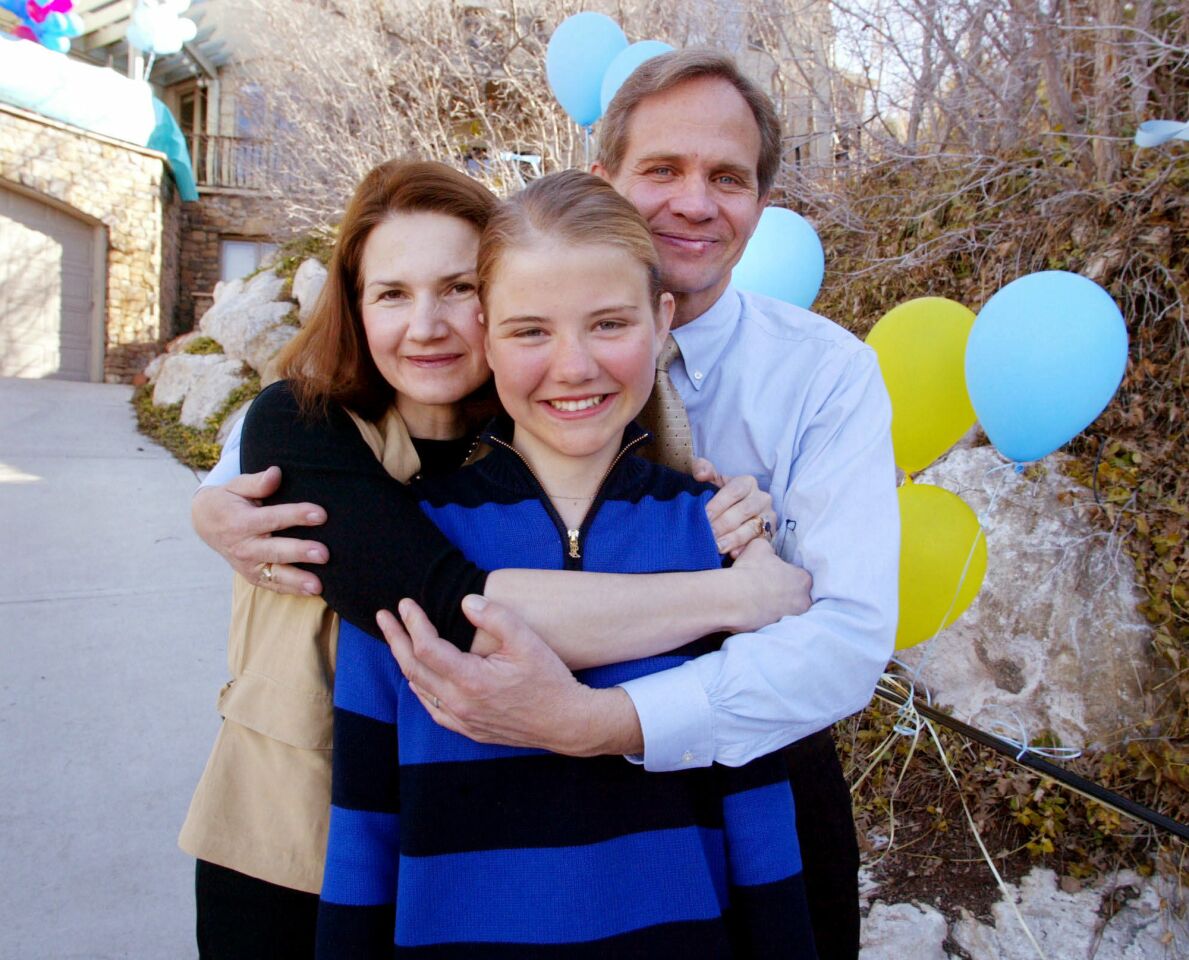 Elizabeth Smart poses with her parents, Lois and Ed, outside their home in 2003. Smart was abducted from her Salt Lake City bedroom in 2002
(Tom Smart / Associated Press)
Brian David Mitchell, Elizabeth Smart's kidnapper, is escorted into the Frank E. Moss Federal Courthouse in Salt Lake City in 2010.
(Jim Urquhart / Associated Press)
Katie Beers, whose kidnapping attracted nationwide headlines in 1992, poses for a photo in Old Westbury, N.Y. The 30-year-old mother of two co-wrote a new book about her ordeal.
(Frank Eltman / Associated Press)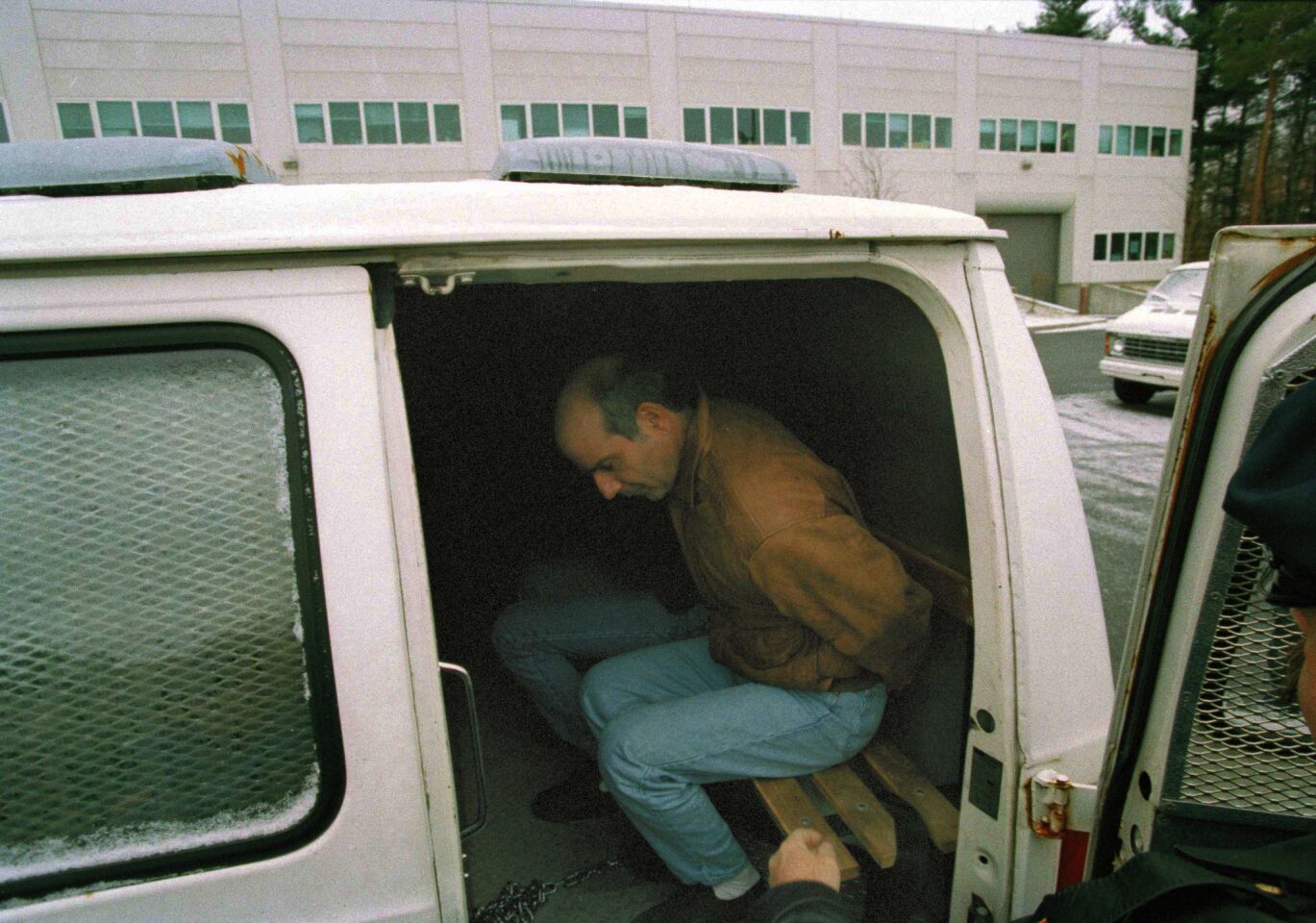 John Esposito sits handcuffed in a van in Hauppauge, N.Y., as he is about to be taken to court for arraignment on charges of kidnapping Katie Beers.
(Michael Albans / Associated Press)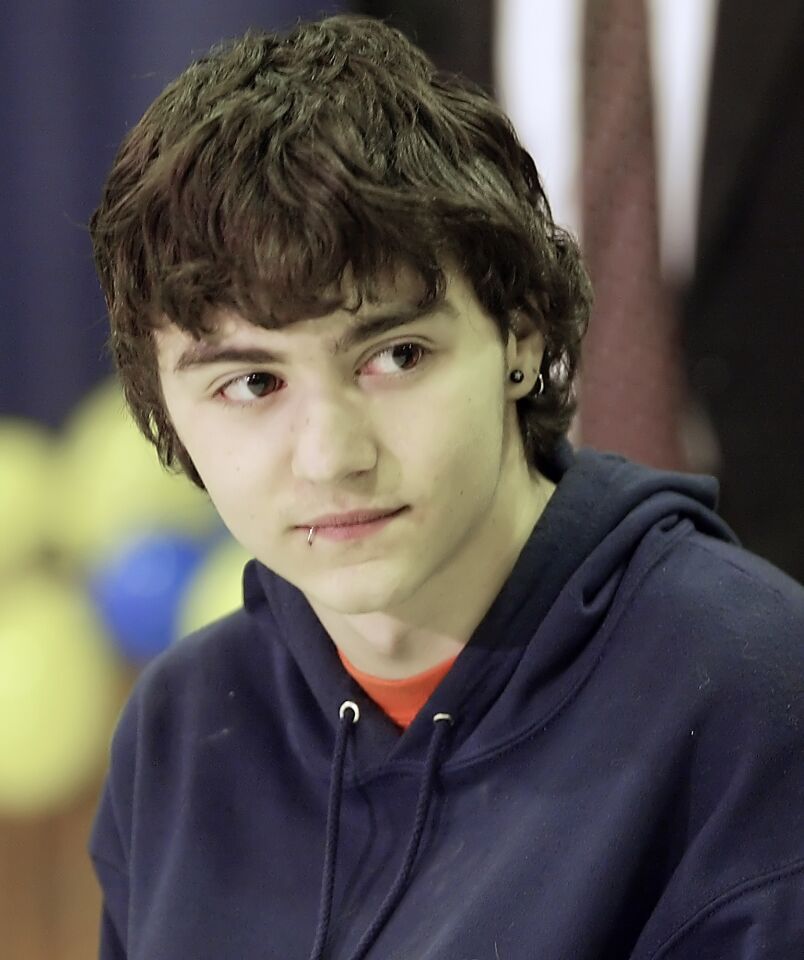 Shawn Hornbeck, 15, watches as his parents Craig and Pam Akers talk to the media in Richwoods, Mo. Shawn, who was missing since Oct. 2002, was recovered in 2007 with another missing boy.
(Tom Gannam / Associated Press)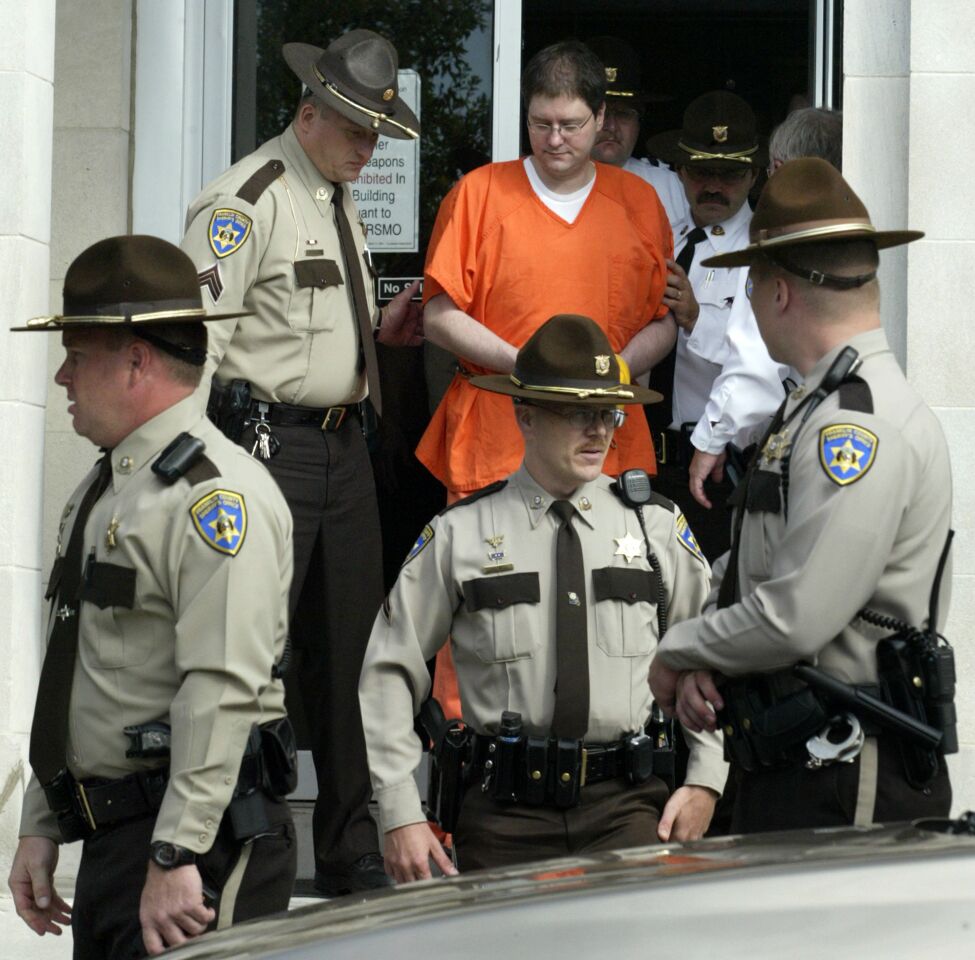 Michael Devlin is escorted out of the Franklin County Courthouse in Union, Mo. Devlin pleaded guilty in Franklin County to one charge of child kidnapping and one count of armed criminal action in the 2007 abduction of 13-year-old William "Ben" Ownby.
(Tom Gannam / Associated Press)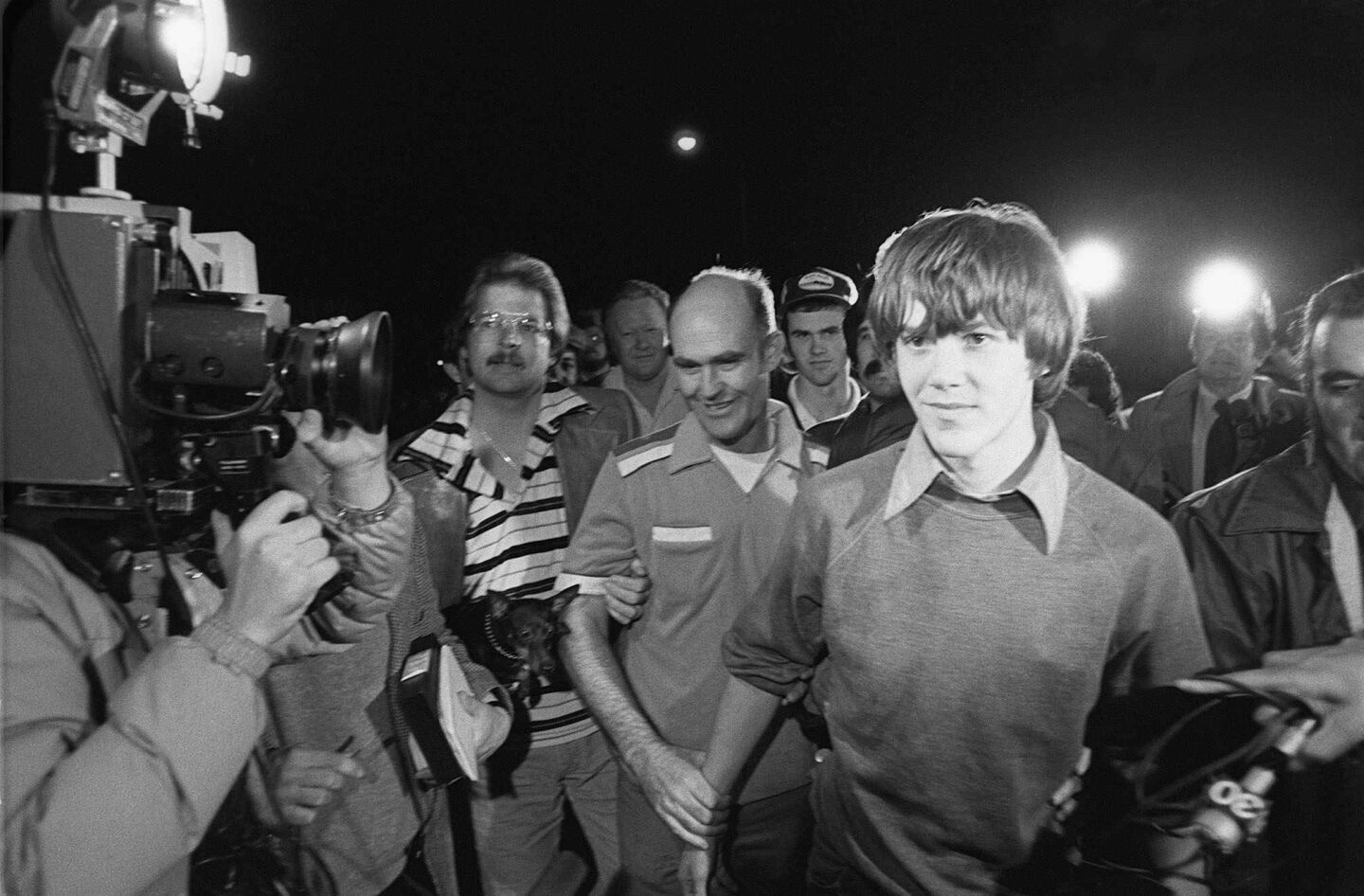 Steven Stayner, right, and and his brother Delbert Stayner walk toward their Merced County home as Steven was reunited with his family following a 7-year kidnap ordeal.
(Ted Benson / Associated Press)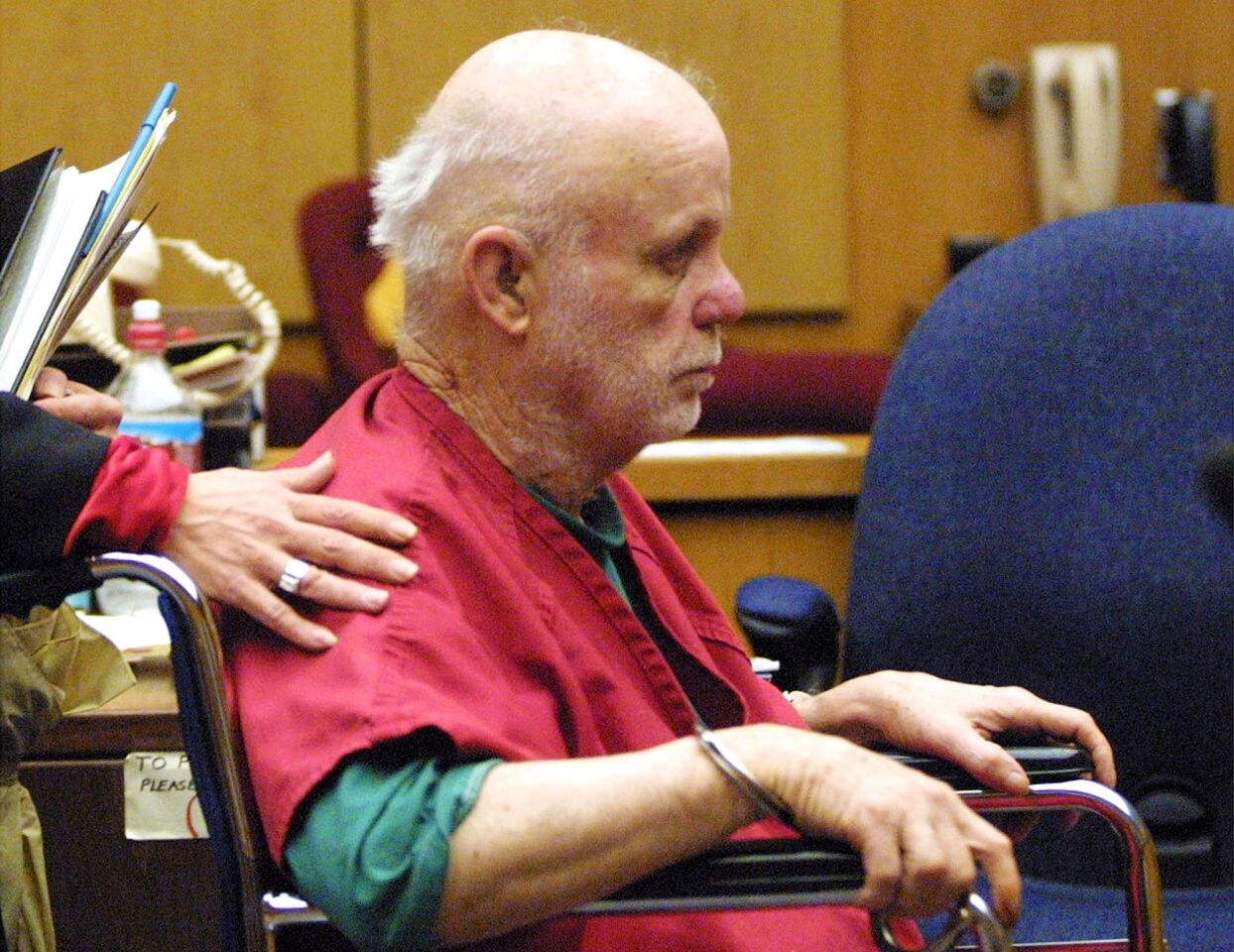 Convicted kidnapper Kenneth Eugene Parnell during a court appearance in Oakland in 2003. Parnell was convicted in the kidnappings of Steven Stayner in 1972 and Timothy White in 1980.
(Nick Lammers / Associated Press)
Nearly 20 hours before James DiMaggio's house caught fire, the 40-year-old was already on the road with San Diego County teenager Hannah Anderson, as evidenced by a photograph taken at a U.S. Border Patrol checkpoint, officials said Tuesday.
San Diego County Sheriff's Department spokeswoman Jan Caldwell said DiMaggio and the 16-year-old were photographed in his Nissan Versa at a westbound Old Highway 8 checkpoint at 12:10 a.m. on Aug 4.
The fire at DiMaggio's property in Boulevard -- which triggered the multistate search for Hannah -- was reported about 8 p.m. that day.
"Because the fire erupted several hours after, we knew he had a good head start on us and our work was cut out for us," Caldwell said.
San Diego Sheriff Bill Gore previously said authorities believe DiMaggio planned his actions, and search warrants revealed incendiary devices and arson wire were found on his property. The photograph was further evidence that the fires were set after DiMaggio fled the area, Caldwell said.
Search warrants released last week indicated Hannah was picked up from a cheerleading practice the afternoon of Aug. 4, but Caldwell said that the practice was the day before.
It remains unclear when Hannah's mother and brother -- whose bodies were found on DiMaggio's property -- were killed. Coroner's officials confirmed Monday that Christina Anderson died of blunt force injury to the head, but said it was unknown when her fatal injuries occurred. Details of 8-year-old Ethan's death have not been released.
Search warrants released last week said the two had been "tortured and killed," but did not elaborate.
The case drew national attention as the search for Hannah and DiMaggio spread, triggering Amber Alerts across much of the West. The two were eventually tracked to a remote stretch of Idaho back country, where FBI agents raided their campsite on Aug. 10.
Hannah was rescued safely. DiMaggio, who authorities said fired at least once at the agents before he was killed, was shot at least five times in the head and torso, the Valley County, Idaho, coroner said.
DiMaggio left $112,000 in life insurance to Hannah's grandmother, a DiMaggio family spokesman said Monday.
Sheriff's officials have stressed that Hannah was a "victim in every sense of the word" and was "not a willing participant." The teen has since returned to California, where she is with friends and family.
Caldwell said Tuesday that detectives now are working to "close the book" on the case.
"Our investigation is winding down, and we hope that the attention does as well," Caldwell said. "Because we hope that Hannah and her family can begin this arduous process of grieving and learning how to deal with the new normal that they have."
ALSO:
Filner apparently still in harassment mediation, not at City Hall
For sale: Dick Van Dyke's car, slightly used and 'REAL CHEAP'
James DiMaggio left life insurance to Hannah Anderson's grandmother
Twitter: @katemather | Google+
kate.mather@latimes.com
---
The stories shaping California
Get up to speed with our Essential California newsletter, sent six days a week.
You may occasionally receive promotional content from the Los Angeles Times.