Three who died after Hard Summer rave overdosed on Ecstasy, coroner says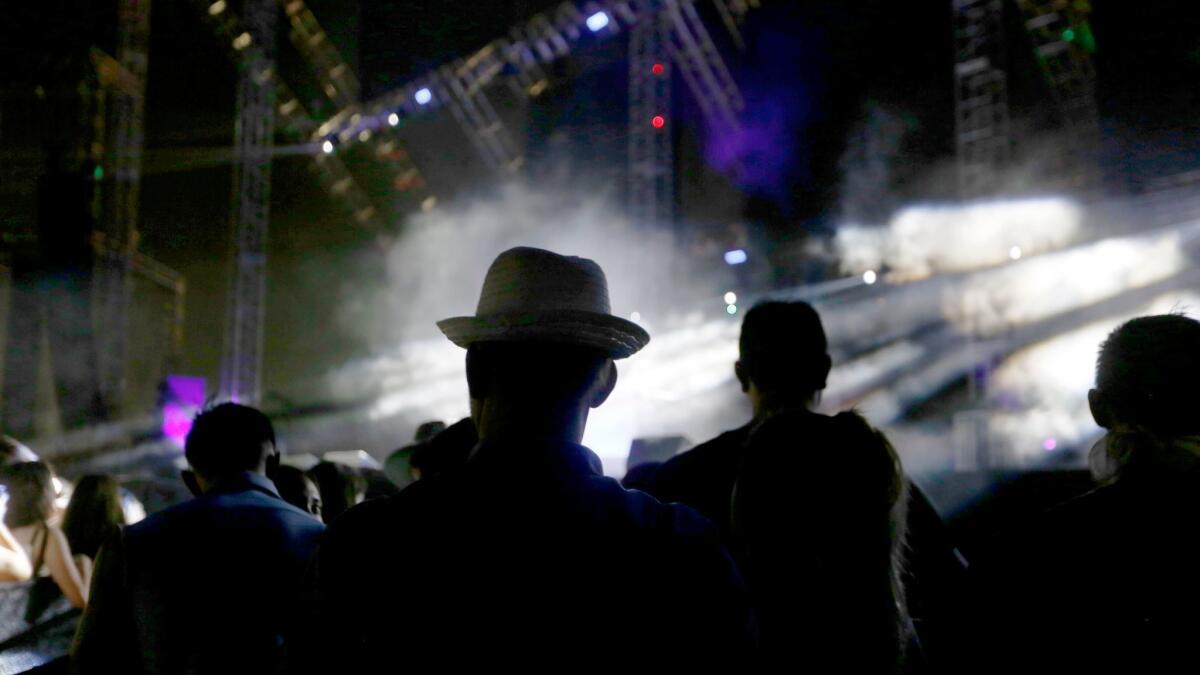 The three young people who died after attending the Hard Summer rave at the Auto Club Speedway near Fontana all died of Ecstasy overdoses, the San Bernardino County coroner said.
The official cause of death for all three was "acute MDMA toxicity," referring to the formal name for the illegal drug Ecstasy, said Mike Sutcliffe, supervising coroner investigator.
There have now been at least 28 confirmed drug-related deaths nationwide since 2006 among people who went to raves organized by Los Angeles-area companies. Fifteen have died in Southern California — seven in San Bernardino County and eight in L.A. County — and six in the Las Vegas area.
The three had attended the rave held during the last weekend of July, produced by a division of concert giant Live Nation, which was moved from the Los Angeles County fairgrounds in Pomona last year after two college students died of drug overdoses. This year's Hard Summer saw record attendance.
Drug overdoses have been a recurring problem at electronic dance music festivals, where Ecstasy and similar club drugs are often used for their stimulating and euphoric effects.
The three died in separate incidents. Over the summer, they were identified as as Derek Lee, 22, of San Francisco and San Diego State student Alyssa Dominguez, 21, of San Diego, both of whom died July 31; and UC Riverside student Roxanne Ngo, 22, of Chino Hills, who was declared dead Aug. 1.
Coroner's officials released more details on the circumstances surrounding the deaths of Dominguez and Ngo.
Dominguez was said to have taken an Ecstasy pill twice on the rave's first night, first at around 5 p.m., and again at 9 p.m., and appeared fine until about 1:30 a.m., when she and her friends were in a car leaving the venue's parking lot.
But the traffic was at a standstill for more than 30 minutes because of congestion. Suddenly, Dominguez grew agitated and began to ramble incoherently in the back seat. Around 2 a.m., she started making gurgling sounds and became unresponsive. When her friends checked on her, she had no pulse.
Friends removed her from the car and began CPR while summoning paramedics, but it was too late. She arrived at the Kaiser hospital in Fontana at 2:06 a.m., and was pronounced dead four minutes later.
A witness, Angel Ghaemi, previously told The Times that she saw Dominguez on a patch of grass in the parking lot, and tried to give aid by doing CPR. Ghaemi said the congestion in the parking lot seemed to slow first responders and that she was there for 15 minutes until an ambulance arrived.
Ngo attended the rave on the night of July 31, where she was said to have consumed what was believed to be Ecstasy, and then suffered a seizure and became unresponsive.
Paramedics found her in cardiac arrest, took her to a mobile hospital at the rave site, and then transferred her to Loma Linda University Medical Center.
When she arrived at 11:07 p.m., her temperature was 104 degrees — excessively high body temperatures are a common symptom of Ecstasy overdoses. Despite treatment with fluids and other measures to try to cool down her body, she went into cardiac arrest and was pronounced dead shortly after 3 a.m. She is believed not to have a history of seizures and did not have a history of using alcohol or drugs.
Emergency room physicians have seen overdosing ravegoers with body temperatures as high as 109 degrees — temperatures so high that body organs fail.
Ecstasy can also cause extreme thirst, leading people to drink too much water, which can cause sodium levels to crash. People experiencing hyponatremia go into a lengthy seizure that makes it hard to breathe; fatal comas can result if not enough oxygen reaches the brain.
Ecstasy can also cause the breakdown of muscle into a chemical that damages the kidneys and can lead to kidney failure and death.
It is unclear whether Hard Summer will return to the Auto Club Speedway.
The deaths in August renewed a controversy at the San Bernardino County Board of Supervisors on whether to end raves at a county-owned facility, the San Manuel Amphitheater in Devore.
Supervisor Janice Rutherford in September repeated her call to end to raves at the amphitheater, saying "the financial liability to the county, and the potential for more tragic deaths, are too great." Rutherford's earlier push to end raves at the amphitheater failed in a vote in June.
Hard Summer's website published a video urging its patrons to "stay safe when you party," which includes lines such as, "one thing you don't want to play with is Ecstasy" and "you can choose to take nothing at all."
Twitter: @ronlin
MORE LOCAL NEWS
Cirque du Soleil technician killed in preshow accident in San Francisco
A San Bernardino family terrorized by violence was desperate to leave before it was too late
Lawmakers reach a compromise to help California soldiers ordered to repay enlistment bonuses
Sign up for Essential California for news, features and recommendations from the L.A. Times and beyond in your inbox six days a week.
You may occasionally receive promotional content from the Los Angeles Times.