Schools closed, parents livid after cancer-causing asbestos found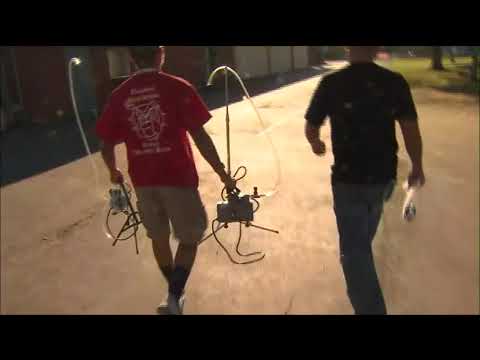 Three Orange County schools in the Ocean View School District will remain closed for asbestos testing after the cancer-causing mineral was found at Hope View Elementary School in Huntington Beach.
Three Huntington Beach schools will be closed for the rest of the week after recent tests for asbestos showed traces of the cancer-causing fiber on one of the campuses, officials announced.
Hope View, Lake View and Oak View schools will be closed through at least Friday after an expert told concerned parents and Ocean View School District officials at a public meeting late Tuesday that an asbestos fiber was found at Hope View.
"I believe that that fiber was released from the attic space during maintenance or installation activities above the ceiling," said Cary Rubin, an asbestos expert who has been testing district schools since a modernization project was launched this summer.
The three closed schools all tested positive for asbestos during inspections in August, according to reports posted on the district website. Tests in September were negative. But a third round of inspections this past weekend revealed a fiber at Hope View.
Dozens of parents who gathered for the meeting Tuesday night expressed anger with school district officials over the handling of the issue.
"For the rest of my life, every time this little girl coughs, every time she gets a cold, 'Is it now? Is this it?' Shame on all of you," parent Carol Bader told the school board.
Some even called for the assistant superintendent who oversaw the district's modernization projects to resign.
"You put our kids in danger, we're going to live in terror for the next 15 to 20 years," parent Brett Bouchet said.
Officials have pledged to test all classrooms at Huntington Beach's 11 schools after concerns were raised that construction work may have exposed students to the dangerous material.
Meanwhile, Ocean View School District has been investigating whether contractors continued to remove asbestos from facilities after the school year began in September, possibly putting students in contact with dust.
Asbestos is a mineral fiber that until the 1970s was used in building products and insulation materials. Inhaling high levels of asbestos fibers -- which can be released into the air during construction and later during removal as well -- can increase the risk of lung disease, according to the U.S. Consumer Product Safety Commission.
Parents became aware of the asbestos issue last month when district trustee John Briscoe filed a complaint with the California Division of Occupational Safety and Health after learning the material was being removed from several district schools during a modernization effort that began in July.
For breaking California news, follow @JosephSerna.
Sign up for Essential California for news, features and recommendations from the L.A. Times and beyond in your inbox six days a week.
You may occasionally receive promotional content from the Los Angeles Times.