Heat wave settles over Western U.S., bakes Southern California
Randy Thomas of Vacaville, Calif., tries to fry an egg on the salt flats in Death Valley's Badwater Basin. He drove there to experience the heat.
(Katie Falkenberg / Los Angeles Times)
Sarah Mason, left, and Lance Lindsey, both from Los Angeles, and Joey Teixeira of Honolulu have their picture taken with of a thermometer -- showing 132 degrees -- at the Furnace Creek Visitor Center in Death Valley.
(Katie Falkenberg / Los Angeles Times)
Randy Thomas, left, of Vacaville, Calif., helps Andreas Kinnen from Germany hold up a thermometer in Death Valley's Badwater Basin.
(Katie Falkenberg / Los Angeles Times)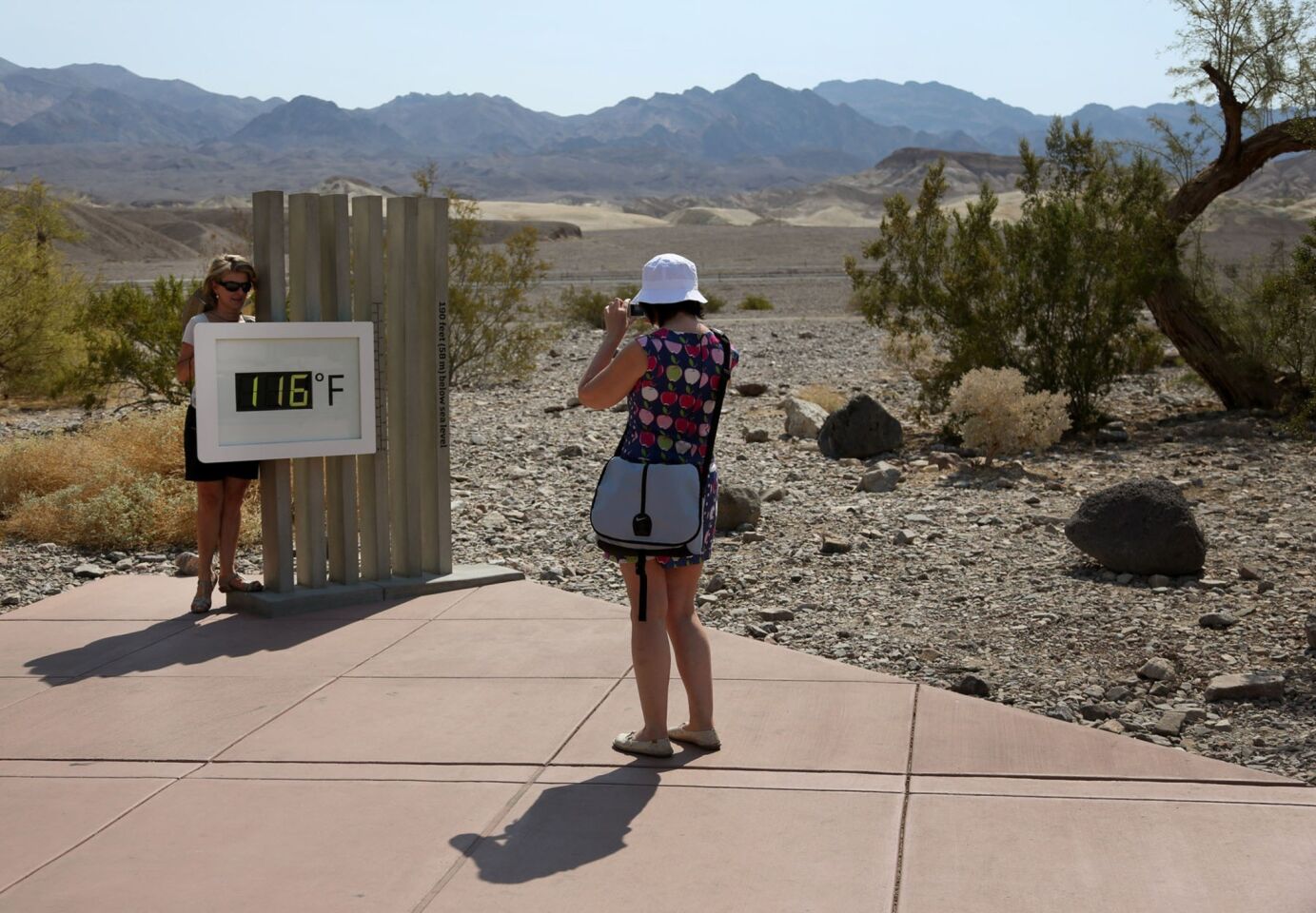 Conchi Almanza takes a photo of Mar Rodriguez in front of a digital thermometer at the Furnace Creek Visitor Center in Death Valley. The two tourists from Spain were likely to experience history Sunday with record temperatures forecast.
(Katie Falkenberg / Los Angeles Times)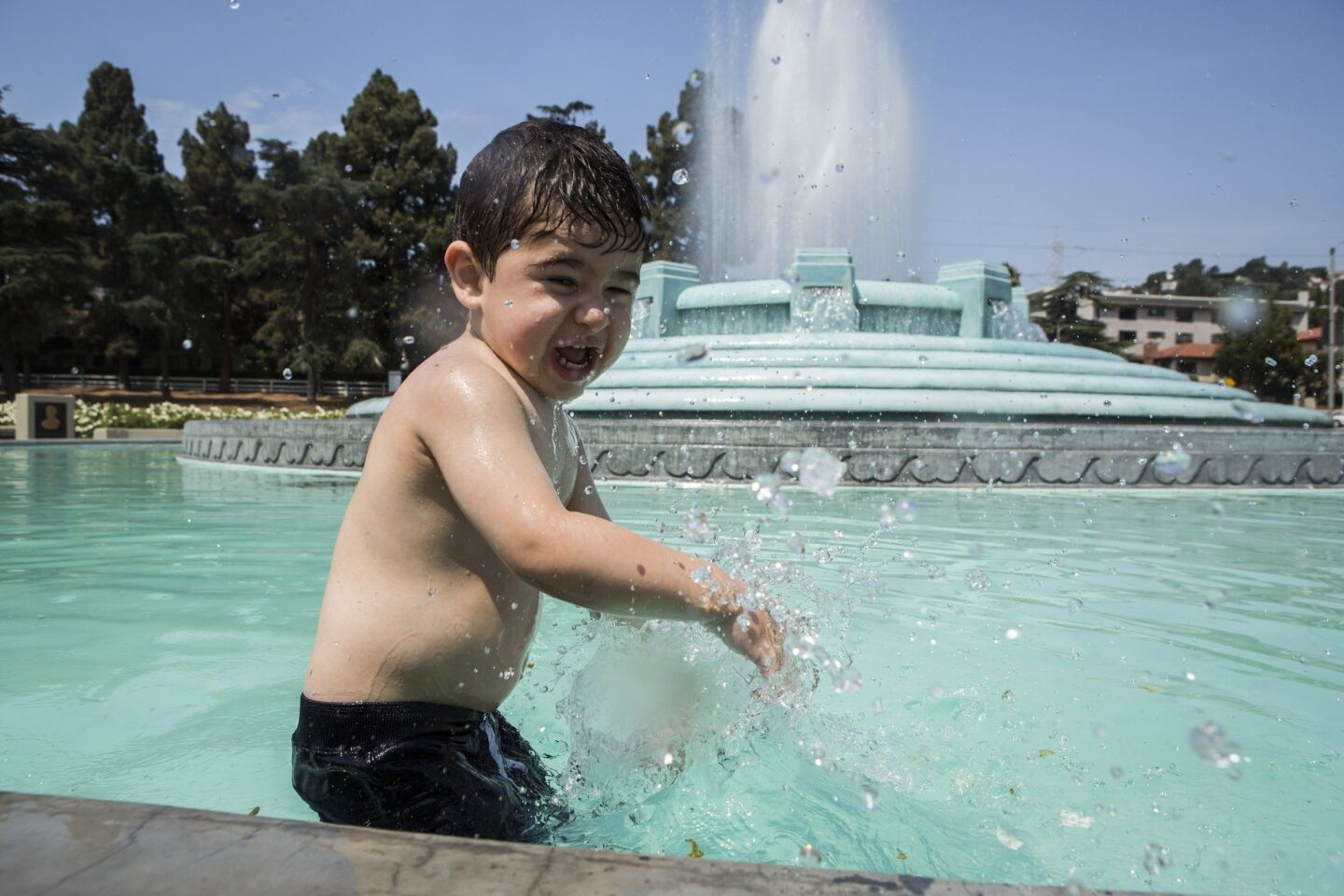 Rafael Artsrunyan, 2, splashes in the William Mulholland Memorial Fountain in Los Feliz.
(Bret Hartman / For The Times)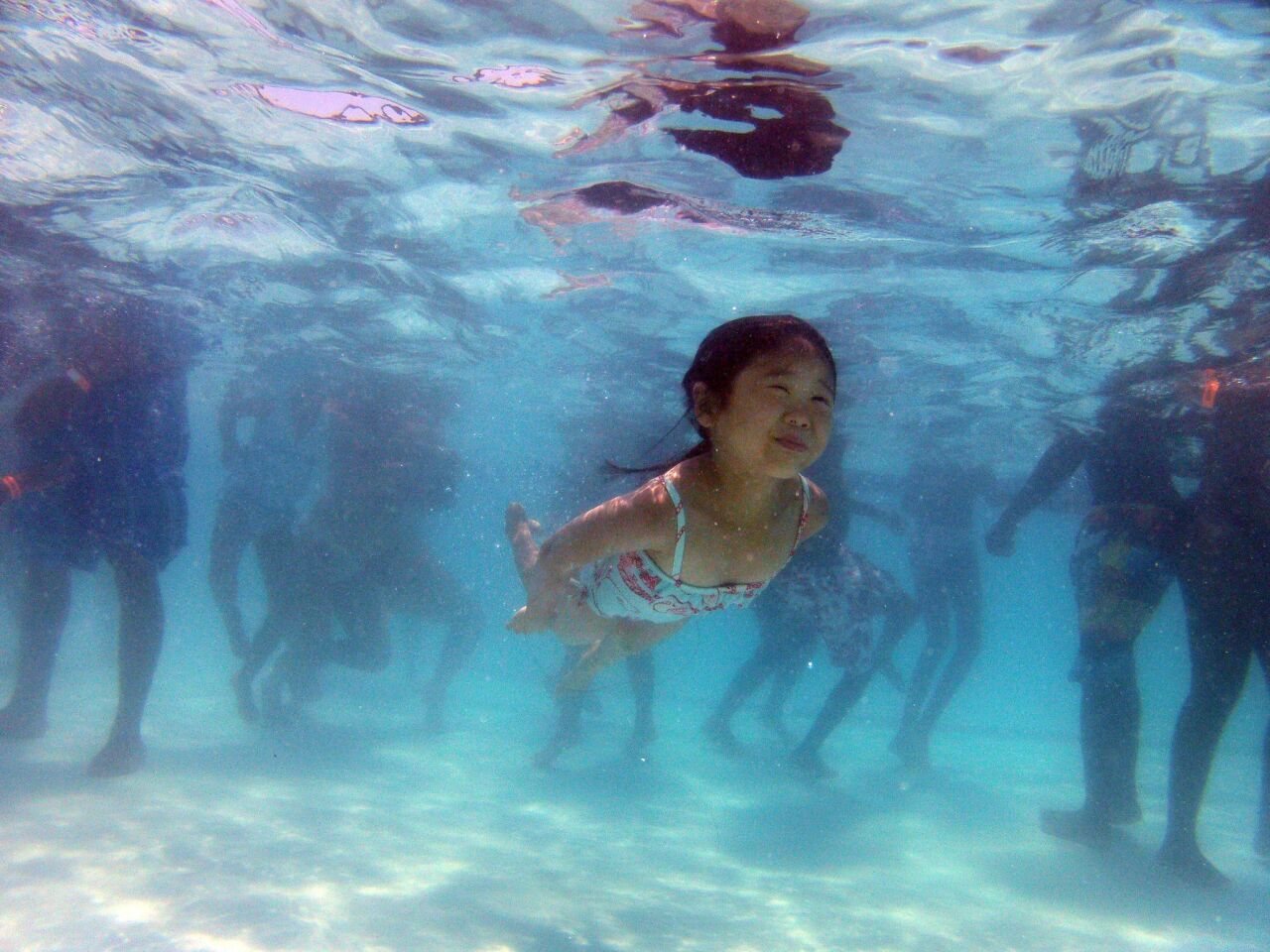 During the heat wave, children swim at the LA84 Foundation/John C. Argue Swim Stadium pool in Los Angeles' Exposition Park neighborhood.
(Allen J. Schaben / Los Angeles Times)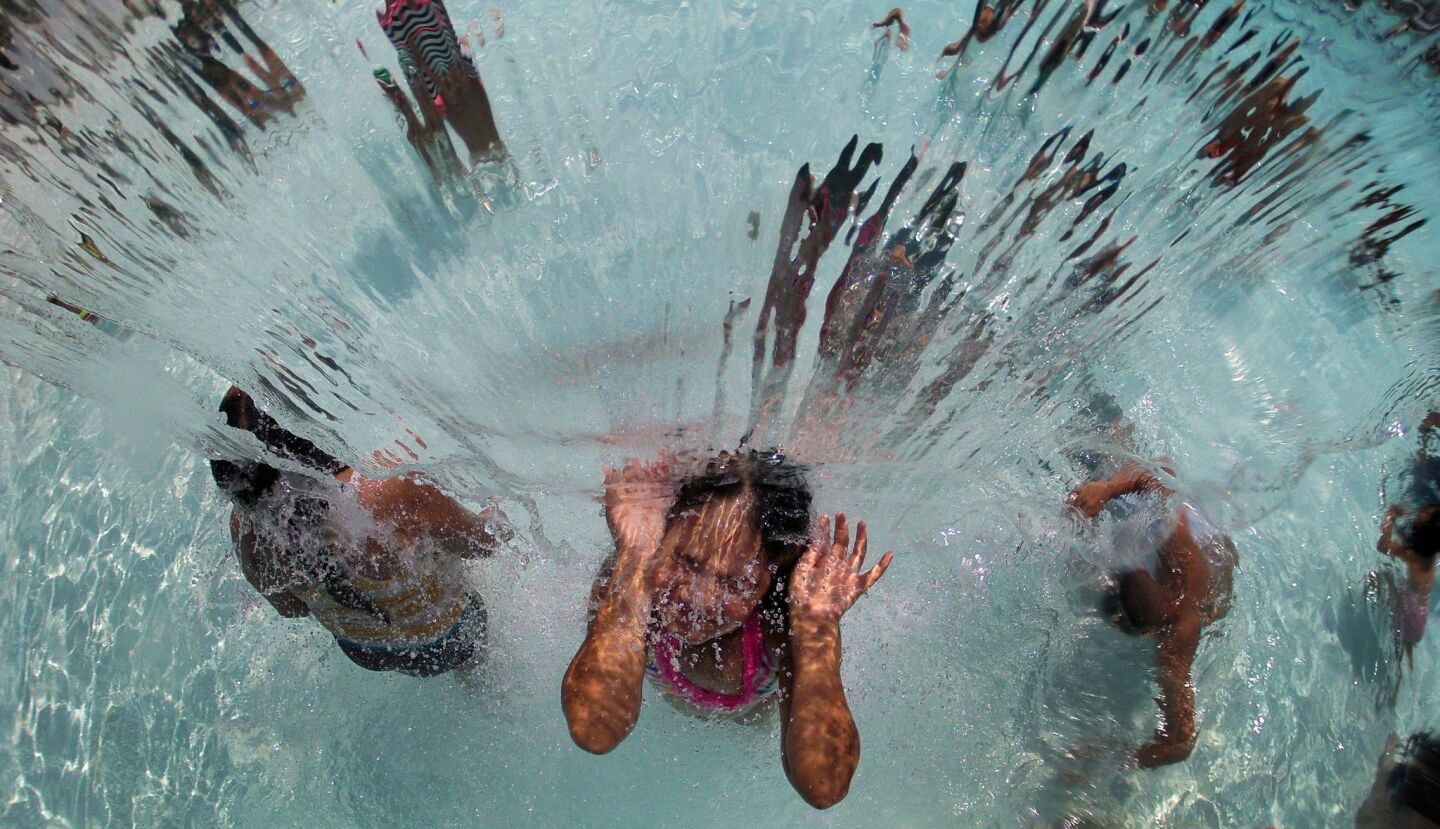 Children cool off in the swimming pool in the Exposition Park neighborhood.
(Allen J. Schaben / Los Angeles Times)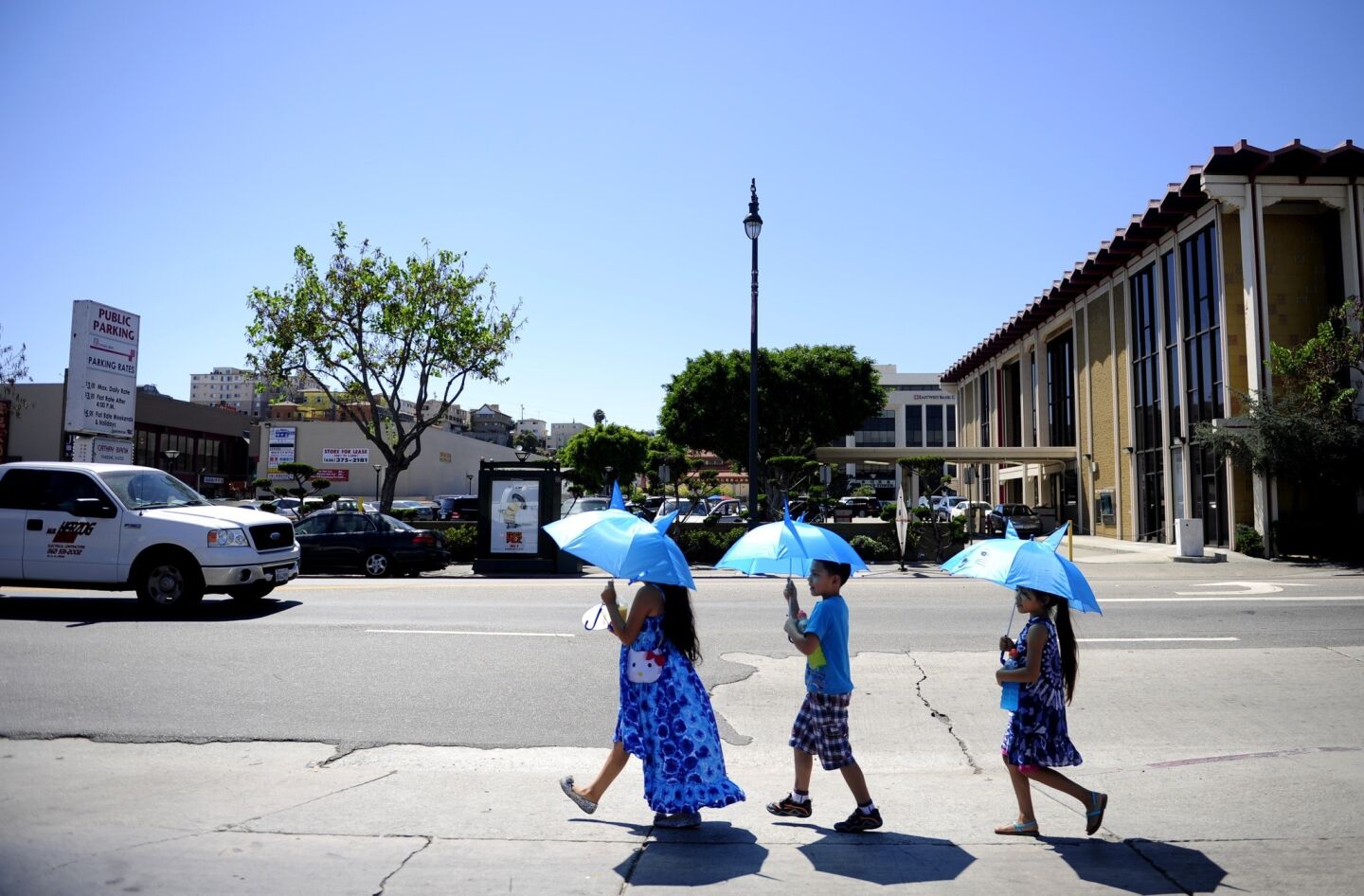 Leslie, Ernesto and Sharai Najera -- 7, 6 and 7, respectively -- shade themselves as they walk along Broadway in Los Angeles' Chinatown.
(Susannah Kay / Los Angeles Times)
David Murillio, 8, left, and Joshua Rodriguez, 9, cool off in a two-story inflatable pool in Boyle Heights. The boys were on their way to Pecan Recreation Center when they saw that their neighbors had rented the pool and jumped in.
(Barbara Davidson / Los Angeles Times)
Pedestrians with cold drinks stroll past a window display of bathing suits at the Looksy Couture Boutique in Palm Springs.
(Luis Sinco / Los Angeles Times)
A decorative sun in the window of the Cocky Cactus gift shop hints at the heat on the streets of Palm Springs.
(Luis Sinco / Los Angeles Times)
Palm Springs resident Mike Cruz cools off with a Coke in the air-conditioned Raspados Colima ice cream shop along Highway 111 in Cathedral City, where temperatures hovered around 110 degrees Friday.
(Luis Sinco / Los Angeles Times)
Leonardo Zenaidi, 5, plays in the fountain at Grand Park in downtown Los Angeles as temperatures continue to climb Friday.
(Sydney Stewart / Los Angeles Times)
Gabby Iglesias plays with her 4-month-old daughter McKayla at Grand Park¿s Arthur J. Will Memorial Fountain.
(Allen J. Schaben / Los Angeles Times)
A marine layer still hovers over Zuma Beach in Malibu on Thursday afternoon.
(Genaro Molina / Los Angeles Times)
Mercedes Lopez, 2, relaxes in the shady part of the wading area in Grand Park.
(Allen J. Schaben / Los Angeles Times)
Next to Echo Park Lake, Mishelle Parry reads in the shade as an ice cream vendor walks by.
(Luis Sinco / Los Angeles Times)
A woman walks dogs past a fireworks stand in Santa Ana.
(Bob Chamberlin / Los Angeles Times)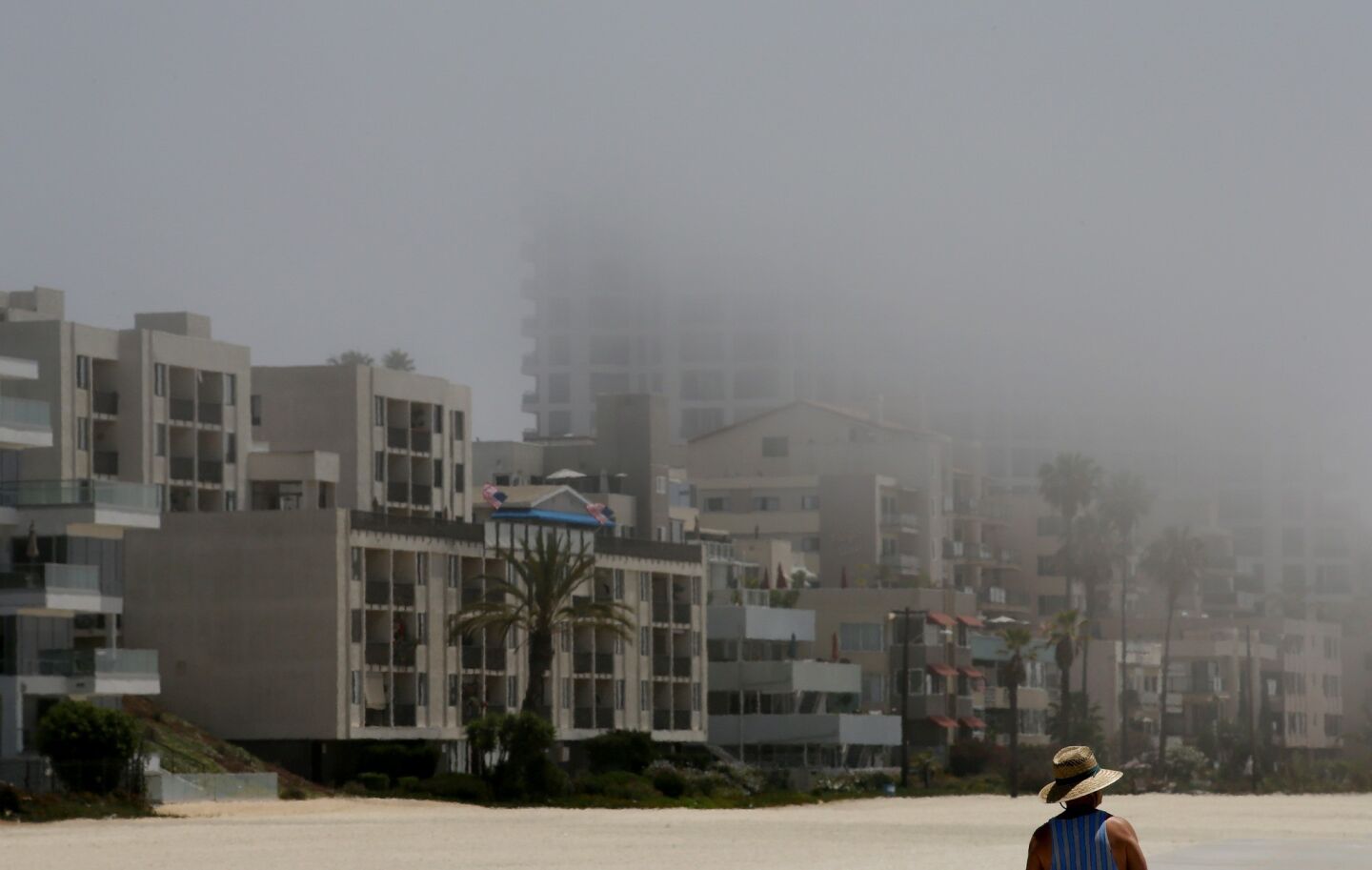 A man walks along the sand in Long Beach on Thursday morning as sun breaks through the marine layer.
(Luis Sinco / Los Angeles Times)
Rosie Melendez, 9, strikes a pose as she jumps into a small pool in Boyle Heights.
(Gary Friedman / Los Angeles Times)
Greg Nunez helps Raiders Youth Cheer, a civic youth group, set up a fireworks stand in Ventura County.
(Lawrence K. Ho / Los Angeles Times)
Temperatures continued to climb across Southern California on Friday as a heat wave expected to last into next week settled over the region.
"By this weekend, it'll cover most of the Western United States," National Weather Service specialist Stuart Seto said.
By 2 p.m. the heat was at near-record levels for several cities in the Antelope Valley and in California deserts.
It was 104 degrees in Lancaster, 103 in Acton, 102 in Palmdale and 94 in Burbank. The mercury hit 115 at Palm Springs International Airport and 114 in Death Valley, which isn't at its hottest until 4 or 5 p.m., Seto said.
The weather service's Las Vegas office projects that Death Valley could hit 129 degrees Sunday and Monday, breaking decades-old records. The all-time record for Death Valley is 134 degrees.
Not surprisingly, there's big business in keeping people cool.
"We have seen an uptick in attendance in people trying to cool off," said Michele Wischmeyer, spokeswoman for Palace Entertainment, which runs the San Dimas water park Raging Waters. "If we could carry the heat wave to the East Coast, that'd be perfect."
Los Angeles-based Magic Touch Appliance Repair, which installs and services air conditioners and other major appliances, is also preparing for the weekend.
Nadia Melicor, who handles the company's accounting and dispatches technicians to job sites, said the company is planning to bring in a second person to help answer calls for service for the next week at least.
Business has been picking up the last couple of weeks, and the boss is headed back in from out of the country Saturday, she said.
This is the first major heat wave to bake the Southland since 2009, Seto said. By next week it will stretch from western New Mexico to the four corners where Utah, Colorado, Arizona and New Mexico meet, plus all of California and into Oregon, he said.
In Los Angeles, the heat is a particular concern to firefighters because it comes in a year of record dry conditions that have already sparked several major brush fires in the area.
Fireworks also went on sale Friday in some areas, adding another fire danger. Fireworks are to be sold in 295 designated communities in the state through the Fourth of July.
Since January, the California Department of Forestry and Fire Protection has responded to about 2,900 fires, department spokesman Daniel Berlant said. In an average year, he said, it would have responded to fewer than 1,800 by this time.
Dry brush is being blamed for the increase in fires, Berlant said. He added that current weather conditions are more typical of late August or early September.
"We're in a long-term drought," said Bill Patzert, a climatologist with the NASA Jet Propulsion Laboratory in La Cañada Flintridge. "The situation is extremely crispy and dry. That equals incendiary."
Several agencies opened cooling centers — air-conditioned public facilities that can be used to escape the heat. Information about the centers can be found by dialing 211, the county's information line. Click on the following link to find an interactive map of the centers.
ALSO:
Where can I buy legal fireworks in Los Angeles County?
Homeless man, impaled by fence after falling off garage, dies
Woman who cut off husband's penis gets 7 years to life in prison
joseph.serna@latimes.com | Twitter: @josephserna
emily.foxhall@latimes.com | Twitter: @emfoxhall
---
Life is stressful. Our weekly mental wellness newsletter can help.
You may occasionally receive promotional content from the Los Angeles Times.