L.A.'s fall heat wave: No one will be spared as temperatures soar
With early afternoon temperature in the mid-90s, golfers at Chester Washington Golf Course in Hawthorne carry umbrellas and ice water to beat the heat.
(Don Bartletti / Los Angeles Times)
Jose Castillo, 14, skateboards through the Santa Ana Civic Center on his way to school Friday morning. High temperatures and a red flag warning denoting heightened fire danger will be in effect in the Southland.
(Irfan Khan / Los Angeles Times)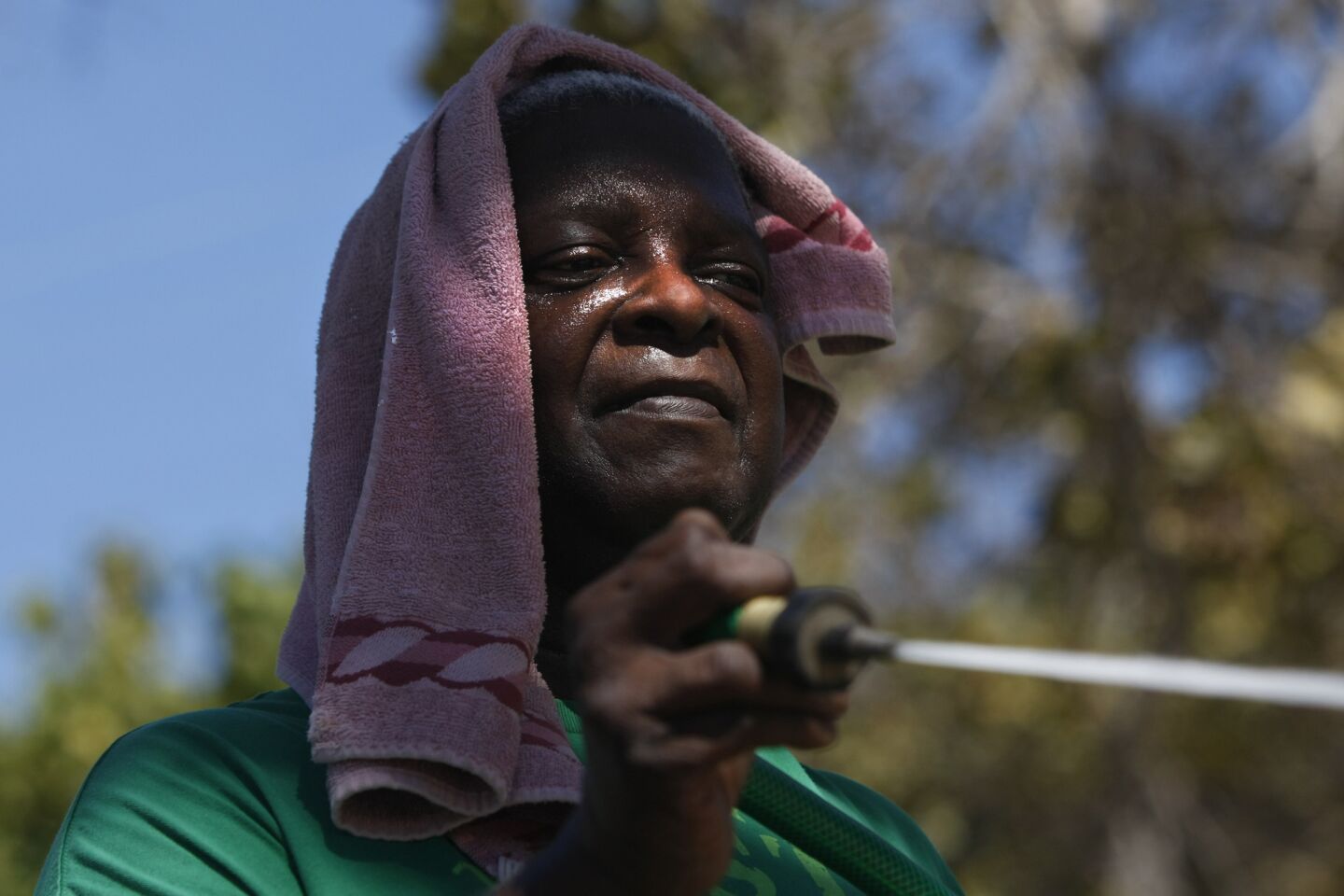 Beads of perspiration dot the face of a man who only goes by the name Andy as he sprinkles water on his lawn in his South Central Los Angeles neighborhood.
(Don Bartletti / Los Angeles Times)
Beachgoers cool off in the surf at Hermosa Beach.
(Jay L. Clendenin / Los Angeles Times)
Betty Jurdi, 73, shades herself with an umbrella while waiting for a bus in Woodland Hills.
(Anne Cusack / Los Angeles Times)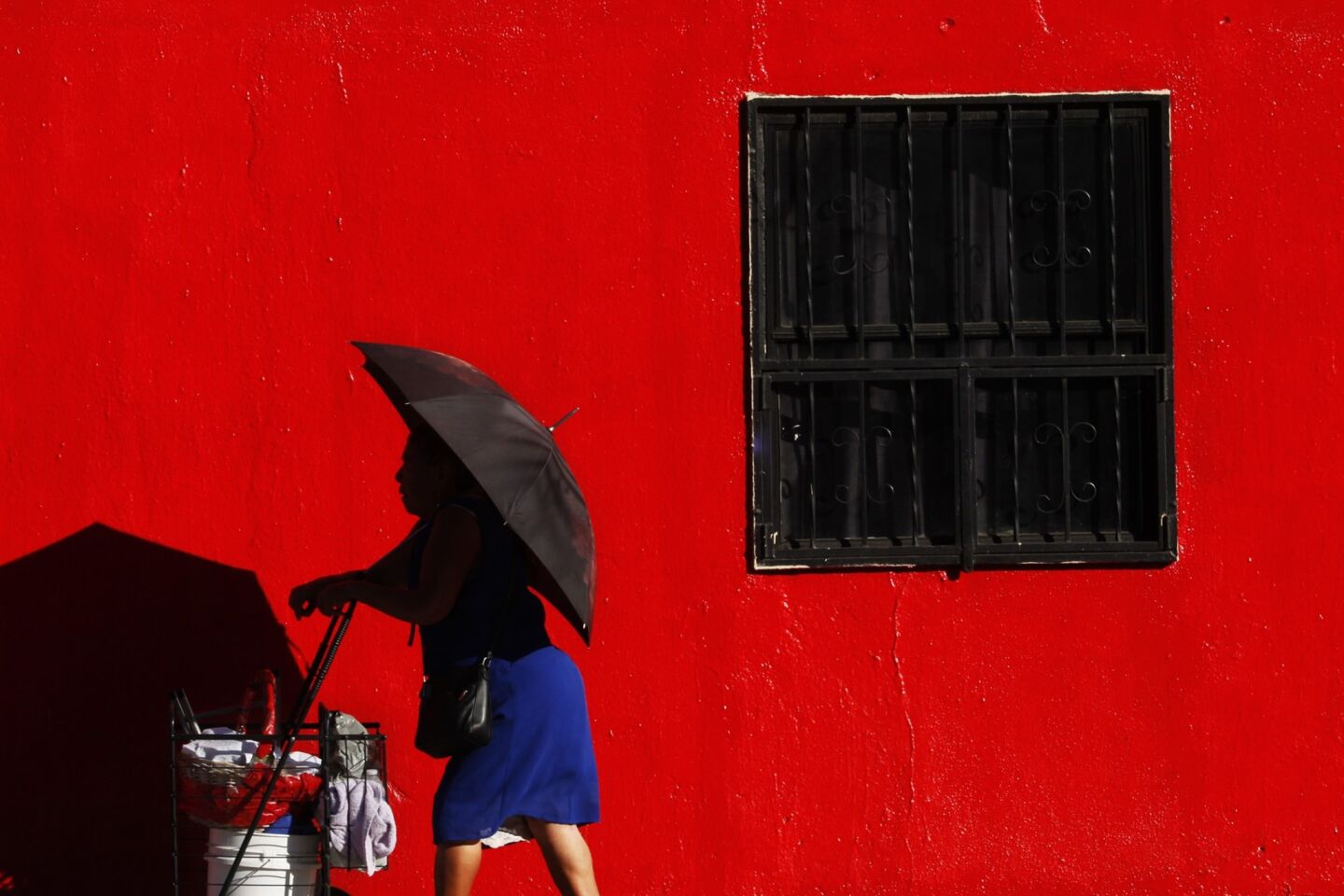 Maria Perez, 72, shields herself from the afternoon sun while walking along Mott Street in Boyle Heights. The extended forecast calls for high temperatures and Santa Ana winds.
(Genaro Molina / Los Angeles Times)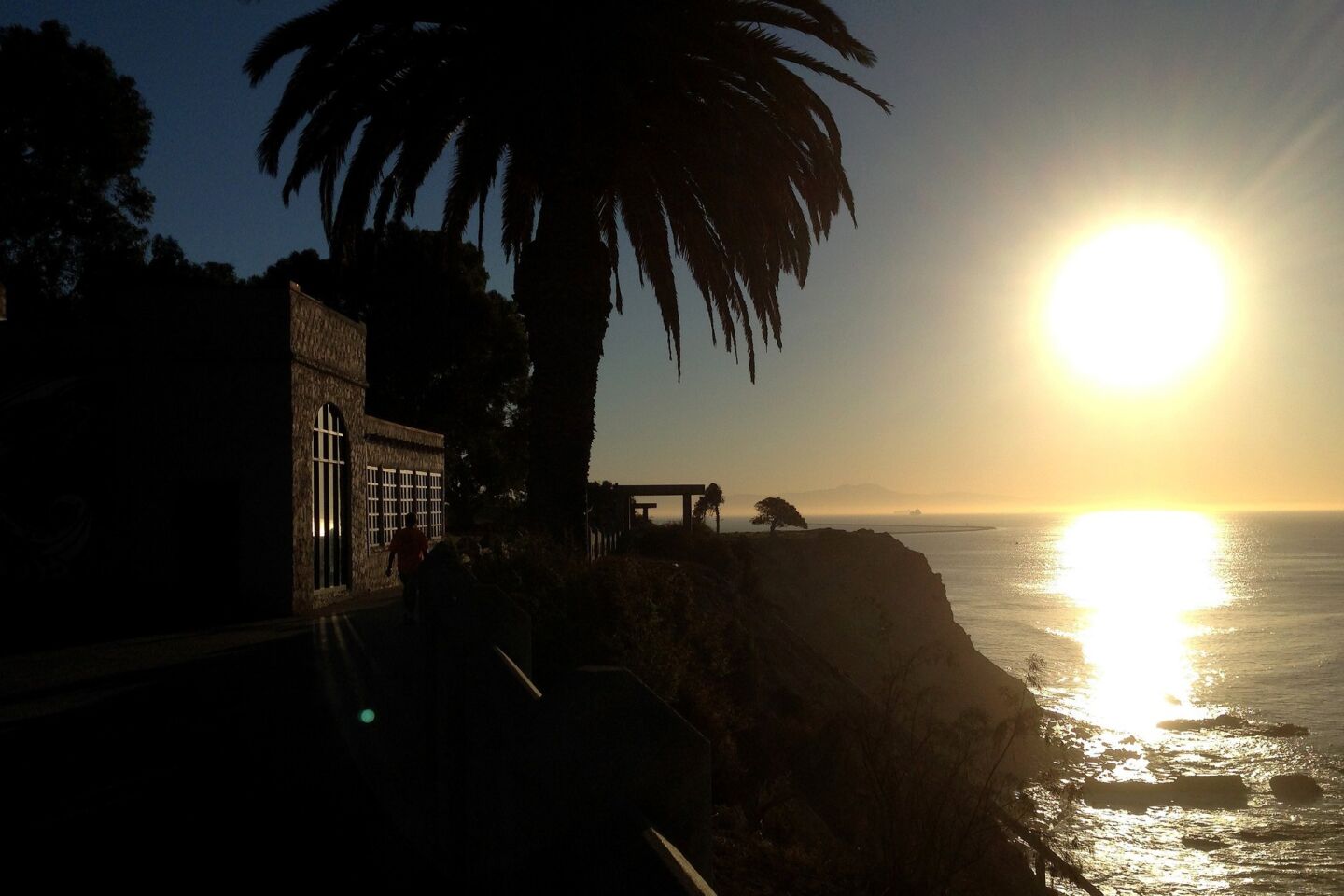 The sun rises over Point Fermin as the Southland heads into what is expected to be a hot weekend.
(Bob Chamberlin / Los Angeles Times)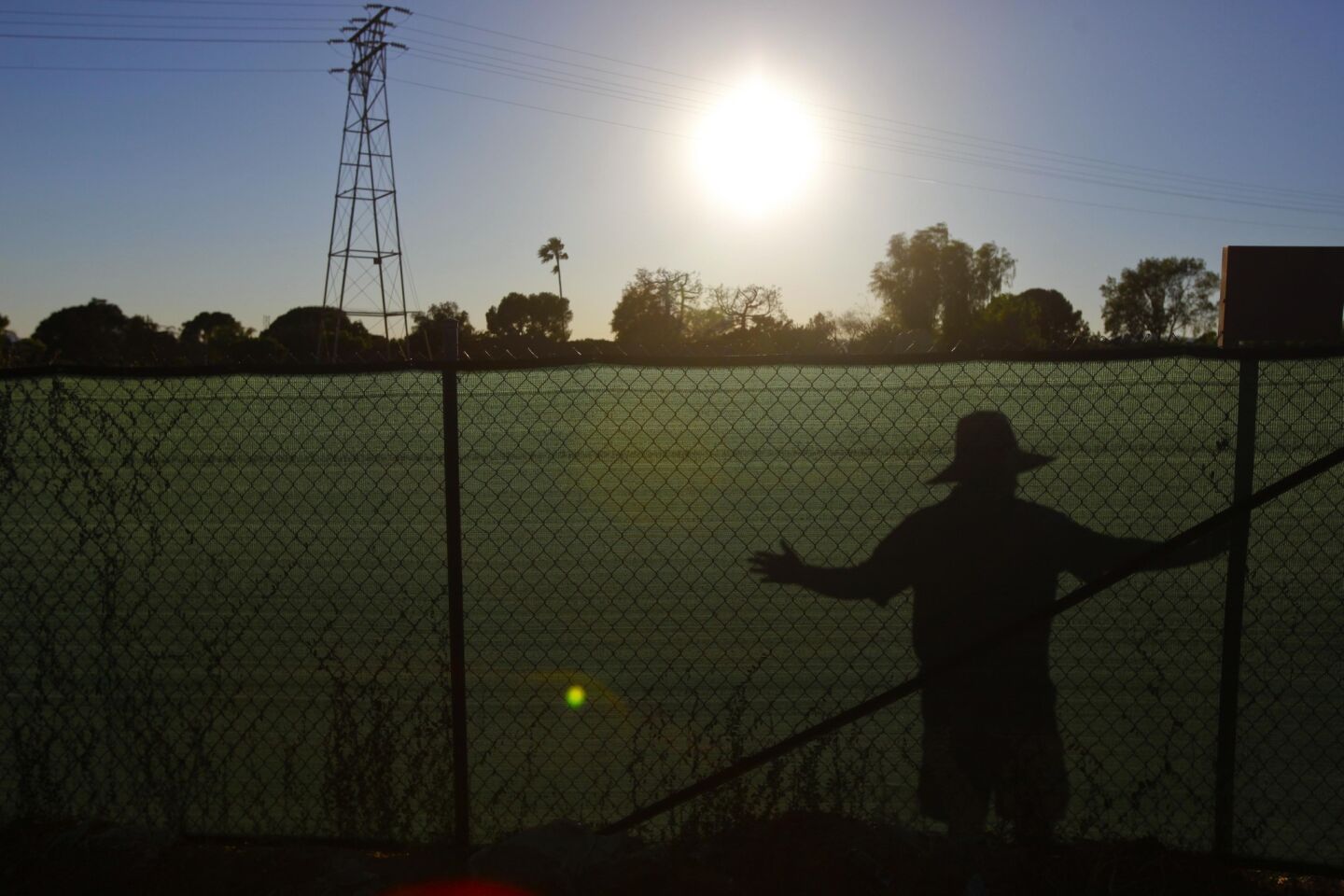 The sun bakes the parking lot at Alemany High School where attendants were helping guide people to park for Thursday night's game against Chaminade.
(Michael Robinson Chavez / Los Angeles Times)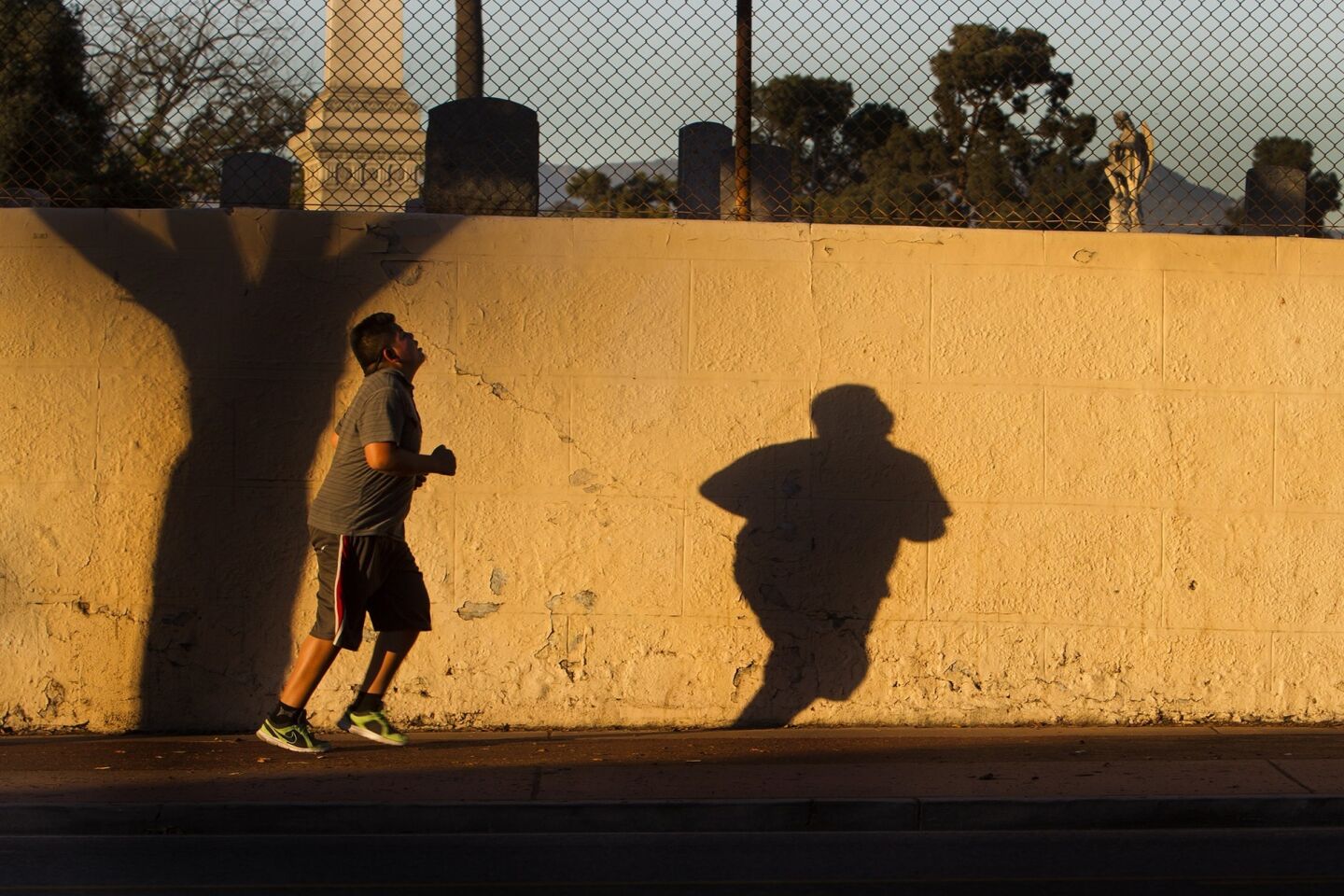 A jogger struggles on a path around the Evergreen Cemetery despite high temperatures.
(Gina Ferazzi / Los Angeles Times)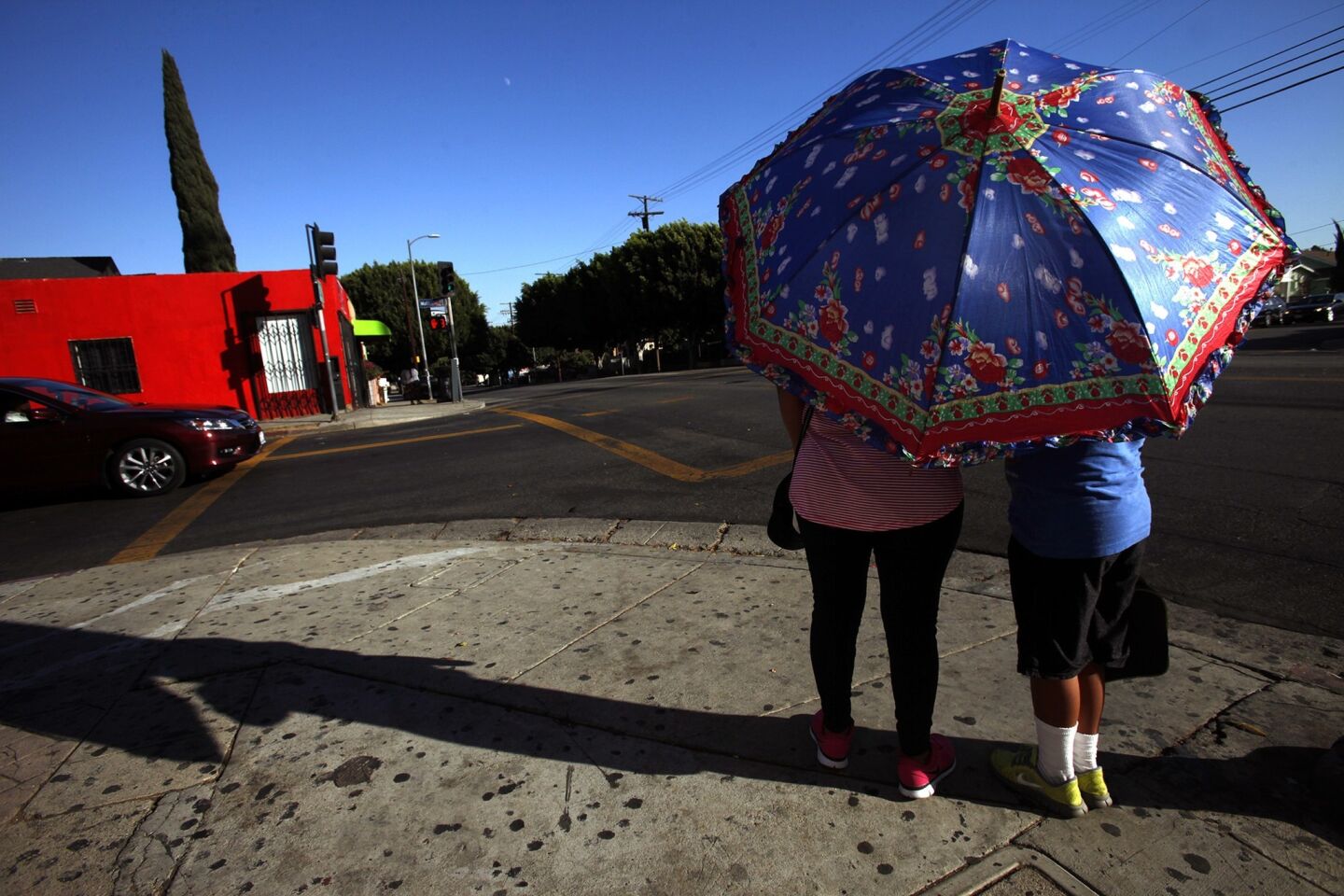 Maria Torres, left, and her son Anthony Morales, 10, shield themselves from the sun while waiting for the light to change at Mott and 4th Streets in the Boyle Heights.
(Genaro Molina / Los Angeles Times)
The heat wave forecasters have been warning about all week has officially taken hold, with temperatures today expected to hit triple digits across the Southland through Saturday.
Residents in the valleys can expect to see temperatures reach 106 in some cities as the heat wave peaks Saturday, the National Weather Service warned. And don't expect much relief in coastal and mountain areas, where temperatures will hover between 90 and 100 degrees.
The heat is caused by high pressure from the mountains that is pushed down into the valleys and stays there, keeping out ocean breezes that typically flow inland and provide relief.
The effects of the high pressure, and Santa Ana winds, could already be felt Thursday as temperature records were broken across the map.
In Oxnard, the mercury hit 98, beating the record set in 1945 by 2 degrees, according the National Weather Service.
Temperatures hit 100 in Santa Maria, also breaking the 1945 record of 96 degrees. Santa Barbara also set a heat record of 94 degrees, beating the high mark set in 1991 by 3 degrees.
Sweltering heat forced Long Beach Unified School District to shorten school days Thursday and Friday since most campuses are not equipped with air conditioning.
And Los Angeles Unified canceled all outdoor activities and sports practices for Thursday and Friday in the San Fernando Valley because of the heat.
The hot temperatures, low humidity and windy conditions prompted the U.S. Forest Service to implement 24-hour firefighter staffing as officials issued red flag warnings across the Southland.
On Sunday, temperatures will begin drop, and by Wednesday, the region will return to more typical weather: mid-70s at the beaches, lower 80s inland.
For breaking news in Los Angeles and throughout California, follow @VeronicaRochaLA. She can be reached at veronica.rocha@latimes.com.
The stories shaping California
Get up to speed with our Essential California newsletter, sent six days a week.
You may occasionally receive promotional content from the Los Angeles Times.