He's one of L.A. City Hall's most powerful politicians. He's also having problems paying his bills on time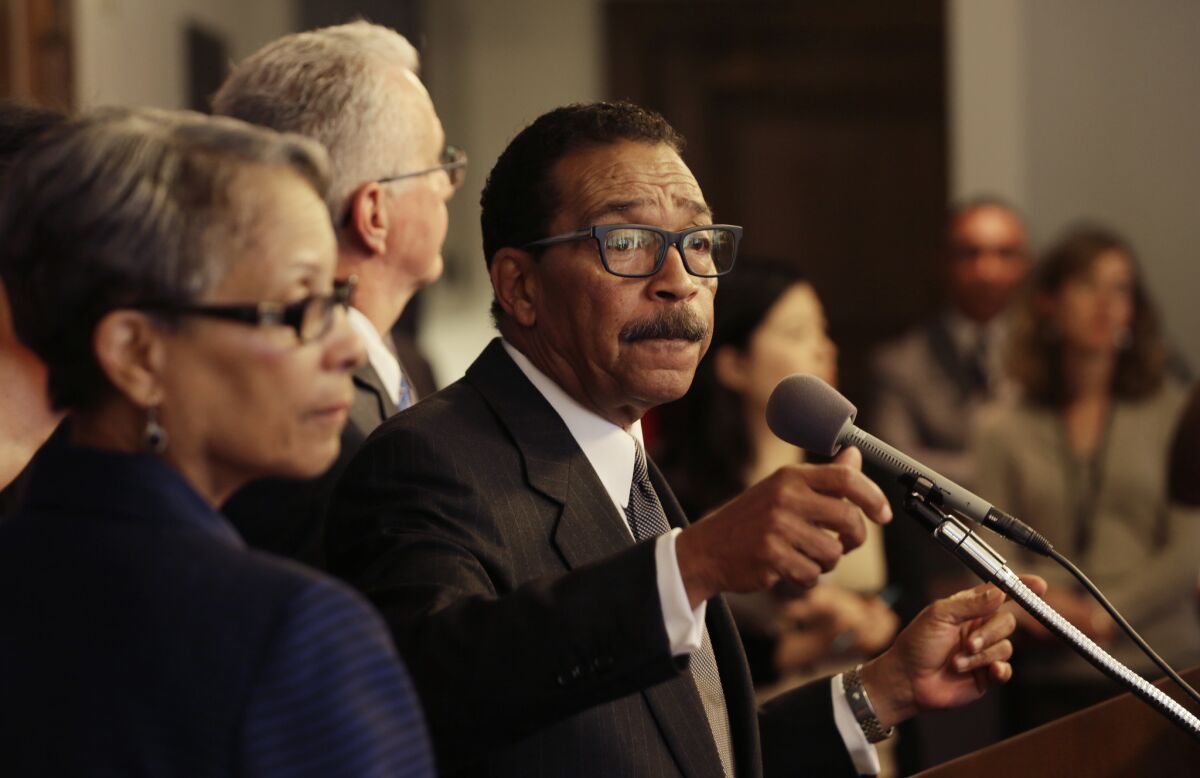 He is considered, at a minimum, the second-most powerful politician at Los Angeles City Hall. He wields huge authority over the city's $8.8-billion budget, which governs spending on police, firefighters and an array of services.
Yet in his private life, Council President Herb Wesson has struggled with a considerably more mundane set of issues: paying the bills on time.

For the record:
2:00 p.m. Aug. 3, 2018This article contains an incorrect purchase price for a home the Wessons own in Mid-City. It was bought for $950,000, not $759,999.
2:40 p.m. Aug. 17, 2016: An earlier version of this article reported that L.A. City Council President Herb Wesson has declared $100,000 to $1 million per year in income from his rental property. Wesson reported $10,000 to $100,000 per year in rental income.
Since he became council president in 2011, Wesson has received five default notices on his properties — either on his home in Mid-City or at his rental property in Ladera Heights — saying he and his wife were months behind on their mortgage.
In two of those instances, Wesson's properties came dangerously close to a foreclosure auction, according to county real estate records. The most recent auction was scheduled for July 6 and then canceled, records show.
Asked about Wesson's real estate woes, his spokeswoman, Vanessa Rodriguez, said all five default notices have been rescinded and that the councilman is current on both mortgages.
Wesson attributed the problems to the home he and his wife bought for $759,999 in the Wellington Square section of Mid-City.
"Like so many Americans, my wife and I purchased our home during the peak of the housing market only to watch the bubble burst and the economy nose dive into the worst recession in more than sixty years," Wesson said in a statement.
"We have been working with a financial adviser to get our household finances back on track," Wesson wrote, "and while our financial hardship is deeply personal, we hope to use our experience to help local families learn more about managing their finances and weathering economic uncertainty."
Wesson's financial issues have become a major target for Sherman Oaks resident Daniel Guss, an animal rights advocate who has criticized the council president over management of the city's animal shelters. Guss, writing on the website CityWatch, reported last week that Wesson had repeatedly experienced defaults in five years.
In an interview, Guss argued that Wesson should step down from the presidency, but remain a council member, while he figures out his financial situation.
"I don't have confidence that his attention is being put on the city's issues," Guss said. "I don't have confidence that someone with so many distractions in his own life can concentrate" on city business.
Council members earn more than $189,000 annually. In financial disclosure forms, Wesson has reported receiving between $10,000 and $100,000 per year in income from his rental property.
Wesson declined an interview request. A former speaker of the state Assembly, he represents a district that stretches from Koreatown to parts of South Los Angeles.
Wesson's colleagues elected him president in November 2011. The week of that vote, the Los Angeles County Registrar-Recorder/County Clerk recorded a default notice against Wesson's rental property in Ladera Heights, saying he owed $14,746 on that four-bedroom house.
The notice was rescinded in February 2012. A second default notice arrived in December 2013, saying the Wessons had not paid their mortgage and property taxes on the Ladera Heights rental for 4½ months. Five months later, the county filed notice of a scheduled auction.
By then, a separate default notice had been filed on the Wessons' Mid-City residence, a two-story Spanish Colonial Revival built in 1923. The notice said the Wessons owed $33,580.
Both default notices were rescinded in 2014. But trouble reared up again in January, when the county recorded another default notice on the Wesson home. The notice said the Wessons were 5½ months behind and owed $33,248.
The Wessons again paid off the balance and the notice was rescinded in March. But around the same time, the county filed another default notice over the rental house. That property was scheduled for a trustee's sale on July 6. It was canceled that same week, according to county records.
Rodriguez, the Wesson spokeswoman, said her boss paid off the outstanding bills by tapping personal savings and retirement accounts.
Now that the mortgage issues have been addressed, she said, the council president is researching financial literacy workshops to pilot in Los Angeles to help "working families take control of their finances."
Wesson and his wife bought the house in Ladera Heights, an unincorporated section of Los Angeles County, in 1993. The councilman has a property manager for the rental house, which is being leased to Pasadena-based Flagship Group, which serves developmentally disabled adults, Rodriguez said.
The rental house was the subject of an unannounced inspection in June by the state's Department of Social Services. As a result of that inspection, state officials instructed Flagship to make several corrections, including repair or replacement of the home's dishwasher and clothes washer and removal of a discarded couch and trash can from the backyard, according to the state's report.
Jay Smith, a representative of Flagship, said the company has already made some of the corrections and is working to finish the remainder.
Twitter: @DavidZahniser
ALSO
Suit filed to permit Californians to carry guns openly in public
Woman jumps to her death from elevated Metro Blue Line tracks
Homes burn, thousands flee as out-of-control brush fire chars 30,000 acres in Cajon Pass
---
UPDATES:
5:47 p.m.: This article was updated with additional details.
This article was originally posted at 12:45 p.m.
---
The stories shaping California
Get up to speed with our Essential California newsletter, sent six days a week.
You may occasionally receive promotional content from the Los Angeles Times.