How the battle between Trump and Clinton may have paved the way for L.A.'s $1.2-billion homeless housing measure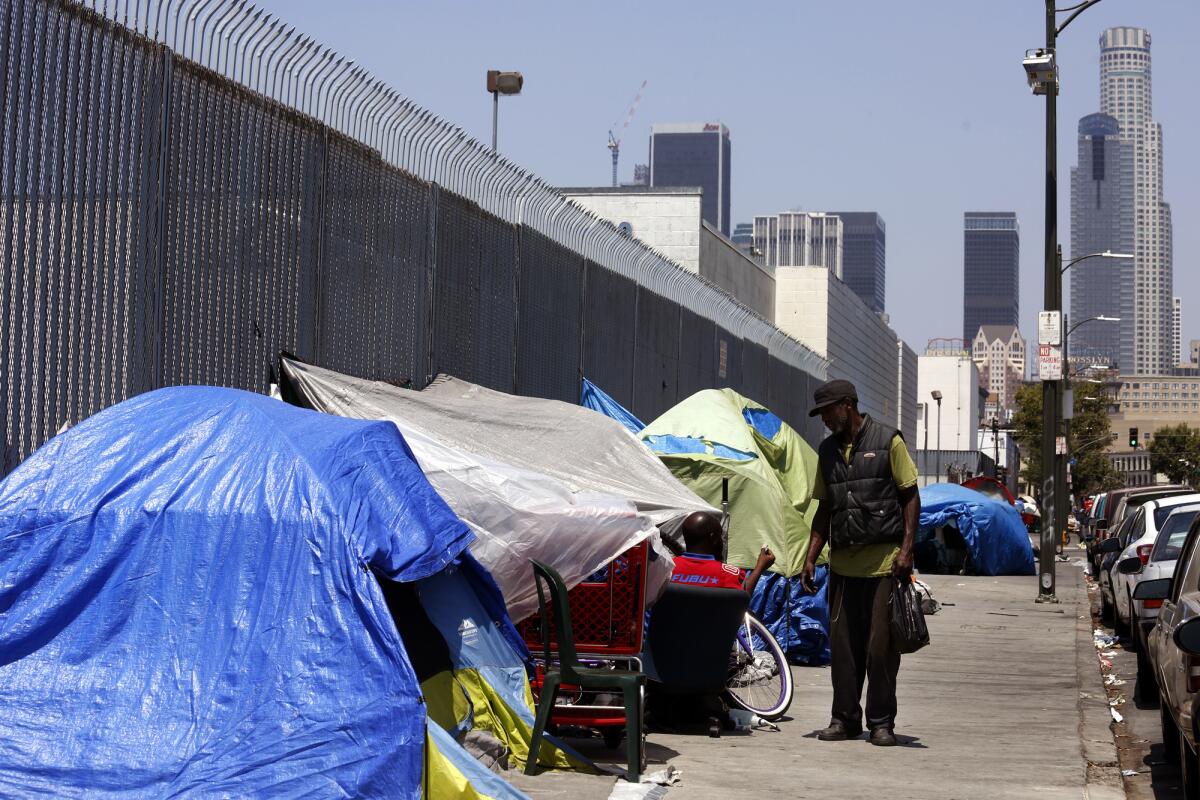 Los Angeles voters who persevered to the end of a busy ballot Tuesday appear to have overwhelmingly approved a measure that will tax the city's property owners to provide housing for the homeless.
Proposition HHH, the 26th item on the ballot, authorizes $1.2 billion in borrowing to accelerate the pace at which mostly nonprofit developers build permanent supportive housing for chronically homeless people. The bonds will be repaid by a new property tax averaging just under $10 for each $100,000 in assessed valuation over 29 years.
The proposition was far ahead late Tuesday in the early vote tally.
City officials who placed the measure on the ballot say it will help fund 1,000 apartment units a year for 10 years. Los Angeles County will provide the support services for the city housing.
Supporters of the measure declared victory Tuesday long before the full results were in, based on the absentee vote and because exit polls showed the proposal doing well.
"We earned our wings tonight. We completely lived up to the title City of Angels," said Councilman Marqueece Harris-Dawson, who backed the measure.
Following years of ineffective efforts to stem the spread of tent encampments that now dot the city, the bond measure was an ambitious approach to achieve a long-term solution. It will have little immediate effect, leaving the city and county struggling to gain traction with short-term efforts, including offering services to those living on the street and finding placements in existing housing.
In an election dominated by the presidential race, political analysts predicted that voter reaction in the acrimonious contest between Hillary Clinton and Donald Trump would prove the deciding factor for the homeless bond proposal.
While tax measures always face a difficult challenge getting above the two-thirds vote required for passage, a strong anti-Trump sentiment among Democrats and a corresponding Republican malaise in deep-blue California was expected to be important to a proposal likely to win or lose by a small margin, they said.
There is definitely a Trump effect in California.
— Sean Clegg, partner, SCN Strategies
"There is definitely a Trump effect in California," said Sean Clegg, a partner in the political consulting firm SCN Strategies, which is not involved in the campaign.
That meant a favorable outlook for revenue initiatives and progressive measures throughout the state, Clegg said.
The measure had the backing of much of Los Angeles' political leadership and civic groups. United Way of Greater Los Angeles and the Los Angeles Area Chamber of Commerce coordinated the campaign.
Opponents, who argued that the city should use existing revenue to address homelessness, did not form a campaign committee or raise funds.
Though no polls specifically aimed at Proposition HHH were published, voters have consistently rated homelessness as one of the city's top issues.
The polling also suggests that voters see homelessness as a moral issue, said John Fairbank, a principal at Fairbank, Maslin, Maullin, Metz & Associates. Fairbank's firm is not working on HHH but includes homelessness in all its polls, he said.
"Safety is a concern, but it's to a lesser degree," Fairbank said. "The basic responsibility of us as Angelenos to help people, whether mental illness or families with children, is one of the driving forces to deal directly with this issue."
After the positive polling, proponents focused their efforts on two fronts: motivating voters who were likely to vote yes and guiding them through the thicket of a ballot with 25 items before Proposition HHH.
The campaign included mailers sent to hundreds of thousands of households. In a personal touch emphasizing the moral aspect of the measure, volunteers wrote a hundred thousand postcards mailed last week.
Twitter: @LATDoug
ALSO
In 'predictable,' deep-blue California, voters find their motivation
FBI chief James Comey faces a rocky relationship with his next boss, no matter who wins
Fight over Yorba Linda water rates culminates in recall vote
---
UPDATES:
11:55 p.m.: This article was updated with initial ballot results.
10 p.m.: This article was updated with a quote from Councilman Jose Huizar.
This article was originally published at 4 a.m.
Sign up for Essential California for news, features and recommendations from the L.A. Times and beyond in your inbox six days a week.
You may occasionally receive promotional content from the Los Angeles Times.