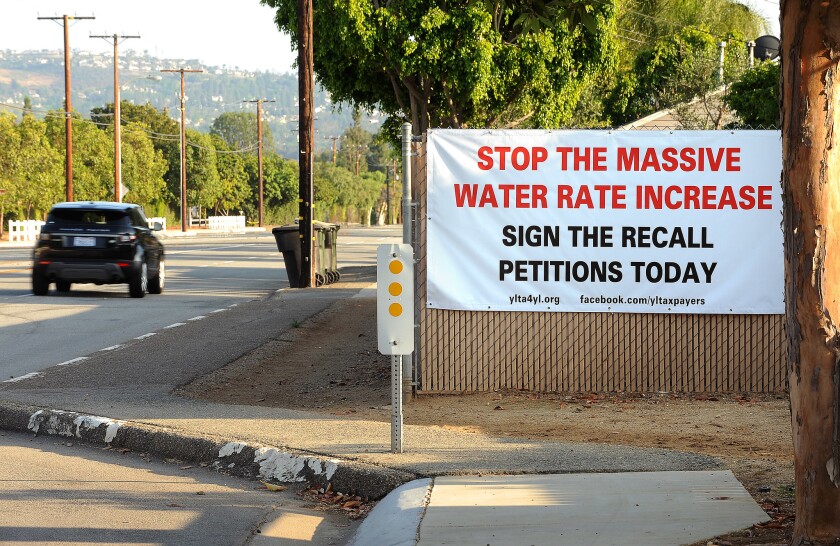 An acrimonious fight over a water-rate increase in Orange County will culminate Tuesday when voters decide whether to recall two of their local water district's board members and whether to reelect a third.
For more than a year, Yorba Linda Water District officials have traded barbs and wrangled in court with an outspoken group of residents irate over a $25-a-month rate hike that the residents consider excessive.
The multipronged battle has transformed the sleepy suburb into a cautionary case study for other California water suppliers coping with a decrease in water sales during drought.
One board member has already chosen to retire rather than fight for reelection, so as many as four of the Yorba Linda Water District's five board seats could change hands Tuesday.
"This is a historical moment for the water district," said Ed Rakochy, a spokesman for the Yorba Linda Taxpayers Assn., the group of residents that sued the district and initiated the recall.
"We're here to give the water district back to the ratepayers," he continued. "It belongs to them."
Robert Kiley, one of the board members facing recall, said some organizers of the effort have mounted similar campaigns in the past that have proved unsuccessful. He warned that the majority of the water district's staff would quit if the taxpayer group prevailed.
We're here to give the water district back to the ratepayers. It belongs to them.
Ed Rakochy, spokesman, Yorba Linda Taxpayers Assn.
"We cannot allow these people to take over a very important resource in this city," Kiley said. "I think the people in Yorba Linda are smart enough to … see this as another frivolous recall at great expense to taxpayers."
With California's snowpack at historically low levels in 2015, Gov. Jerry Brown ordered a statewide 25% reduction in urban water use off 2013 levels. To achieve such savings, each of the state's urban water districts were told to cut a specific amount; Yorba Linda Water District got a 36% target — the toughest standard in California.
Water district officials claim that the high level of state-mandated conservation blew a multimillion-dollar hole through the budget, forcing them to increase the district's basic service charge from about $16 to $41.
In response, the taxpayer group submitted a referendum petition, demanding that the district repeal the new rates or put them up to a vote. But the water district rejected the referendum, saying it was not valid under state law.
By January, residents sued the district, asking a judge to order the water provider to honor the referendum. Two months later, the taxpayers association began a campaign to recall two of the water district's board members — Kiley and colleague Gary Melton
Ric Collett, who has served as president of the board during the rate controversy, is also up for reelection Tuesday. In July, Michael Beverage announced that he would not seek another term on the board.
That month, an Orange County Superior Court judge ruled against the Yorba Linda Taxpayers Assn., finding that members of the group could not void the rate increases using a referendum. So Tuesday's recall now represents the group's best chance for change.
Voters are being asked to decide on recalling Kiley and Melton, and at the same time to choose a replacement if one or both is recalled.
There are two candidates each running for the seats now held by Kiley and Melton. One candidate for each seat is endorsed by the Yorba Linda Taxpayers Assn., Rakochy said. The other candidates are endorsed by Citizens to Protect Our Water, a group formed to fight recalls in Yorba Linda, Kiley said.
Kiley added that he and Melton have donated to Citizens to Protect Our Water.
Collett is one of four candidates running for two open seats — his seat and the one vacated by Beverage.
Twitter: @ByMattStevens
ALSO
Feds say 25% of California is drought-free, but state experts are still cautious
Santa Monica could pass highly restrictive growth limits. Is L.A. next?
The drought eased up, and these Californians turned on the spigot
---