Seize a homeless person's property? Not so fast, a federal judge tells L.A.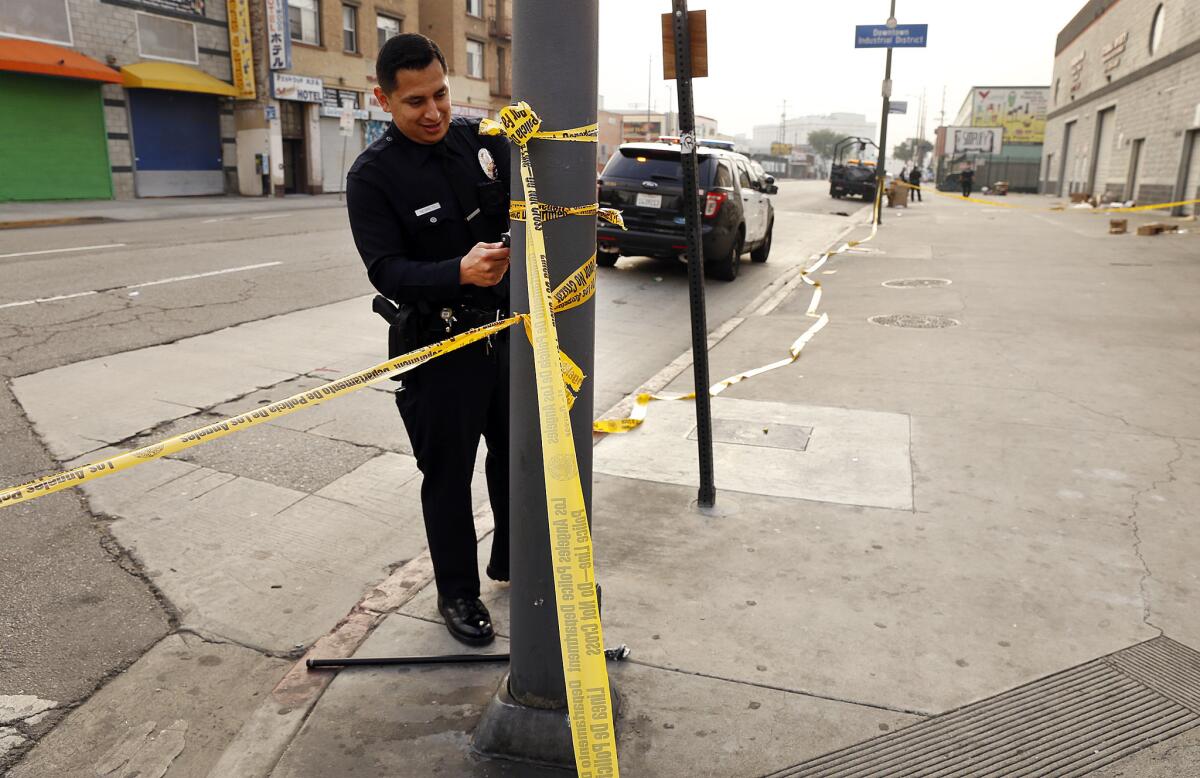 A federal judge Wednesday issued a preliminary injunction barring Los Angeles police and sanitation officers from seizing and destroying homeless people's property without sufficient notice, and ordered the city to segregate and store impounded belongings where they can be recovered.
U.S. District Court Judge S. James Otero, in his ruling, said the city can confiscate or destroy contraband, crime evidence and hazardous material or rat-infested property that posed public health and safety issues.
But, he added, "The city, in many instances, appears to be confiscating all property, without differentiating the types of property at issue or giving homeless people a meaningful opportunity to separate essential medications or medical equipment from their other property."
See the most-read stories this hour >>
"Some of the individual defendants appeared to take away property from a person lying on the sidewalk, visibly suffering physical pain," the judge said.
A spokesman for City Atty. Mike Feuer said his office was evaluating the ruling.
The plaintiffs had sought a broader injunction covering the city, but the ruling narrowed the scope to skid row and "adjoining areas."
A group of homeless individuals and two homeless advocacy groups, the L.A. Community Action Network and the L.A. Catholic Worker, sued the city last month, saying it had endangered homeless people by taking their medication and bedding and discarding it or storing it in a hard-to-find spot in a municipal parking lot that was accessible only 20 hours a week.
The suit also said property seizures and arrests on skid row were part of a campaign to criminalize homeless people.
The city responded that the plaintiffs were not being truthful, Otero noted in his ruling. The city submitted a video showing officers giving homeless people ample time to clear or store their property, and depicted one of those who sued contradicting his own affidavit by admitting he had contraband in his possession when he was arrested.
Officials also said they followed a strict protocol in determining if materials were hazardous before they were destroyed.
Otero, however, said the city's counter-evidence was "at best inconclusive" and that city officers "sometimes seize and summarily dispose of essential medications and medical equipment, without distinguishing contaminated property from other property and without separating each individual's property.
"Afterwards, [homeless people] face significant challenges in recovering this property, some of which is necessary for their basic survival," the ruling said.
Since the lawsuit was filed, the city approved a new ordinance limiting homeless people's possessions to what fits in a 60-gallon trash bin. Homeless people can be cited or arrested on misdemeanor charges for exceeding the limits or for refusing to take down their tents in daylight hours.
Twitter: @geholland
ALSO
Kobe Bryant's finale is well done: 60 points and a Lakers win
Katy Perry wins a victory in battle to buy nuns' convent in Los Feliz
As Clinton and Sanders prepare for debate, New York polls are very stable
Sign up for Essential California for news, features and recommendations from the L.A. Times and beyond in your inbox six days a week.
You may occasionally receive promotional content from the Los Angeles Times.