L.A. could settle controversial case over seizing homeless people's property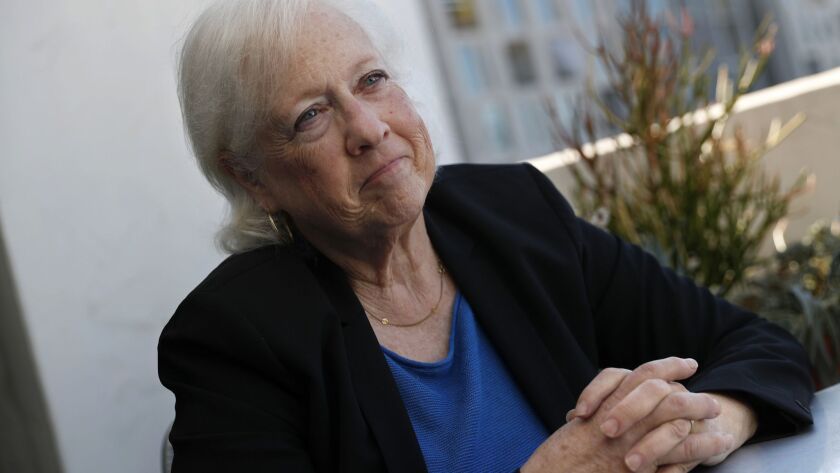 The Los Angeles City Council on Wednesday is poised to end or extend a pivotal legal battle over homeless people's property rights — a case that has been framed as a bellwether for both downtown development and the future of skid row.
The city has wrestled with the property rights issue for years, and in 2016 adopted an ordinance limiting homeless people's belongings to what would fit in a 60-gallon bag. The law also requires the city to give 24-hour notice of cleanups and to store confiscated items where they can be reclaimed on skid row.
But after a lawsuit was filed in 2016, U.S. District Judge S. James Otero in Los Angeles barred the city from seizing and destroying homeless people's belongings on skid row unless officials could show the property is abandoned, threatens public health or safety, or consists of contraband or evidence of a crime.
The city has lost or settled a skein of past litigation over the destruction of homeless people's possessions. And after Otero issued the injunction against improper seizures, City Atty. Mike Feuer recommended coming to a compromise with the plaintiffs.
But in a sign of the issue's volatility and political sensitivity, the city's Budget and Financial Committee waived a review, and the Homelessness and Poverty Committee split 2 to 2 on settling the case last month. The issue was then moved to the City Council without a recommendation, setting up Wednesday's deliberations over the lawsuit.
Skid row is home to 4,200 homeless people, half of whom live in tents and ragged shantytowns along the sidewalks and alleys of the 50-block district.
For months, developers and business representatives have lobbied the council — in public and private — to fight the judge's injunction, which they say has hobbled police enforcement on skid row and fostered disorder and disease, including a typhus outbreak.
They also contend the ruling sets up a two-tiered system, in which sprawling tent encampments can be cleared from most of downtown, but not on skid row. Business groups are particularly concerned that a settlement between plaintiffs and the city will stop or slow downtown redevelopment just as it is about to cross into skid row.
Advocates contend the city violated homeless people's constitutional rights by removing tents, blankets, clothing, medication and other possessions essential to their survival.
The case, Mitchell vs. City of Los Angeles, was filed on behalf of three homeless residents and two skid row anti-poverty groups, alleging the city used street cleanups and arrests for minor "quality of life" offenses as pretexts to dismantle their camps and destroy their property.
One of the plaintiffs, Carl Mitchell, said after his arrest for allegedly having a stolen shopping cart (he denies it), his backpack was confiscated with his medication and other important paperwork inside. Mitchell was released from jail in the middle of the night, and slept on the sidewalk as the temperature dipped to 40 degrees with only a blanket he found in another person's cart, the lawsuit said.
During another arrest, a lieutenant with the Los Angeles Police Department refused Judy Coleman's request to grab her walker and medication, and officers later thwarted her attempts to recover them, the suit said.
The city disputed the plaintiffs' facts and argued that officials had to balance the rights of homeless people against the quality of life of the rest of the community. Lawyers asked Otero for a "clarification," allowing them to throw out sofas, oversized tents and pallets that critics said were evidence of "hoarding" by homeless people.
The judge found that while the city had a heavy burden in keeping the squalid streets of skid row clean, homeless people's needs outweighed those of the city.
"Although a preliminary injunction will place additional burdens on the city to keep Los Angeles safe, to put it bluntly," Otero said, "plaintiffs may not survive without some of the essential property that has been confiscated."
Downtown business owners, developers, real estate professionals and residents now argue that the homeless crisis has deteriorated so badly that another judge will reverse Otero's ruling.
"A lot of customers won't come in," said Jessica Millan, the owner of a downtown pizzeria who plans to present a petition against settling the Mitchell case to the City Council. "They complain about the smell, and people who have bugs coming out of their hair. The people are disgusted and walk away."
But civil rights lawyer Carol Sobel, a member of the plaintiffs' legal team, said it will not be hard to show that the homeless crisis is of Los Angeles' own making.
"The city for 20 years has failed to address this problem," she said. "What they do when it comes to homeless people is strip them of their humanity."
The council is slated to take the lawsuit up in closed session. A public announcement is expected if a decision is reached.
Twitter: @geholland
---
The stories shaping California
Get up to speed with our Essential California newsletter, sent six days a week.
You may occasionally receive promotional content from the Los Angeles Times.