L.A. fire officials will track homeless encampments in high-risk fire zones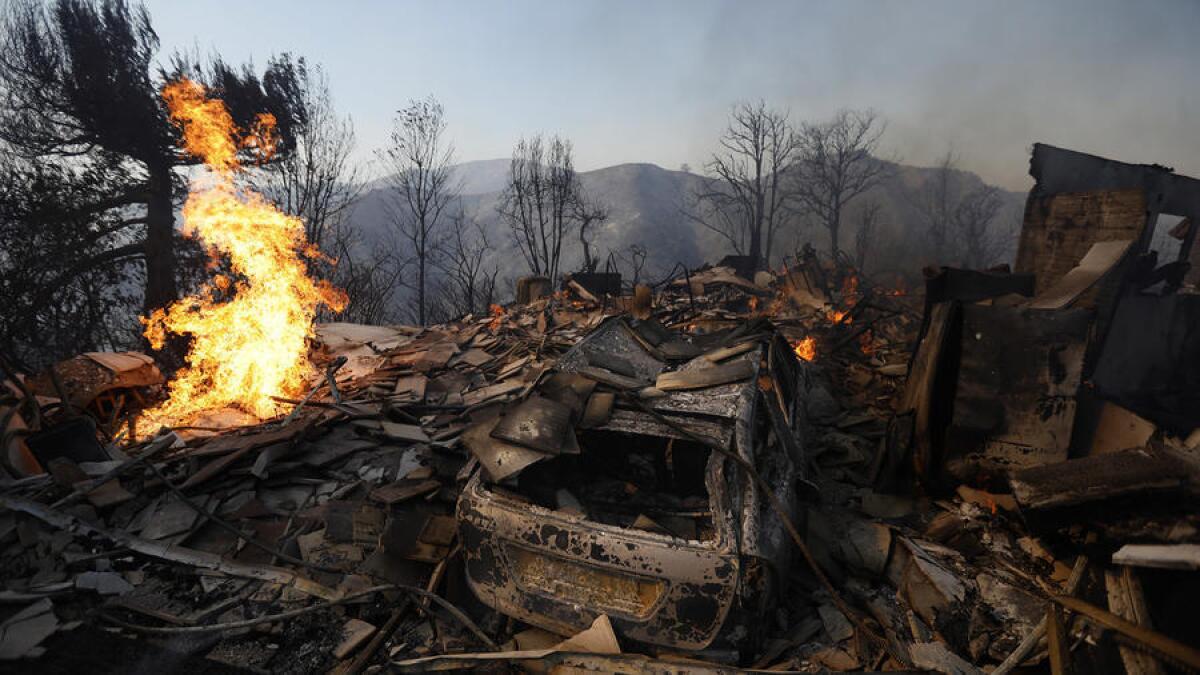 Social service workers knew that homeless people sometimes lived in a ravine near Sepulveda Boulevard and the 405 Freeway — the suspected ignition point of a wildfire that scorched Bel-Air last month — but the encampment was never on the Los Angeles Fire Department's radar.
Now, fire officials said they would begin surveying encampments in about 20% of the city, including Hollywood Hills, Los Feliz, Sherman Oaks, Sunland-Tujunga and Mount Washington.
"We want those people in these [fire] zones to voluntarily move," Los Angeles Fire Chief Ralph Terrazas said. "It's as clear cut as that. This is a public safety issue; this is a trespassing issue."
The survey, which should take about a week to complete, is part of a broader effort to clear the makeshift homes hidden in Los Angeles' hillsides and ravines, and prevent accidental blazes. The effort comes amid a surge in the city's homeless population and rising concern over wildfire risk.
Fire officials will survey homeless encampments in high-risk fire zones in 47 station districts. The Fire Department will notify property owners for action, and they in turn can call police. If the site is owned by the city or county, homeless service providers may visit.
Terrazas said there's never been an "organized, systemic approach" for city agencies to deal with encampments. He said the survey would be updated periodically throughout the year.
The city's homeless services agency already monitors homeless people in hillside encampments and sends workers to encourage them to move to shelters.
Victor Hinderliter, associate director for the Los Angeles Homeless Services Authority, described the new city strategy as "formalizing the process" for dealing with hillside encampments.
The number of homeless in Los Angeles County currently stands at about 58,000 people, according to the latest count.
In the West L.A. service area — including Bel-Air and Brentwood — the homeless population is 5,511.
Six homes were destroyed and a dozen others damaged in the December Skirball fire. Officials say the blaze started at a homeless camp near the 405 Freeway in the Sepulveda Pass. The department has no suspects. The size of the encampment before the fire could not be determined because the area was so badly burned.
Photos taken of the Sepulveda encampment in September and shared with The Times showed a cluster of green tarpaulins suspended in a canyon and partially hidden by treetops and brush.
Los Angeles Homeless Services Authority spokesman Tom Waldman said an outreach team had not visited the ravine for at least a few months and possibly as long as a year.
Mayor Eric Garcetti said Friday that bones found at the camp were initially feared to be human remains, but turned out to be from an animal.
Asked why a homeless person would want to leave their encampment in a high-risk fire zone, Garcetti said, "To not die in a fire."
"This is about saving their lives as well," he added.
Twitter: @dakotacdsmith
The stories shaping California
Get up to speed with our Essential California newsletter, sent six days a week.
You may occasionally receive promotional content from the Los Angeles Times.