Home alone, four young children are trapped by fire and seriously burned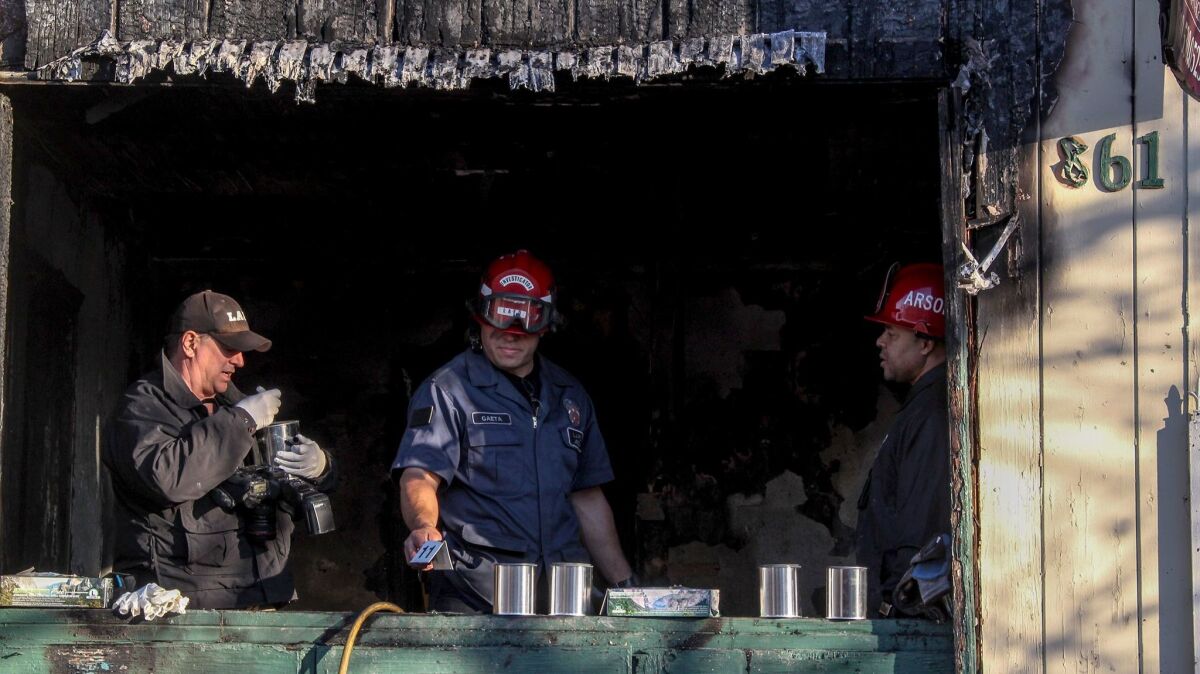 Their mother had briefly left the house Monday night, leaving her three sons and one daughter — ages 2 to 7 — inside and alone when the fire broke out.
Neighbors saw smoke and flames at the 432-square-foot bungalow in South Los Angeles and called firefighters, who arrived to see the dwelling fully engulfed.
A sheriff's deputy managed to break a window, without bars, along the alley. A firefighter climbed in and pulled out the four children from the back bedroom.
Moments later, the bedroom was consumed by flames, Los Angeles Fire Department spokesman Brian Humphrey said.
The children were taken to hospitals with severe burns and are fighting for their lives.
Investigators are trying to determine the cause of the fire, which left neighbors stunned.
Less than a month ago in another South L.A. neighborhood, a house fire killed 2-year-old twins and left their father in critical condition. Security bars made it difficult for firefighters to get into the house.
Monday night's fire broke out on the 800 block of West Manchester Avenue. When firefighters arrived at about 11 p.m., bystanders shouted that several people were trapped inside the home, Humphrey said.
When the firefighter found the children, they were "nearly lifeless," Humphrey said. "The firefighter was able to escape unharmed before the room spiraled to a temperature that would have assuredly taken the children's lives."
It's unclear where the children's mother was when the fire broke out. Originally, fire officials said she was running a short errand. Later, they said only that she was not inside at the time. Some neighbors reported she had gone to get something out of her car.
She returned to find her house in flames and watched as paramedics provided care for them, Humphrey said.
On Tuesday, the burnt remains of the home laid scattered on the sidewalk behind yellow police tape. Arson investigators combed through charred clothes, children books and a box of Luvs diapers.
A woman who identified herself as a family friend stormed onto the scene in tears. She said she normally drives by and checks for her friend's car but instead she saw news cameras and police vehicles so she stopped.
"Who would do this?" she wailed, her face buried in her hands.
Denise Weeks, a 45-year-old mother of two, tried to comfort her. Weeks said she was also drawn to the news cameras. When she learned of the fire and the injured children, she said she was overcome with emotion.
"I was thinking about what I was doing last night, listening to a track I had just laid vocals on, and [meanwhile] there were kids fighting for their lives," she said with tears streaming down her cheeks. "I was in a happy state and now I feel so bad for these kids."
Weeks said didn't want to condemn the mother, who authorities said was not inside the structure at the time of the fire, until more information is released. She said she knows what it's like to leave the kids briefly, but hopes this tragedy might serve as a "smack in the face" to others.
"I did that and I thank God I never had to go through this," she said.
Humphrey said though the 93-year-old home had at least one smoke alarm, it was not clear whether it was working at the time of the fire.
There was no electricity to the home at the time of the blaze, fire officials said.
The names of the children have not been released, nor have details of their conditions. LAFD spokeswoman Margaret Stewart said they had been stabilized.
LAFD spokesman Peter Sanders said the lack of security bars in the bedroom where the children were rescued made a big difference.
"We didn't in this case have problem with ingress and egress with the bars," he said.
Twitter: @Brittny_Mejia
ALSO
L.A. city candidates swear off developer donations
Elderly man and woman found dead in Sylmar home
Former No. 2 in L.A. Sheriff's office surrenders to prison to serve 5-year sentence
---
UPDATES:
7:50 p.m.: This article was updated with details about the rescue and comments from fire officials.
3:25 p.m.: This article was updated with details about the home and comments from witnesses.
9 a.m.: This article was updated with details on the conditions of the children.
This article was originally published at 5:45 a.m.
The stories shaping California
Get up to speed with our Essential California newsletter, sent six days a week.
You may occasionally receive promotional content from the Los Angeles Times.