Is fixing up this Westlake building a lifesaver or a 'waste of taxpayer money'?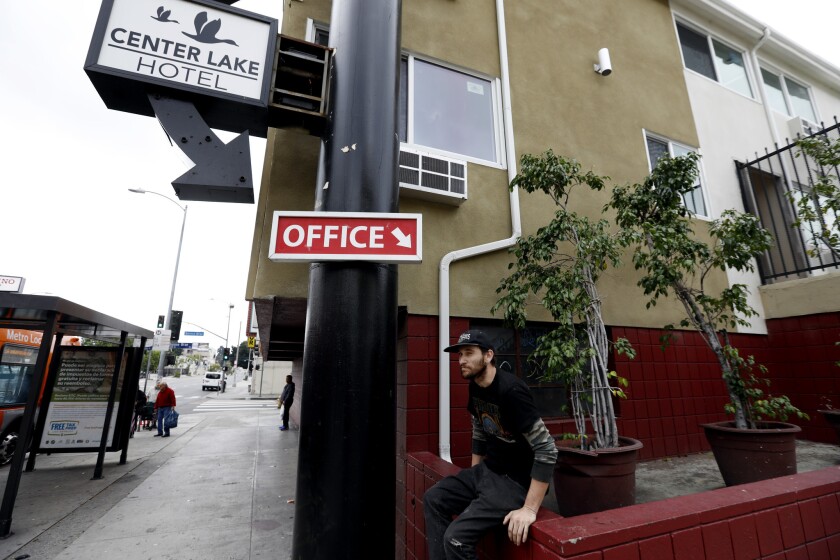 In a bid to get homeless veterans off the streets, Los Angeles awarded more than $10 million to help transform an unfussy building in Westlake into supportive housing.
Now critics are arguing that the money should be pulled. The reason?
"One set of extremely poor residents were displaced to make way for another set of extremely poor residents," attorneys from the Legal Aid Foundation of Los Angeles and the Western Center on Law and Poverty wrote to the city on behalf of the Los Angeles Community Action Network. "This is, at best, a waste of taxpayer money."
The Royal Park Motel — now known as West Third Apartments — had recently been home to some residents who accused their landlord of illegally booting them out of their units. Just before the building was sold for the new project, those tenants had reached a settlement with their landlord that included payouts and a chance for other former residents to return.
Nonprofit and construction executives on the development team for the project are outraged by the idea of yanking the $10.2 million, saying they had no connection to the former owner accused of pushing out residents.
Their planned project, they said, will take a building that was unsafe and barely occupied and turn it into desperately needed housing for more than 100 homeless veterans.
Pulling the money "would be devastating and preposterous," said Tod Lipka, president and chief executive of the nonprofit Step Up, arguing that the project was eligible and properly funded under Proposition HHH, a $1.2-billion bond for homeless housing. "Without housing, veterans are going to die on the street."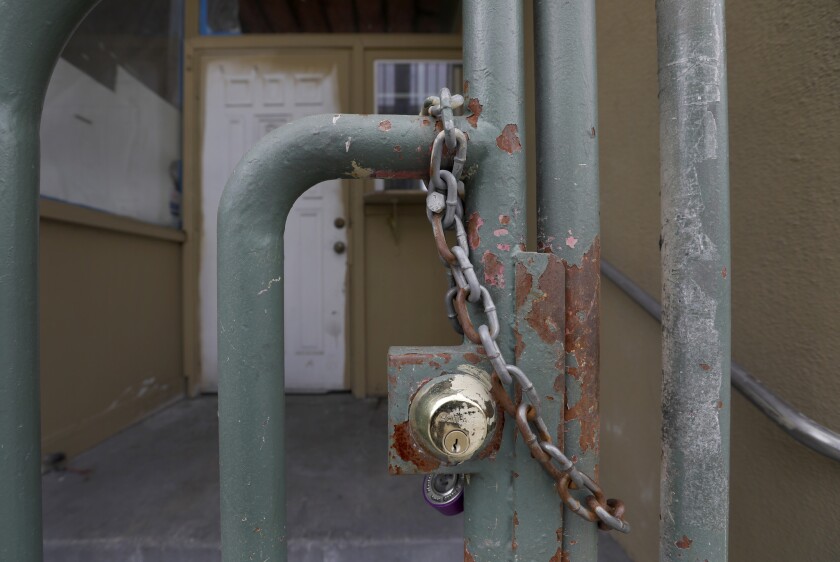 The dispute has arisen amid broader concerns about the displacement of poor tenants as apartments are bulldozed for new, pricier construction or turned into "de facto hotels" for tourists. As L.A. funds homeless housing, some activists fear it could end up perpetuating that same problem, even as it houses destitute people living on the streets.
The debate over whether that happened at the Westlake building revolves more narrowly around the difference between a residential hotel and a motel.
L.A. defines residential hotels as buildings with rooms rented out for "sleeping purposes" that are also "the primary residence of those guests." That excludes hotels and motels chiefly used by temporary guests.
City officials say that under HHH regulations, money cannot be awarded to remake a residential building that is occupied unless new construction is going to result in at least twice as many units as are being eliminated. HHH money can, however, be used to convert motels into homeless housing.
Andy Meyers, CEO of Shangri-La Construction, said that when members of the development team toured the building in Westlake, it was operating as a motel, with housekeeping staff and nightly rates for guests. At the time, he said, they had no idea about the legal battle underway with the building owner.
"This was a motel that was supposed to be delivered to us vacant," Meyers said. "It was not functioning as a residential hotel."
Yet when real estate advisory firm Keyser Marston Associates analyzed the West Third Apartments proposal for the city more than a year ago, it had concluded that the building was being used as "a long-term residential hotel" and that some tenants would probably have to be relocated. The building was also on a city list of residential hotels.
Last year, several Royal Park residents represented by the Legal Aid Foundation of Los Angeles and another firm sued their landlord, claiming they were told they had to leave temporarily because of repairs after a fire, then blocked from coming back.
One of those residents, Peter James, said he rolled around town for months in his Ford Aerostar van, hunting for spots to sleep.
"Me and the dog became hobos," the 62-year-old recalled, remembering the months after he vacated his $875-a-month unit.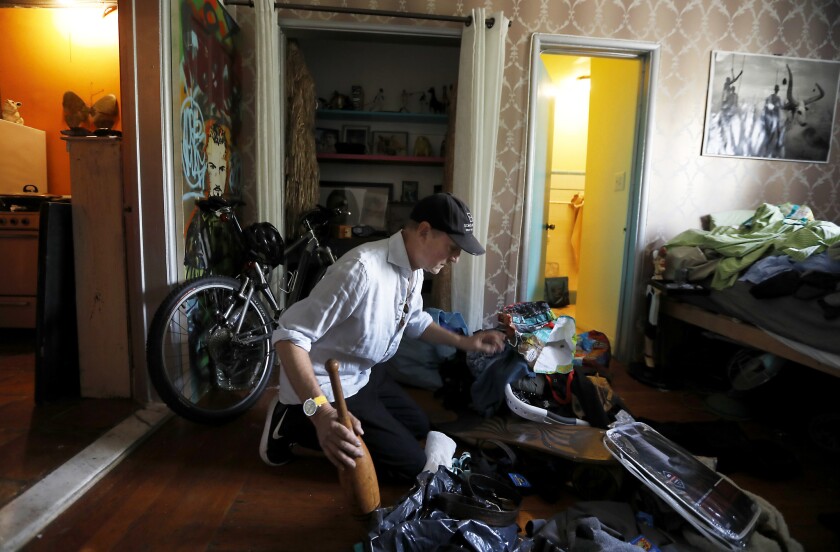 James said that when he tried to return, he ran into travelers toting suitcases and chatting in other languages. Residents complained their landlord was replacing door locks with key cards and advertising the building online as the Center Lake Hotel, despite a city order to restore it to "its approved use as a residential hotel."
"They had a bellhop and everything," said Misty Word, another former resident involved in the legal battle over the building.
Word said she was told she had to leave the Royal Park for a few months for renovations, but was later told she could return only if she paid $3,000 a month — a massive hike over the roughly $700 she and her fiance had been paying, according to their suit.
Other tenants said they successfully returned but faced retaliation for complaints.
Under a settlement in December, the landlord agreed to pay more than $1 million — including relocation payments to residents who sued — and stop marketing the building as a "tourist hotel."
That agreement also stated that former tenants who were not among the plaintiffs could come back to the building at close to their old rents or get paid to permanently relocate.
A few weeks later, Royal Park Motel LP had sold the building to its new owners for more than $22 million — more than three times what the company had paid for it.
"I'm happy it's for veterans," said Word, who has been living in a smaller unit in another residential hotel down the street. "But because of him doing this, we lost out on housing for us."
Gerald Wang, identified by residents as one of the former owners, declined to comment on the controversy.
Meyers and Lipka said they found out about the settlement only in December, just before the sale closed.
They said that after finding out there were still people at the building, the development team had followed HHH guidelines and was providing relocation payments for anyone who was entitled to them.
Housing officials said they were reviewing the concerns raised about the West Third Apartments project and declined to weigh in on it specifically.
In general, L.A. "has long provided financing to rehabilitate and preserve residential hotels" through other affordable housing funds, the housing department said in a statement, and "under certain circumstances, such affordable housing developments are eligible for HHH funding."
Meanwhile, the Legal Aid Foundation of Los Angeles and the Western Center on Law and Poverty argue that L.A. needs to avoid repeating what happened there in a new $120-million program meant to find innovative ways to house people more quickly and cheaply.
At a recent hearing at City Hall, officials said a proposed provision for the new program would prohibit permanent displacement of existing tenants.
Alex Comisar, a spokesman for Mayor Eric Garcetti, said they would work with the council on a program "that brings our homeless neighbors indoors as quickly as possible, without displacing people from homes they already live in."
But critics argued that the proposed language could still encourage landlords to empty out their buildings before selling them for HHH projects. In their letter, attorneys with the two groups argued that L.A. should specifically ban using that money to remake existing residential buildings.
If it doesn't, they wrote, "we will be forced to file suit."
Twitter: @AlpertReyes
---
The stories shaping California
Get up to speed with our Essential California newsletter, sent six days a week.
You may occasionally receive promotional content from the Los Angeles Times.