FBI asking about lobbyist and fundraiser in Huizar probe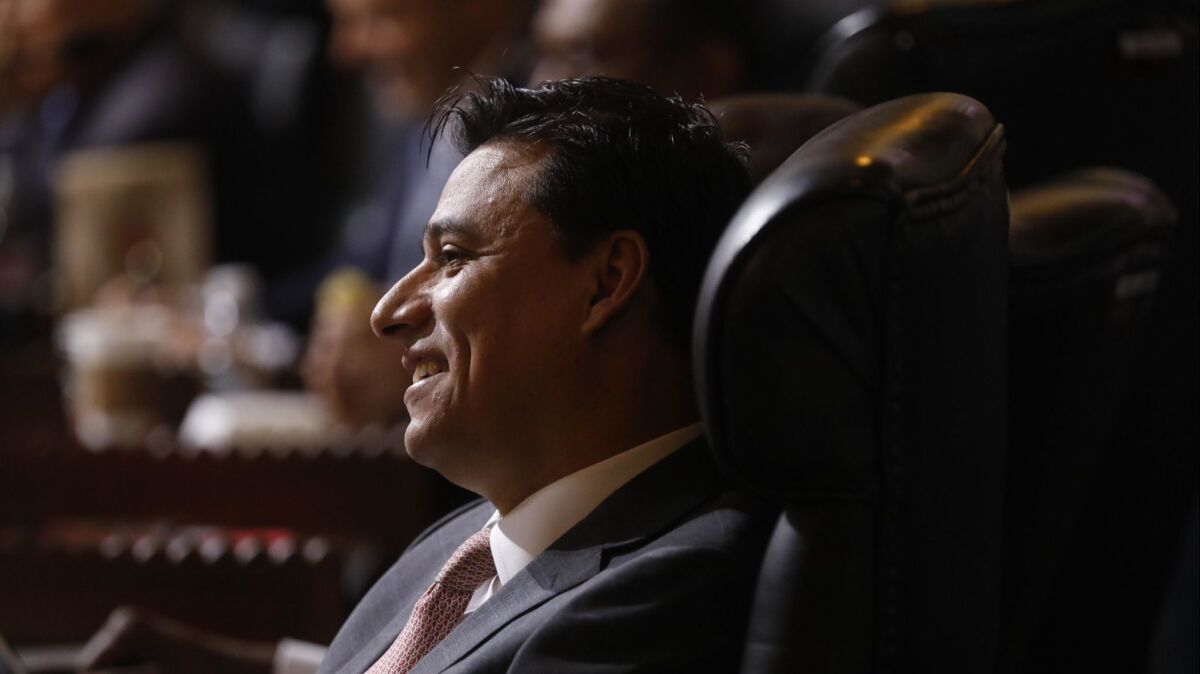 FBI agents investigating Los Angeles City Councilman Jose Huizar are examining the activities of two men with close ties to City Hall, including a lobbyist who has represented several real estate developers with projects in Huizar's downtown district.
Two sources, who asked not to be named because the investigation is ongoing, said a federal grand jury had issued at least one subpoena seeking records involving Morrie Goldman, a longtime lobbyist, and Art Gastelum, who owns a construction management firm and has been scrutinized during earlier corruption probes but never charged.
Goldman has represented companies developing some of the biggest projects in Huizar's district, including the $1-billion Grand Avenue complex across from Walt Disney Concert Hall and the 6 AM project, which would bring two 58-story skyscrapers to 6th and Alameda streets.
Gastelum, in turn, has performed work for another Goldman client, New York-based developer Lightstone Group, which is building a 1,153-room hotel complex across from the city's Convention Center, according to one city department head.
Both men have helped raise money for candidates seeking city office. In October, Gastelum helped host a fundraiser for Huizar's wife, Richelle Huizar, who later abandoned her campaign to replace him on the council after FBI agents raided their Boyle Heights home.
Neither Goldman nor another lobbyist in his firm responded to messages from The Times seeking comment. Gastelum, who resides in San Marino, declined to comment.
It is unclear why federal officials are seeking information involving the two men. Subpoenas are routinely issued because investigators are seeking information and do not necessarily mean that the recipients or those mentioned in them are targets of a particular probe.
Investigators sought the records from at least one political committee, seeking its communications going back several years with Gastelum, Goldman and the Huizars, according to the two sources. Neither source identified which committee they were referring to by name.
Goldman is listed in state records as a principal officer with Families for a Better Los Angeles, a political action committee that was described to donors as a way to support Richelle Huizar in her run for office.
Goldman clients have given to that committee as well as a second one called Community Support PAC. That committee has supported Huizar and promoted his political causes, sending mailers that featured him prominently.
A third source said FBI agents have been looking at contributions made to both political committees.
Questions from FBI agents
Aaron May, an attorney for Families for a Better Los Angeles, would not comment on whether his client had received a subpoena, saying instead: "The committee will cooperate with inquiries it receives from any governmental agency." Representatives for Community Support PAC did not respond to requests for comment.
On Nov. 7, FBI agents hauled an array of materials from Huizar's home and City Hall office, including a cardboard box with the word "fundraising" on it. The FBI declined to discuss its investigation but confirmed last month that the Internal Revenue Service, which looks into unreported income, is involved in the probe.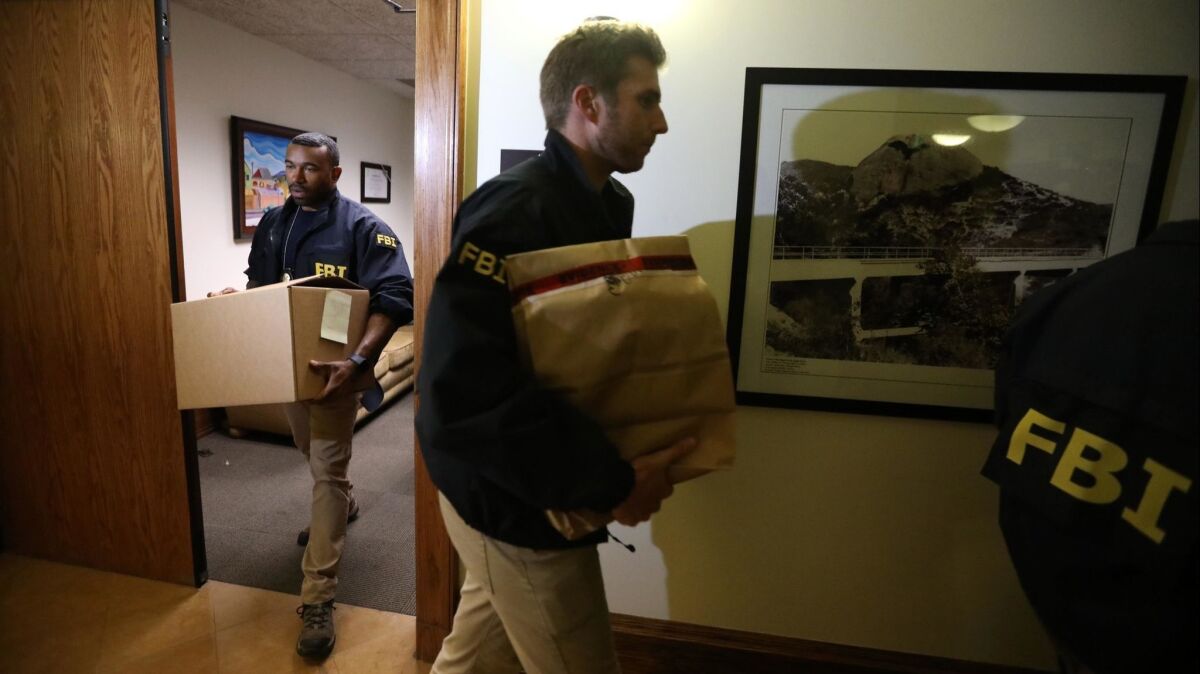 Huizar has not been arrested or charged.
Another source familiar with some of the FBI agents' questions said investigators have asked about claims that Huizar ordered city employees to perform work for his personal benefit. Investigators have also posed questions about Huizar staffers allegedly receiving cash payments from developers seeking to build in his district, the source said.
Last month, The Times reported that Huizar assigned city employees to raise money for a Catholic high school that employed his wife, Richelle Huizar, as a fundraiser. Experts said the practice raised questions about whether the councilman was violating federal and state laws prohibiting the misuse of government resources.
During the time that Richelle Huizar worked for the school, money poured in from real estate developers, lobbyists, engineering firms and others who were seeking or had recently received favorable votes from her husband, according to interviews with donors and documents obtained by The Times.
Jose Huizar's lawyers, Vicki Podberesky and Mary Carter Andrues, issued a statement Monday saying the councilman and his staff are "focused on serving all the residents in Council District 14 and continuing to advance citywide efforts." They did not address specific questions about the inquiries into Goldman and Gastelum.
Previous investigations
Both Goldman and Gastelum have deep ties to City Hall.
Gastelum was an aide to then-Mayor Tom Bradley who at one point worked as a City Hall lobbyist and now runs his own engineering and construction management firm, Gateway Science and Engineering.
He has previously found himself in the crosshairs of local and federal investigators:
Seven years ago, the Los Angeles County district attorney's office said it was investigating allegations that Gastelum's firm had approved a payment to another company for construction work that it had not performed at Mission College in Sylmar. The Los Angeles Community College District, which oversees Mission College, ultimately reached a settlement with Gastelum's firm over the alleged billing improprieties.
In 2003, The Times reported that the district attorney's office had received allegations that Gastelum had sent bribes to local officials. In addition, the FBI informed prosecutors that it had recorded Gastelum discussing a possible $1-million payment with a water district official in San Diego County. That official alleged in court that it was an attempted bribe.
In each case, Gastelum denied wrongdoing and was never charged.
Gastelum was one of the hosts of an October fundraiser for Richelle Huizar's council campaign. She later tweeted that he was one of the "great leaders" supporting her candidacy.
Goldman, in turn, was a high-level aide to former Councilmen Mike Hernandez and Hal Bernson before opening his own lobbying firm in 2004. Over the last decade, his firm has raised hundreds of thousands of dollars for city politicians, including more than $58,000 for Huizar's council campaign and officeholder committees, according to city records.
Supporting Richelle Huizar
In 2013, Goldman was contacted by Huizar about arranging for a contribution to Bishop Mora Salesian High School, where the councilman's wife was working as a fundraiser, according to an email reviewed by The Times.
Huizar contacted Goldman about securing a donation from billboard company Clear Channel Outdoor, the email stated. "Spoke with Morrie Goldman on 2/25. Morrie is their lobbyist," Huizar wrote in the email. "We sent him info. Ask them to do 2 k like they did last year."
Clear Channel, which appeared before Huizar's committee on the issue of digital billboards, has repeatedly declined to comment on its charitable donations.
Last year, Goldman and others formed Families for a Better Los Angeles, which took in $200,000 in donations between December 2017 and June 2018, much of it from property owners and developers with projects in the downtown section of Huizar's district. State filings for the committee do not name which candidate it was set up to promote, but two contributors told The Times that they had donated at least in part to support Richelle Huizar.
David Solomon, executive vice president and chief financial officer of the wine and spirits distributor Young's Holdings, said he gave $2,500 to the committee "to support Richelle's campaign." Solomon said he made the contribution because his company has an office on the edge of skid row and he wanted to voice his concerns about safety and homelessness in the area.
Another donor was Woo Properties, which contributed $2,500 and owns buildings downtown. Charlie Woo, one of the company's owners, said he has been impressed with the Huizars' work in revitalizing downtown Los Angeles.
"I thought that Jose and his wife did a good job," he said. "So if they need help, I say, sure."
Richelle Huizar ended her campaign to join the City Council last month.
Developer donors
Another donor to the political committee was Realm Group, which plans to develop a 33-story building at 7th Street and Maple Avenue.
In April, Huizar and his council colleagues approved Realm Group's project, despite objections from activists in skid row who warned it would intensify gentrification of the neighborhoods and lead to displacement of low-income renters. Five weeks later, Families for a Better Los Angeles reported taking in $10,000 from Realm Group, according to state contribution reports.
Another Goldman client is Lightstone Group, which is developing the Fig + Pico hotel complex across from the city's Convention Center. Huizar and his colleagues voted for Fig + Pico in May, giving Lightstone a change in zoning and an estimated $103 million in taxpayer assistance.
A committee headed by Huizar also arranged for Fig + Pico to receive approval for a package of digital signs more lucrative than the one previously recommended by the City Planning Commission, according to city records. Three months before the council's vote on Fig + Pico, an affiliate of Lightstone Group donated $25,000 to Families for a Better Los Angeles.
Gastelum also worked on the Fig + Pico project, according to one city official. Doane Liu, who heads the city's Department of Convention and Tourism Development, said Gastelum approached him on behalf of Lightstone to discuss a plan for selling the digital advertising at Fig + Pico to nonprofit groups.
Liu said he told Gastelum that his agency was not interested.
The stories shaping California
Get up to speed with our Essential California newsletter, sent six days a week.
You may occasionally receive promotional content from the Los Angeles Times.