Q&A: What we know about the mysterious 2009 killing of prominent South Bay attorney Jeffrey Tidus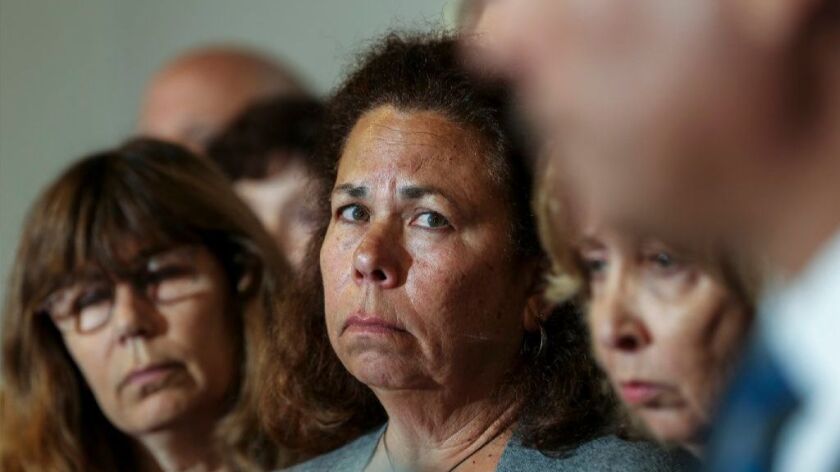 In the last month, the investigation into who killed a well-known attorney in an execution-style shooting outside his Rolling Hills Estates home nearly eight years ago has gained momentum. New leads have surfaced, prompting detectives to release a composite sketch of a person of interest in the killing of Jeffrey Tidus. Here's what we know so far:
---
What happened on the night of Dec. 7, 2009?
Tidus had returned to his home on Sugarhill Drive from a charity event, when he walked back outside about 8:30 p.m. to grab a laptop from his car. His wife, who was inside, heard a pop, then the roar of a car driving off. She found her husband in the driveway of their home. Tidus, 53, died the next day of a single gunshot wound to the back of his head.
The killing was a rarity in the wealthy community of Rolling Hills Estates, and it stunned residents. Suicide was not ruled out at first, but officials soon turned to examining Tidus' work as an attorney for clues into his death. Detectives say they think his professional life may lead to the killer.
What is the status of the investigation?
After nearly eight years with few answers, detectives recently have developed new leads in the case. They will not provide details or say who has come forward but say they have identified "people of interest."
Tidus worked as a busy civil litigation lawyer and had a boutique firm with 10 attorneys. He also was active in the legal community and served on several professional organizations, including the board of governors for the State Bar of California. He sometimes took on cases pro bono.
After a bookkeeper at his synagogue embezzled nearly $100,000, Tidus handled several lawsuits related to the troubles for free.
Colleagues told The Times in 2010 that Tidus enjoyed going to trial and represented corporate clients such as New Century Financial, Isuzu Motors, Hawthorne Savings and Tokai Bank.
Those who knew Tidus described him as an ethical person who had a keen sense of justice. He sometimes won contentious cases.
Tidus won an $11.2-million judgment in 2007 against a former Los Angeles tax attorney, Christopher Gruys, in a suit that claimed Gruys had mishandled a transaction. During a 2005 deposition in that case, Gruys took a photo of Tidus, a move he considered a threat.
Tidus subsequently obtained a restraining order against Gruys. In April 2007, the State Bar of California placed Gruys on interim suspension after he was convicted of possession of an assault weapon. He stopped practicing law later that year.
Joe Espino, a detective with the Los Angeles County Sheriff's Department, said Gruys "has not been excluded" as a person of interest in Tidus' death.
Tom Brown, an attorney who represents Gruys, said detectives have contacted his client and he is working to set up an interview. Brown said other people had "greater beefs" with Tidus in his professional life. He maintained that Gruys was 100 miles away at the time of killing and is not "overly concerned" with the investigation.
"He's just moved on with his life," Brown said.
Last week, detectives released a sketch of an additional "person of interest," an African American man in his 30s.
"Someone is going to see that face and recognize it," Espino said.
Investigators provided no further details about how the man might be connected with the shooting death of Tidus.
We deserve answers. Jeffrey deserves justice.

— Sheryl Tidus, wife of Jeffrey Tidus
Is there a reward for information?
Tidus' rabbi previously told The Times that the lawyer believed in the Jewish concept of tikkun olam, or repairing the world. Tidus, who ran marathons to raise money for charity, also donated money to the Union Rescue Mission downtown. On the day of his shooting, Tidus and his wife had donated a portion of their Redondo Beach toy store sales to charity.
Family and friends have raised $90,000 for a reward leading to the arrest of the person responsible for the killing, with the Los Angeles County Board of Supervisors kicking in an additional $10,000. It's one of the largest rewards Espino has seen in his 32 years with the department.
"I think this reward is an eye-opener for a lot of people," he said.
Tidus' wife, Sheryl Tidus, said after a recent news conference that she thinks about her husband every day. Nearly eight years later, she said, the killing still feels surreal.
"We deserve answers," she said. "Jeffrey deserves justice."
Already a subscriber? Thank you for your support. If you are not, please consider subscribing today. Get full access to our signature journalism for just 99 cents for the first four weeks.
For more crime news, follow @nicolesantacruz on Twitter.
ALSO
Los Angeles CEO is accused of asking alleged drug dealer to kill former business associate
California court leaders want to decriminalize traffic tickets
Lawyers try new legal tactic to free father detained by ICE in front of daughter
---
The stories shaping California
Get up to speed with our Essential California newsletter, sent six days a week.
You may occasionally receive promotional content from the Los Angeles Times.