Two officers shot, suspect with sword dead at Church of Scientology in Inglewood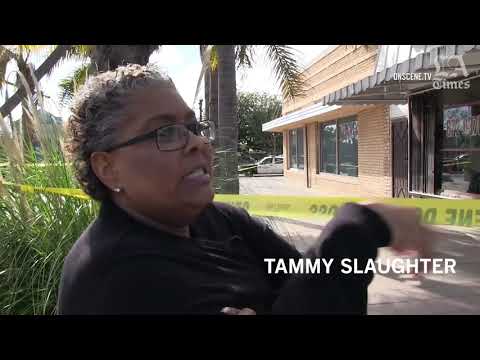 Two Inglewood police officers were shot when responding to reports of a man with a sword at the Church of Scientology in Inglewood.
Two Inglewood police officers were shot Wednesday when responding to reports of a man with a sword entering the Church of Scientology of Inglewood, authorities said.
The suspect died after he was taken to a hospital in critical condition, authorities said.
Inglewood Police Lt. Neal Cochran said the suspect entered the church at 315 S. Market St. wearing a hoodie about 3:30 p.m., but he did not describe what happened inside.
One officer was shot in the hand, the other in the forearm. Neither injury was believed to be life-threatening.
No other injuries were reported, according to the Los Angeles County Fire Department.
Inglewood Police Lt. Oscar Mejia said at a news conference Wednesday evening that police are still trying to determine whether the suspect had a gun.
At this point, police believe that only the man who drove up to the church in his white Bentley and entered the church with a "very large sword" was involved.
There were about five people in the lobby when the suspect entered. Mejia said police have not identified the suspect and did not know how or why he entered the church. He added that to "speculate about that would be improper."
The Church of Scientology said in a statement: "We thank the Inglewood Police Department for their rapid response in protecting our parishioners and staff members. These officers are doing a heroic job protecting the community and keeping houses of worship safe."
Kebron Faris, 35, of Inglewood, rushed over to the church after getting a text message from her friend who was inside the building. Her friend told her that a man entered the church acting peculiarly and was shot by police.
Faris said she was initially worried but was glad her friend — who was waiting at the police station to be interviewed — was not hurt.
Witnesses at the scene on Market Street in downtown Inglewood said the area had been closed off by police.
Rebecca Hirsch, an employee at a store that sells candles across the street from the church, said she heard a pop like a gunshot about 3:30 p.m.
Market Street was then closed off by authorities, she said, and she was told by police she couldn't leave the shop, Botanica La Milagrosa.
"They took a young man away in the ambulance," Hirsch said.
Ron Sigur, 52, goes to the Market Street Bar & Grill every week. When he arrived Wednesday about 4:30 p.m., Sigur was surprised by police tape cordoning off about three blocks.
"I thought it might have been the bar that was shot up," Sigur said.
Sigur said the police presence has been heavy.
Two hours after the incident, a group of about 15 law enforcement officers stood near the corner of Market Street and Nutwood Street.
"The police aren't playing around — all of them are out here," Sigur said. "This is my city, I live in Inglewood. I want to know what happened."
This is not the first time a man has entered a Scientology location in Los Angeles County with a sword.
On Nov. 23, 2008, a former Scientologist, Mario Majorski, 48, was shot and killed by a security guard after he drove a rented convertible onto the church grounds and confronted guards with two samurai swords.
Majorski, a Hollywood native who had moved to Oregon several years before the incident, threatened the guards and said "something about revenge," according to a prosecutor's report. He dropped one sword and started walking back to his car, but then unsheathed a second sword and said he would kill anyone who tried to arrest him. The guard shot him after he ran with the sword at the guards, according to the report.
Majorski had made at least a dozen threatening phone calls to Scientology offices in Oregon and California, according to the church.
The Church of Scientology of Inglewood, along with a nearby church community center, opened in late 2011, according to the church's website.
Times staff writers Benjamin Oreskes and Richard Winton contributed to this report.
Sign up for Essential California for news, features and recommendations from the L.A. Times and beyond in your inbox six days a week.
You may occasionally receive promotional content from the Los Angeles Times.