Details emerge about restrained jail inmate who went 32 hours without food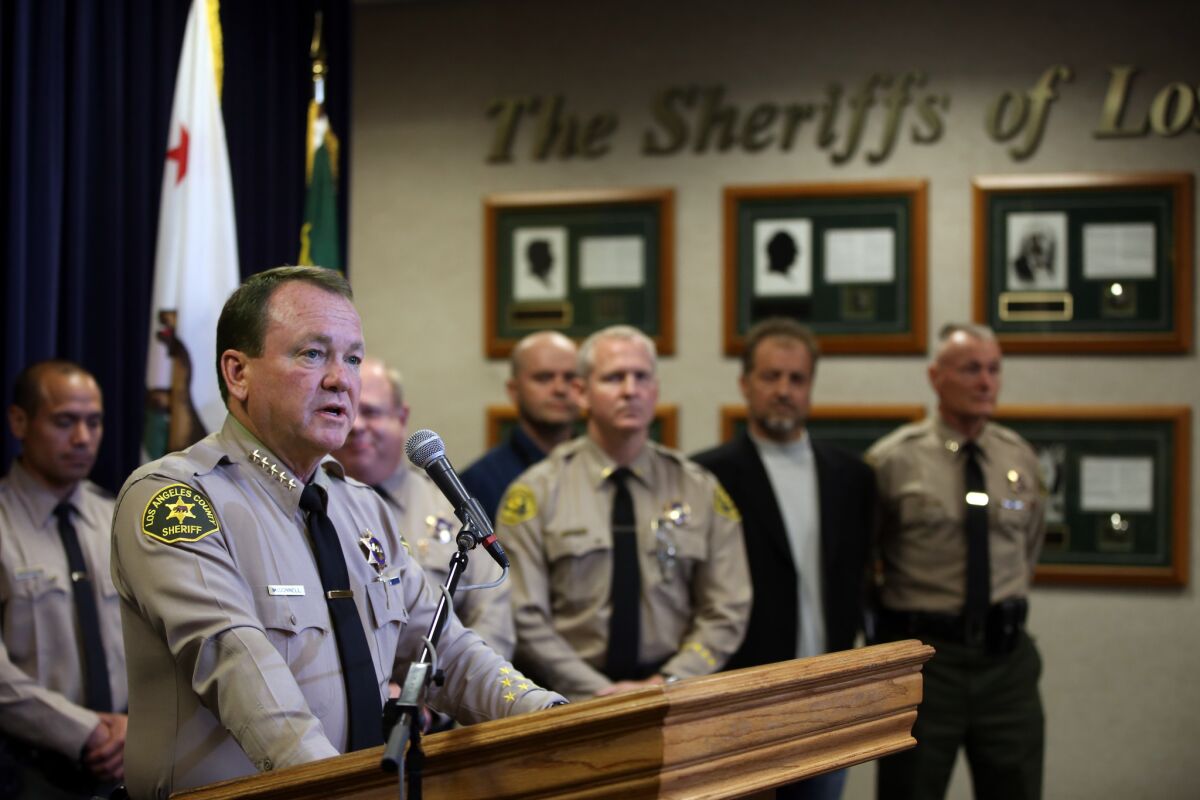 A Los Angeles County jail inmate who went for 32 hours with no food, only one cup of water and no access to a toilet seemed to have been deliberately passed over during mealtime, said a high-ranking jail official who has viewed video of the inmate's ordeal.
Jail employees who were handing out meals walked by a cell where the inmate was shackled to a bench without giving him anything, sheriff's Chief Eric Parra said.
Ten Los Angeles County jail employees, including three supervisors, have been relieved of duty, and a number of others have been reassigned because of the June 19 incident.
The inmate, who was booked on an arson charge, was restrained after he ripped his T-shirt into shreds, told a jail deputy he was going to hurt himself and then head-butted her, giving her a concussion.
Among the questions to be answered by an internal investigation is whether the jailers were getting back at the inmate for hurting the deputy.
"I can't begin to tell you why he wasn't fed," said Parra, who said he was unable to interview the employees involved because of the ongoing investigation.
According to the Sheriff's Department's independent civilian watchdog, the incident is the latest in a string of incidents involving inmates tethered to chairs or other objects for long periods.
The watchdog, Max Huntsman, said the department has "systemic" issues with how it treats inmates who are physically restrained because they are violent, refuse to be searched or are suspected of carrying contraband. He cited three other incidents, including one where an inmate was "particularly humiliated" because he was restrained while naked in an area where jail visitors could see him.
On Monday, Parra released new details about what happened beginning the morning of June 19 at the Inmate Reception Center, where new arrivals to the county jails are processed.
After head-butting the deputy, the inmate was placed in a chair with his hands cuffed behind his back and his ankles bound together about 8 a.m., Parra said. He did not appear to be tied to the chair.
About three hours later, the inmate spoke with a jail supervisor, who untied his ankles. He remained in the chair until about 7 p.m., when he was placed in waist chains attached to a bench, with his hands cuffed to the chains.
The restraints were loose enough that the inmate could lie on the bench, Parra said.
At that time, he received a cup of water – the only drink he would get in 32 hours.
Early on, the inmate received medical attention, once for the head-butting incident and once for possible mental health issues. The inmate was "rambling" and told clinicians he took heroin and Prozac, Parra said.
Without access to a toilet, the inmate may have relieved himself on the floor of the cell, Parra said.
Department policy states that handcuffed inmates "may be" given food and bathroom breaks. Parra said the jail employees "fell completely short" by not providing for the inmate's basic needs.
The inmate had injured a deputy, but that "does not negate our constitutional obligation to provide food, shelter, medical care and water," Parra said.
As part of his reform agenda, Sheriff Jim McDonnell is trying to clean up the nation's largest county jail system, where allegations of deputies brutally beating inmates were once common. Last month, two deputies and their former supervisor were convicted of beating a visitor to the jail while he was handcuffed.
For more news about the Los Angeles County Sheriff's Department, follow @cindychangLA on Twitter. She can be reached at cindy.chang@latimes.com.
---
The stories shaping California
Get up to speed with our Essential California newsletter, sent six days a week.
You may occasionally receive promotional content from the Los Angeles Times.