L.A. moviegoers say seeing 'The Interview' is standing up for freedom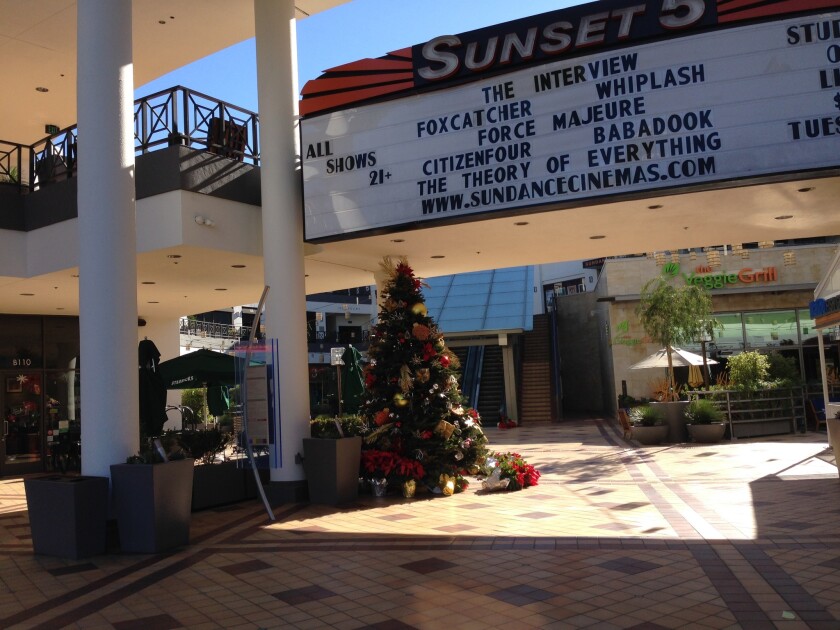 A slow trickle of moviegoers gathered in West Hollywood on Thursday morning to check out "The Interview," the comedy about North Korea that has wound up in the center of a real-life geopolitical imbroglio.
Some said they were simply observing a Christmas ritual by taking in a comedy at the cineplex. Others said they were there to make a statement in support of free speech and against Guardians of Peace, the hacking group that threatened to attack theaters that screened the film.
"It's a basic issue of freedom of choice," said Cliff Reston, 57, of Hollywood, who attended with his wife, Toni. "This is a movie I probably would have watched on demand in a year – it's not a genre that rises to the top for me. But once it became a cause celebre, it seemed worth doing."
About a dozen people milled quietly outside the Sundance Sunset Cinemas before the 11:45 a.m. screening, the first of the day.
"I would have come anyway – I have nothing else to do," said writer Jason Bargueno, 33, who was away from family and dog-sitting in the area. "But also I wanted to come and properly support it."
Bargueno purchased his ticket Thursday morning, he said. Tickets for all seven showings at the Sundance theater were around three-quarters sold by 11 a.m., according to theater manager Lauren Deacon.
"The Interview" stars Seth Rogen and James Franco as journalists invited to interview North Korean leader Kim Jong Un for a popular TV talk show. Then the Central Intelligence Agency asks them to assassinate Kim instead.
That plot prompted computer hackers to mount a devastating attack on Sony Pictures Entertainment, the studio behind the film. U.S. intelligence officials have said that the North Korean government was behind the cyber attack, for which Guardians of Peace claimed responsibility.
The threats of violence at theaters prompted Sony to cancel the film's opening on Christmas Day. After protests from President Obama and other high-profile critics, Sony reversed course and agreed to screen the film in a limited number of theaters. (It is also available to stream online.)
If the controversy caused the West Hollywood theater to beef up its security, those measures were not apparent on Thursday.
Reston scoffed at the prospect of violence, but other filmgoers admitted being slightly nervous.
"I understand the fear, but there's a line where you can't give in," Bargueno said. Just in case something happened, he had texted a friend earlier to say that "it's been fun."
During the movie, the audience laughed often -- at silly scenes involving sex and drug, as well as during moments of political satire. The packed theater quieted to silence during a climactic scene toward the end of the movie, when the fictionalized Kim Jong Un met his fate.
Exiting the movie, audience members said they found the movie "hysterical" -- and that they now understood some of the political hullabaloo.
"The fuss made sense. I think everyone in North Korea should see this movie -- there's truth in every joke," said West Hollywood resident Courtney, 36.
She said she didn't want to provide her last name because of the threats that had been directed against theaters and moviegoers.
Many stopped to take selfies next to the movie's poster outside the theater.
A group struck a happy pose post-film, smiling broadly.
"We're alive!" one woman joked, in lieu of saying cheese.
Twitter: @LATerynbrown
---
Get breaking news, investigations, analysis and more signature journalism from the Los Angeles Times in your inbox.
You may occasionally receive promotional content from the Los Angeles Times.