Isla Vista shooting suspect feared police visit would foil attack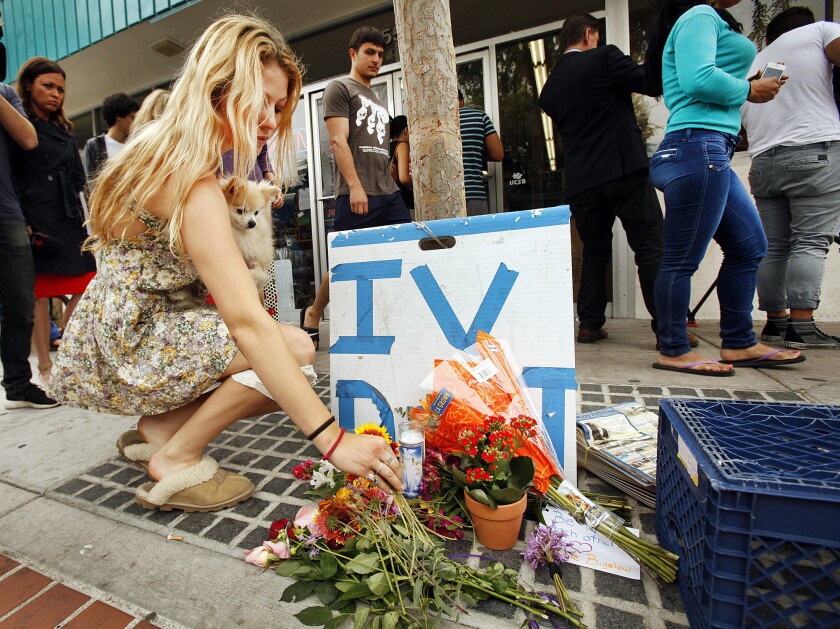 Santa Barbara County sheriff's officials said they had several interactions with the suspect in Friday's Isla Vista deadly rampage but that none of them prompted suspicion. Authorities allege the suspect killed six people Friday night near UC Santa Barbara.
Santa Barbara County Sheriff Bill Brown said deputies had three earlier dealings with Elliot Rodger, including a welfare check last month after family members called expressing concern about his health. The deputies said Rodger, 22, seemed to be fine and did not take any action against him.
In January, officials said, Rodger accused his roommate of stealing three candles worth $22 and performed a citizen's arrest. The Santa Barbara County Sheriff's Department eventually arrested the roommate and booked him on petty theft charges.
Last summer, he accused several people of assaulting him. But investigators concluded he was the aggressor in the incident and a detective suspended the case.
In a 137-page document Rodger wrote, he mentioned the sheriff's welfare check last month, saying his whole plan would have been foiled had the officer found his guns and writing, which were in his room.
"That would have ended everything," he wrote. "For a few horrible seconds, I thought it was all over."
Officials said he targeted his apartment complex, then a UC Santa Barbara sorority and then a deli.
The narrative of the violence described by authorities shares striking similarities to the statement Rodger wrote in which he described plans to kill people.
In that document, he outlines detailed plans for killing his roommates and then attacking a sorority in what he described as his "war on women."
"I will attack the very girls who represent everything I hate in the female gender: The hottest sorority of UCSB," he wrote.
Authorities said Rodger allegedly began his crime rampage by fatally stabbing three roommates at his apartment complex.
Officials say he then went to a sorority a few blocks away and opened fire on three women nearby, fatally wounding two of them.
Rodger's next stop, said Brown, was a local deli, where he fatally shot a UC Santa Barbara student inside.
The suspect then drove his BMW, opening fire on pedestrians and others on the street, Brown said. He then got into a gun battle with deputies. Apparently wounded, he continued to drive. He was eventually found dead of a gunshot wound to the head that appeared to be self-inflicted.
They found three guns that were all were legally purchased and registered to him.
In the printed document, Rodger described his anger and alienation.
"On the day before the Day of Retribution, I will start the First Phase of my vengeance: Silently killing as many people as I can around Isla Vista by luring them into my apartment through some form of trickery," he wrote.
The document appears to be similar to YouTube videos Rodger made.
One of Rodger's parents called a law enforcement agency last month, warning about disturbing videos he was posting online, according to a source close to the family. It was unclear which videos they saw.
In the last video, posted Friday night and titled "Elliot Rodger's retribution," Rodger described his anger toward women and men.
"I'm 22 years old and still a virgin, never even kissed a girl. And through college, 2 1/2 years, more than that actually, I'm still a virgin. It has been very torturous," he said. "The popular kids, you never accepted me and now you will all pay for it. Girls, all I ever wanted was to love you, be loved by you. I wanted a girlfriend. I wanted sex, love, affection, adoration."
""You forced me to suffer all my life, now I will make you all suffer," he said. "All you girls who rejected me, looked down upon me, you know, treated me like scum while you gave yourselves to other men. And all of you men for living a better life than me, all of you sexually active men. I hate you. I hate all of you. I can't wait to give you exactly what you deserve, annihilation."
Brown described the drive-by attacks as "the work of a mad man."
Times staff writers Stephen Ceasar, Matt Stevens and Rong-Gong Lin II contributed to this report.
---
The stories shaping California
Get up to speed with our Essential California newsletter, sent six days a week.
You may occasionally receive promotional content from the Los Angeles Times.