Former Monterey Park officer sentenced to nearly 8 years in prison for sexually assaulting women in traffic stops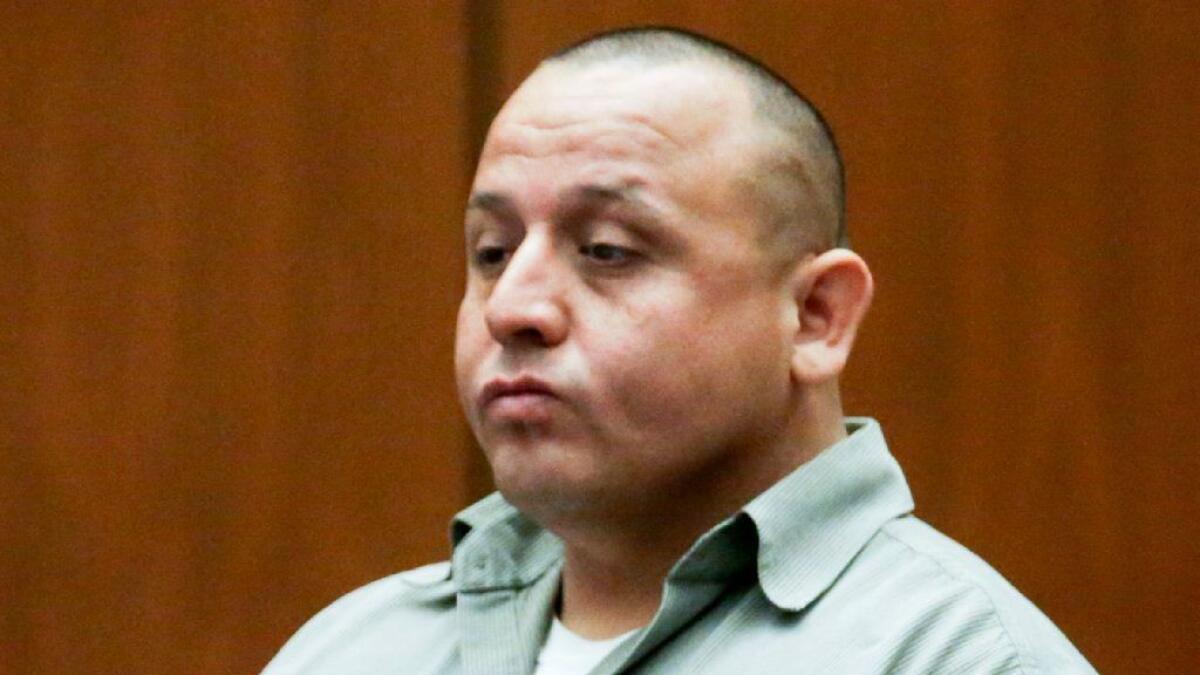 A former Monterey Park police officer convicted of sexually assaulting three women during traffic stops was sentenced Tuesday to nearly eight years in prison and required to register as a sex offender.
Prosecutors say Israel Sanchez — who faced up to 11 years in prison — forced the women to expose themselves during the summer of 2014 and groped two of them. The female drivers were ages 19 to 28.

For the record:
7:40 p.m. June 5, 2018An earlier version of this article misspelled the name of Israel Sanchez's sister as Gabriel Leyva.
A district attorney's employee read letters from two of the victims, including one who wrote that she was too afraid to face Sanchez — the man who she said had devastated her self-esteem and changed her view of law enforcement.
"He took advantage of me," she said. "He is a sick man."
Sanchez, 42, denied wrongdoing in a statement he read to the judge and said he had suffered physical and emotional scars from serving as a Marine in Iraq. He insisted one of the women voluntarily exposed herself.
But Superior Court Judge Douglas Sortino stressed that the former officer had taken advantage of a position of trust.
"The victims were particularly vulnerable," Sortino said, adding that he found the evidence in the case convincing. The judge added that Sanchez's comments to the court on Tuesday seemed to be an attempt at "minimizing" his actions.
The sentencing followed Sanchez's conviction in March on five counts of sexual battery by restraining, five counts of assault under the color of authority, three counts of false imprisonment by violence and one count of soliciting a bribe. L.A. County Deputy Dist. Atty. Hyunah Suh argued that Sanchez told one of his victims, "If you do this for me, I won't tow your car," according to a district attorney's spokeswoman.
At trial, Sanchez's attorney, Michael Goldfeder, tried to poke holes in the victims' accounts, arguing that the women made up allegations to retaliate against his client, who previously arrested one of them on a drug charge.
"There are no crimes in this case," Goldfeder said to jurors.
Suh said Sanchez had a habit of needlessly insisting on searching women during traffic stops and of using a specific word — "nice" — to describe their body parts. The prosecutor shot down the defense claim that Sanchez was framed, telling jurors that the women — who told similar stories — didn't know one another.
The investigation began, Suh said, after one of the victims, whose father works for the California Highway Patrol, reported Sanchez to authorities. Suh added that the other two women "had to be tracked down."
At a hearing after the conviction, Sortino granted the defense attorney time to hire an expert to assess how Sanchez's deployment as a Marine in Iraq affected him. The judge noted that Sanchez had seen a colleague die and been injured himself. After the hearing, Sanchez's older sister Gabriela Leyva cried in the hallway as she spoke about her brother. She believes he's innocent — the trial evidence, she said, didn't convince her.
"The things I heard, that's not Israel," Levya said. While her brother can be stern, Leyva said she's confident he would never abuse his power.
On Tuesday, Sanchez walked slowly into the courtroom dressed in an orange jail uniform with a chain around his waist.
He sat at the defense table as the district attorney's employee read the letters from his victims into the record. One was from his youngest victim, the highway patrolman's daughter, who was 19 when Sanchez approached her car.
"This man took more than just my dignity," she wrote.
For a long time, she said in the letter, she'd dreamed of following in her father's footsteps and when she got to college, she enrolled in criminal justice courses. But after the attack, everything changed, she wrote. She often had flashbacks during class and had to walk out. Eventually, she decided to switch studies to civil law.
The sight of a police car at night still makes her body tense and her heart pound. In the years after the attack, she drank until she blacked out and burst into tears whenever her boyfriend touched her or gave her a hug, she wrote. She thought about killing herself, she said, about intentionally crashing her car.
"I lived in complete darkness," she wrote, adding that she felt great solidarity with Sanchez's other victims.
Earlier in the year, when she learned of his conviction, she felt a rush of relief, but also sadness. She couldn't help but think of Sanchez's wife and children.
"They didn't ask for this," she thought.
A few minutes later, Sanchez stood to address the court. He said he'd dedicated his life to service and paid a price for his time in the military. He'd been trying to help all three women, he said, noting that in one instance his "fatherly instinct" had kicked in and he felt compelled to give the young woman advice and in the other two cases, he'd been trying to steer the women clear of using drugs. He acknowledged it was wrong "to lecture" them.
He vehemently denied inappropriately touching the women or having pressured any of them to expose themselves. In one case, he said, a woman chose to expose herself and in another instance a woman asked him to give her a hug.
"My heart has always been in the right place, your honor," Sanchez said.
The judge explained that he'd read a written assessment from a doctor, who found that Sanchez exhibited many signs of post-traumatic stress disorder. Goldfeder told the judge that his client had fought in battles in Fallujah in 2005 and 2007 and received a Purple Heart after getting injured.
Sortino stressed that it was an excruciating sentencing decision, noting that he has deep respect for combat veterans — a group he said often doesn't get enough respect. The judge said he believes that Sanchez's PTSD in some way contributed to his criminal actions.
The doctor who evaluated Sanchez, the judge said, noted that after returning from combat Sanchez engaged in "risk-taking behavior," such as skydiving. Sortino said Sanchez's actions in the case — which involved turning off body-camera and dash-camera videos before his interactions with the women — could also be characterized as "risk-taking behavior."
Although he had weighed the doctor's report and considered Sanchez's combat history, the judge stressed that the defendant had committed "very serious and aggravated crimes."
After announcing the prison sentence — seven years and eight months — the judge turned to the defense table.
"You are to register as a sex offender, Mr. Sanchez, for the rest of your life," the judge said.
Sanchez stared expressionless. His family members cried softly in the audience.
For more news from the Los Angeles County courts, follow me on Twitter: @marisagerber
Sign up for Essential California for news, features and recommendations from the L.A. Times and beyond in your inbox six days a week.
You may occasionally receive promotional content from the Los Angeles Times.